Late last night, Electranet tweeted this picture of the damaged transmission tower that would ordinarily be forming a part of the Heywood interconnector: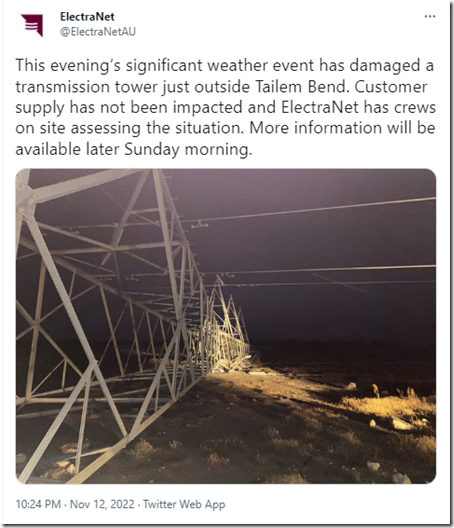 At the end of yesterday evening's article I'd included a 5th PS noting AEMO's Market Notice 103067 that spoke about:
'AEMO has been advised that the Tailem Bend – South East No 1 and 2 Lines will remain out of service until 1700 hrs 18/11/2022.'
… little wonder, when we see the above!
I've checked this morning with a couple of the island-based constraint sets (such as 'F-SA_ESTN_ISLE_REG') and see that the scheduled invocation this morning hasn't changed from what the AEMO noted yesterday evening.
Note, in the tweet above, that ElectraNet says:
'More information will be available later Sunday morning.'
… so we'll all be waiting with keen interest!