Yesterday (Thu 31st August 2023) the AEMO released its 2023 ESOO … which has been much talked about
… towards the end of the day we posted 'Here's 7 Observations that jumped out to me in a first skim of the 2023 ESOO', but note there are a number more that jump out … and which we might find time to write about another day.
It only took a day, but now I see (initially via Ben Macey in this LinkedIn update) that the AEMO has called tenders for Interim Reliability Reserves in South Australia and Victoria (which, as noted in the ESOO, is forecast to exceed the more stringent Interim Reliability Criteria as soon as summer 2023-24.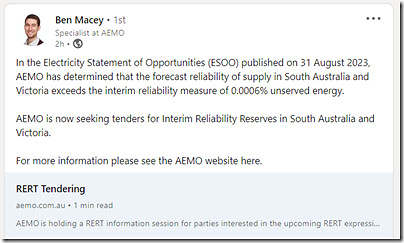 Ben's update links through to this page on the AEMO website that contains more information: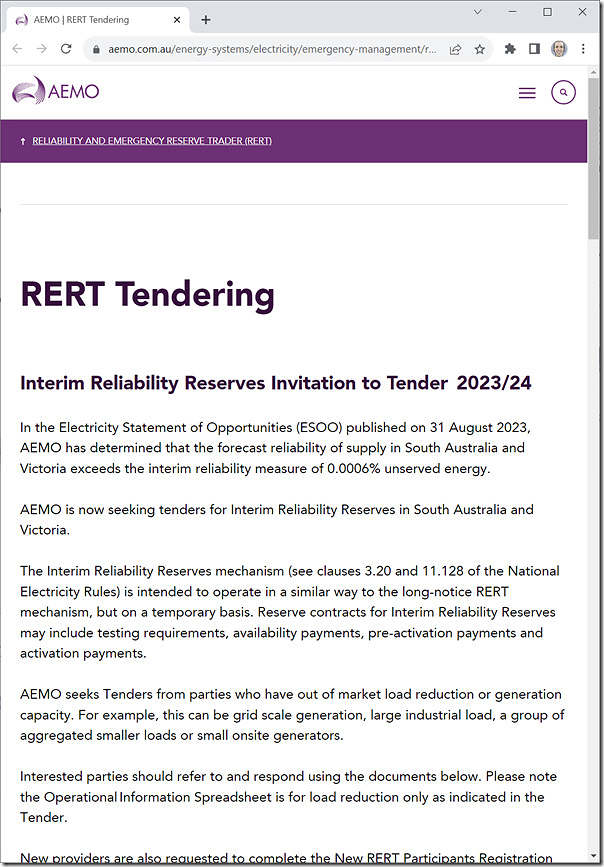 My observations yesterday about 'With the 2023 ESOO report, some real head scratching about Demand Response!' have already elicited some feedback one-on-one, with one point of feedback being…
'It is a fundamental flaw if the electricity supply industry cannot supply the power required'
Along those lines, it's clear that even need to even call tenders for Reserve Trader as an out-of-normal-market response mechanism is an indication of Market Failure … let alone dispatching it possibly in summer 2023-24.
A bit like the unfortunate (but prudent) need to consider prolonging the life of soon-to-close thermal stations (like Eraring) as discussed yesterday in 'The 2023 ESOO again prompts the question … 'what's the contingency plan'?'.
Just one more example of what I wrote, and spoke about in 2017 in this 'forecast of sorts…':