With Paul away for a couple weeks, it's mainly fallen to Ilan Lachish to post on WattClarity like he did on Tuesday about demand rising above 33,000MW.  This brief article is more of a group effort.
Next week, when we have more people (including Paul) back on deck, we will have more time for analysis about what happened – for now we just want to post some images to ensure readers are aware that AEMO has dispatched Reserve Trader this afternoon.  It's not specifically stated, but we assume this was in either Victoria or South Australia.
Here's a NEM-Watch image from 15:10 this afternoon highlighting an Instantaneous Reserve Plant Margin (IRPM) for the "VIC+SA Economic Island" down below 10%:
We've highlighted the red indication of IRPM down at 8% at this time for VIC+SA with only 881MW of spare capacity in relation to the local demand in the regions, net of imports from NSW and Tasmania.
In the Market Notice window, we see a Market Notice indicating that RERT (i.e. Reserve Trader) has been dispatched: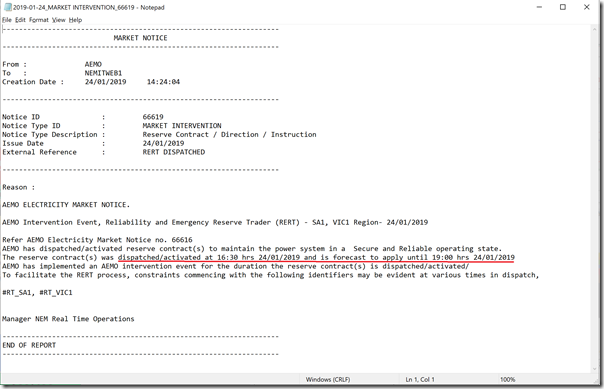 It is noted in the Market Notice that the dispatch of RERT has occurred in Victoria and South Australia (and comes only 30 minutes after an earlier notice stating AEMO would commence negotiations with RERT suppliers on their panel).  Next week we should have time to understand more about what has been dispatched.
——
Note that the IRPM continued to drop (mainly as a result of the growth of demand through the afternoon).  Here it is at 15:40 down at only 4% (only 464MW of spare capacity):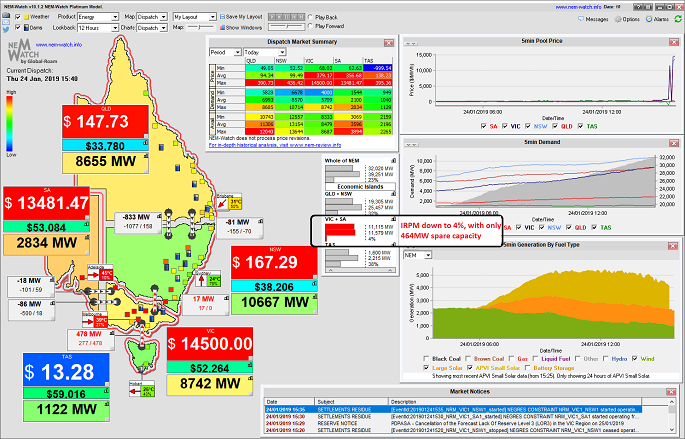 ——
The IRPM in VIC+SA dropped further – down to 1% at 16:10 – which was only 128MW of spare capacity: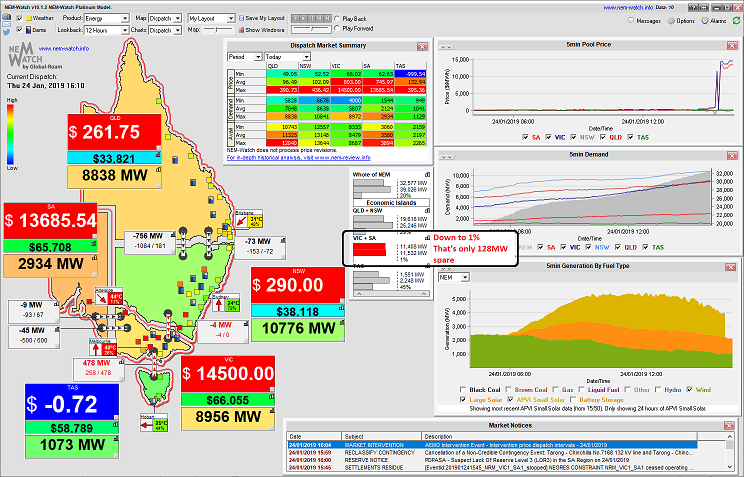 Note also the Market Notice at 16:00 which suggests that the AEMO suspects there might have been load shedding under LOR3 in South Australia between 15:30 and 16:00 (i.e. in addition to Reserve Trader):
——————————————————————-
MARKET NOTICE
——————————————————————-
From : AEMO
To : NEMITWEB1
Creation Date : 24/01/2019 16:00:48
——————————————————————-
Notice ID : 66627
Notice Type ID : RESERVE NOTICE
Notice Type Description : LRC/LOR1/LOR2/LOR3
Issue Date : 24/01/2019
External Reference : PDPASA – Suspect Lack Of Reserve Level 3 (LOR3) in the SA Region on 24/01/2019
——————————————————————-
Reason :
AEMO ELECTRICITY MARKET NOTICE
AEMO considers that there is a suspect Forecast LOR3 condition for the SA region for the following period:
From 1530 hrs on 24/01/2019 to 1600 hrs on 24/01/2019
AEMO is currently investigating this LOR3 forecast condition to confirm whether it is valid.
AEMO Operations
——————————————————————-
END OF REPORT
——————————————————————-
More to come?