I have been mulling over this article on Inertia for some time, in between various GVSC client projects we have on the go at the moment.
Whilst lots of people talk about inertia and throw it around as a knowledge statement, it's likely that a reduced number really understand both its importance and relevance:
To me there are some similarities to what was the case back in 2017 which prompted me to write the article 'Let's talk about FCAS', which:

Preceded an increased level of awareness, and understanding, of FCAS across the NEM; and
I understand still garners new readers even 6 years later on WattClarity

So, in a similar vein, I'm hoping that this article does the same.
Background
Hence, with the very first Generator Report Card in 2018, and for various iterations and updates since, we (GVSC and GR) developed and refined methods to calculate inertia at the 5-min level.
Since September last year, it has also been great to see regional inertia levels at the 5min level in AEMO-supplied constraint data, with Global Roam also putting it into their ez2view product as shown below.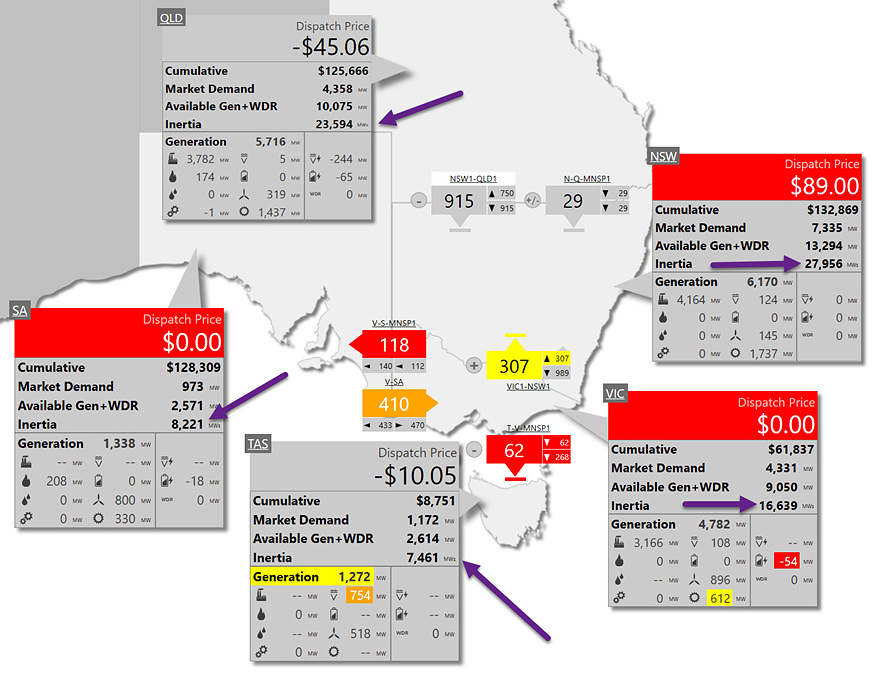 These are good developments for adding understanding to the dynamics of the power system.
As well as understanding the live inertia, we also trace the longer-term trends and quarterly highs and low, and more importantly, why they occurred. This is what we have been doing regularly in our Quarterly Insights for clients of that product since Q3 2022.
Section 5 from GenInsights Q1 2023
In section 5 within Appendix 1 of GenInsights Quarterly Update for Q1 2023, we began by including the following two high-level trends for calculated inertia, using our proprietary bottom-up methodology highlighting the contributions of different types of technology.
——————— START OF EXTRACT ————————
In the first image, we show aggregate inertia right across the NEM on a trended instantaneous (i.e. 5-minute) basis through Q1 2023.  Technology types have different colours.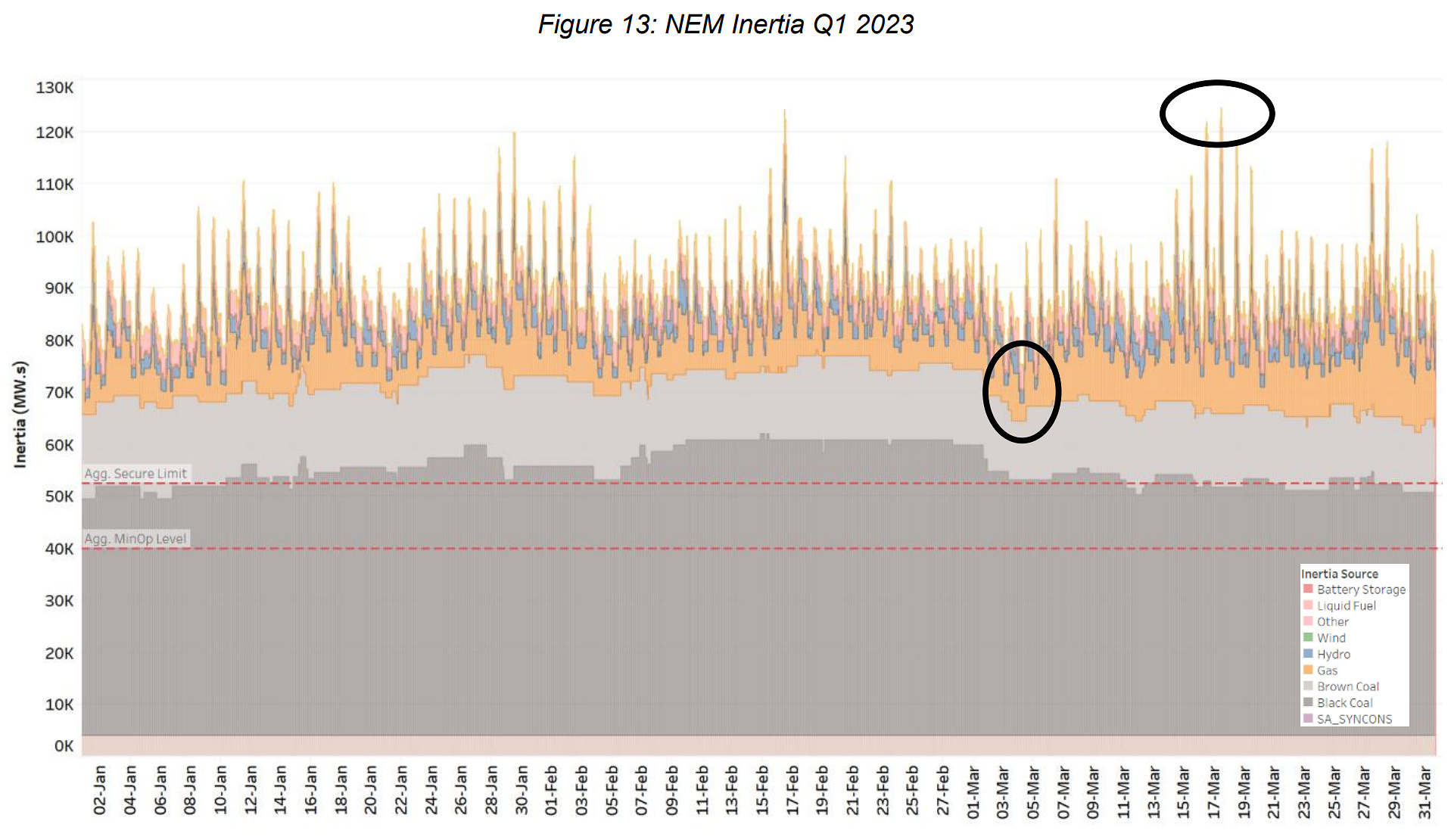 In the second image, we show the same data but at an individual region level.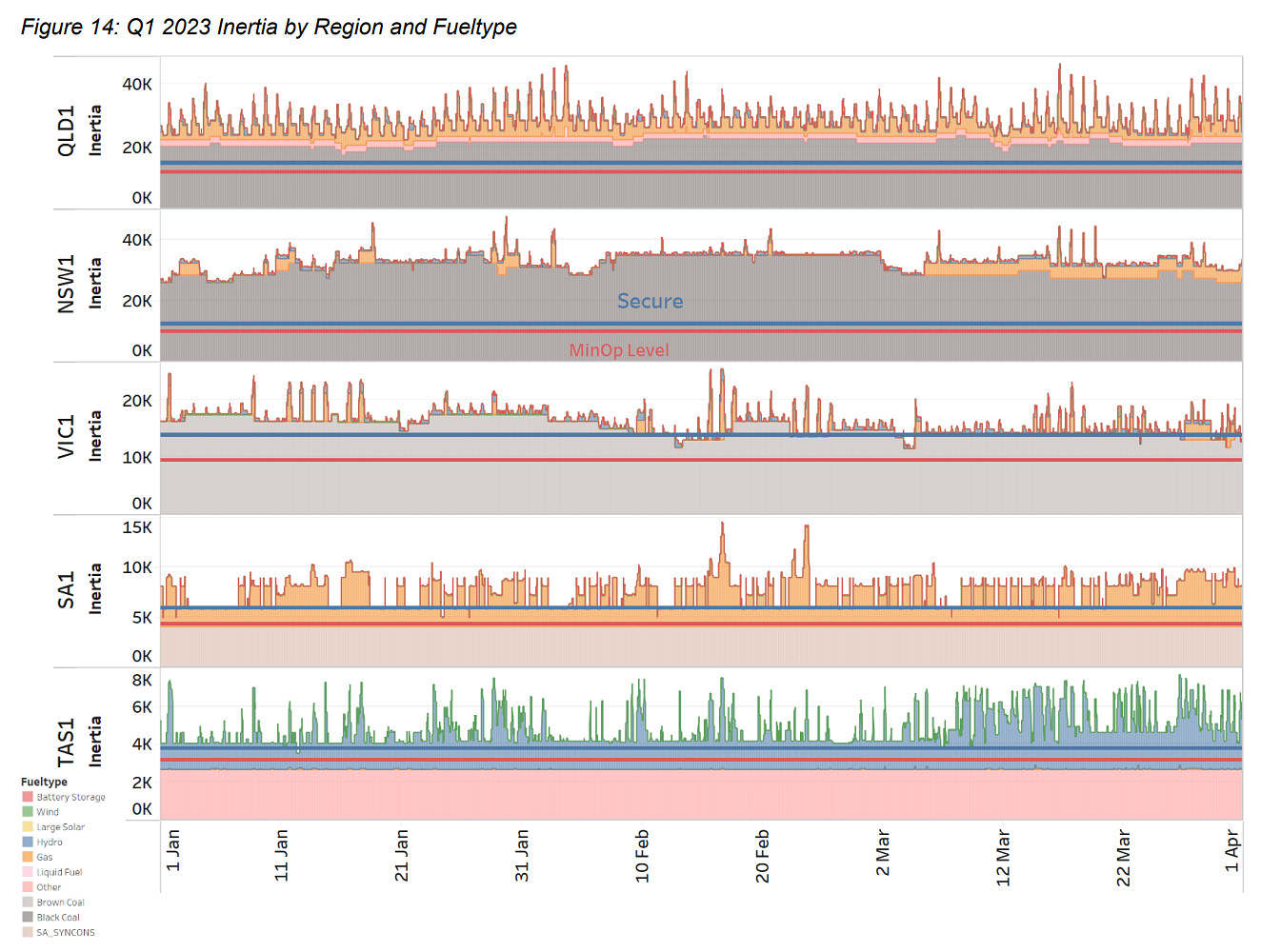 At a regional level, a couple of things stand out when combined with AEMO limit levels:
SA is extremely dependent on the 4 x syncons with flywheels
VIC/TAS/SA all have periods where it is touching on AEMO's Secure operating limits
NSW and QLD are well above the AEMO limit levels
In each Quarterly Update, we're including one or more Case Studies of specific incidents.  In this article on WattClarity we have copied in one of the two case studies of events in Q1 2023.
5.1 Specific Incidents 
Included below are several case studies during periods of interest in the NEM.
5.1.1 Lowest Inertia on 4th March 2023 (NEM-wide and SA) 
On a NEM-wide basis, the two different sources of inertia data (i.e. from AEMO and derived internally) are trended around Saturday 4th March 2023 – the day with lowest NEM-wide calculated inertia for the quarter.  The day before and day after are also included to show the progressive decreasing coal generation decommitments and subsequent drops in inertia.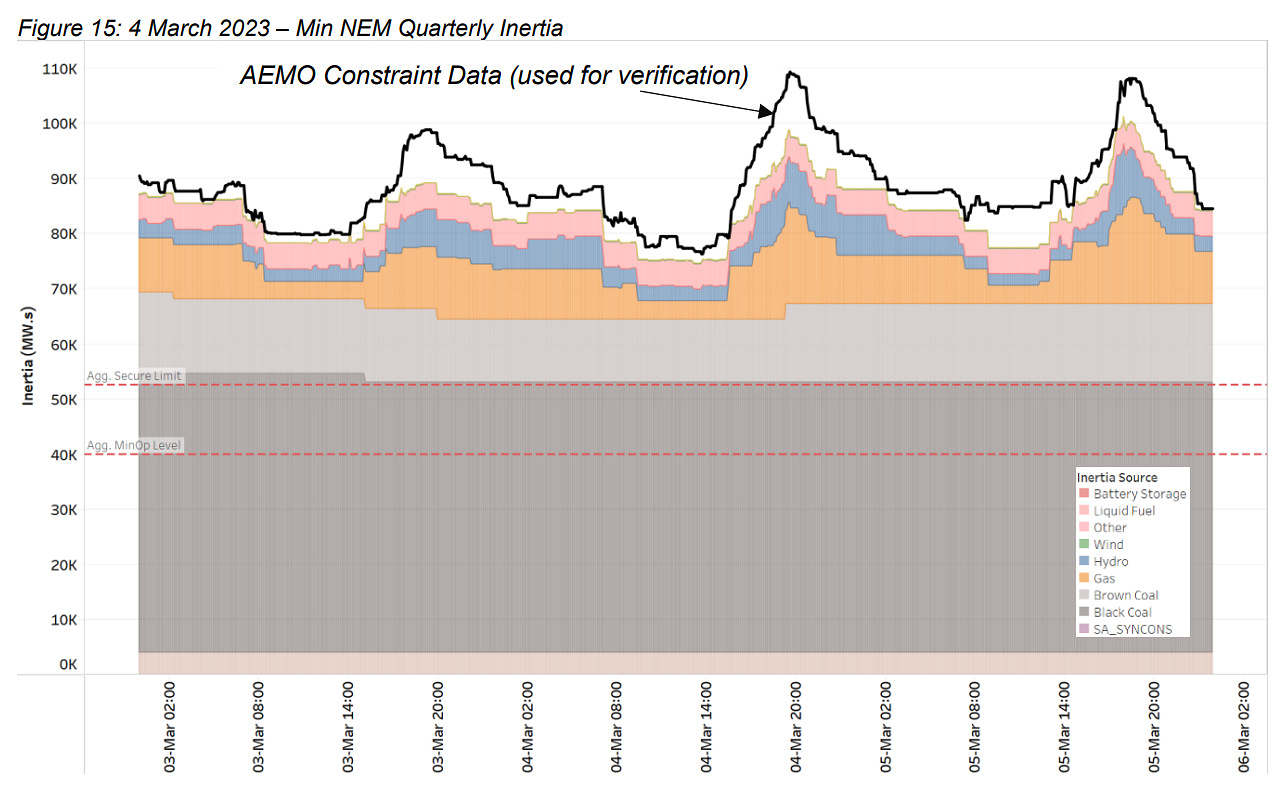 Furthermore, the RRP on this Saturday, under very high solar conditions, RRP in SA and VIC was below $-40 for much of the afternoon. The decommitment of gas generation that occurs on the 4th March highlights the challenge of balancing all the various factors of RRP, unit stability, interconnection and power system security.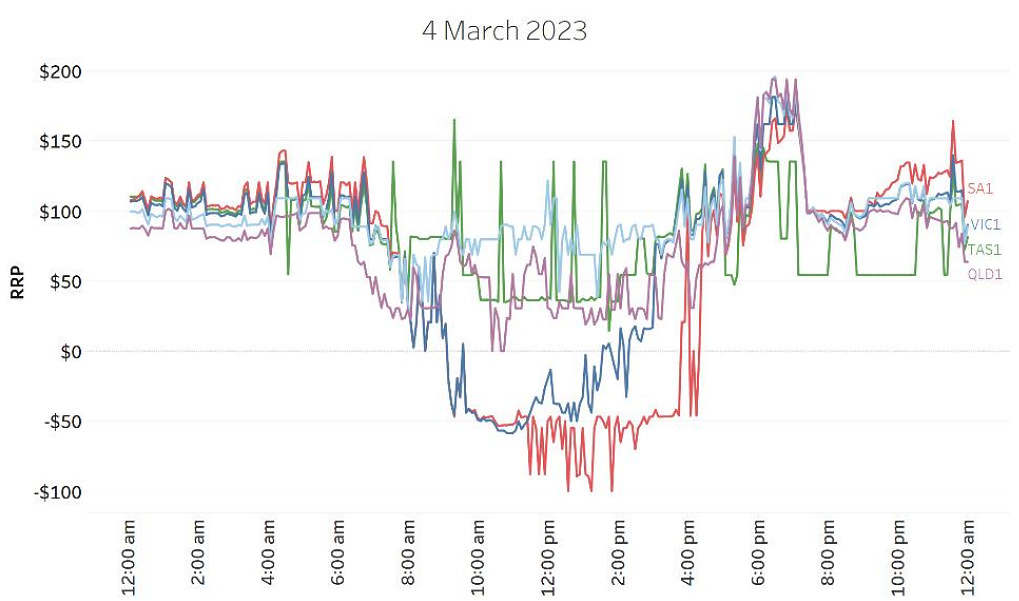 The below figure shows SA inertia estimates, in conjunction with the AEMO SCADA information.  It shows SA inertia falling after PPCCGT shut down for the midday trough (as it had done the day before), only to restart around 4pm.  It clearly shows SA operating near the AEMO Secure Limit for SA, with our bottom-up calculated value summing to just below the Secure Limit, whereas the AEMO SCADA value is just above the Secure Limit (we assume this is what AEMO uses for its references).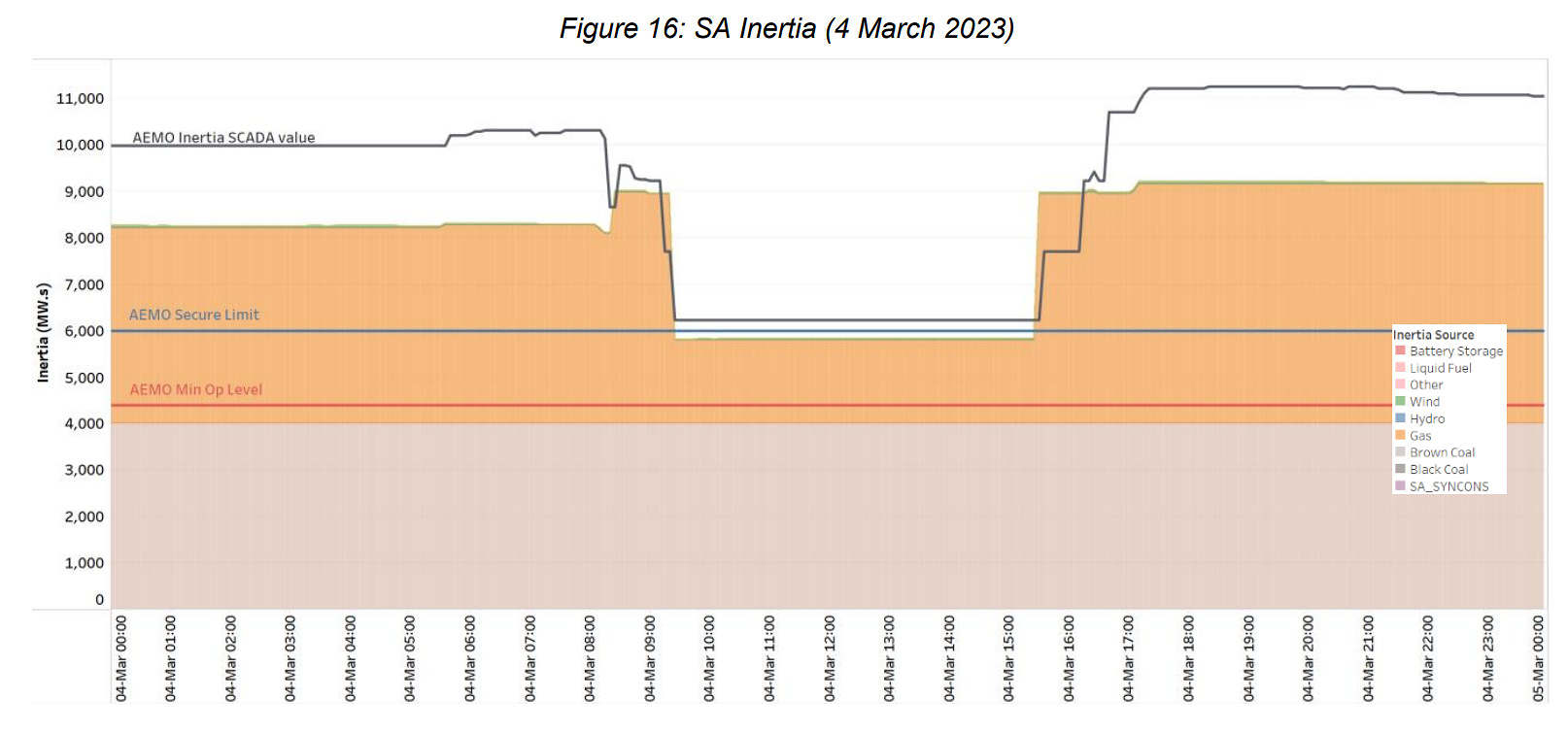 However, in VIC on the same day (also seeing very low prices), we see both metrics under AEMO Secure Limit.  Our internal method calculated values showing that it was under until after LYA2 restarted late on 4 March.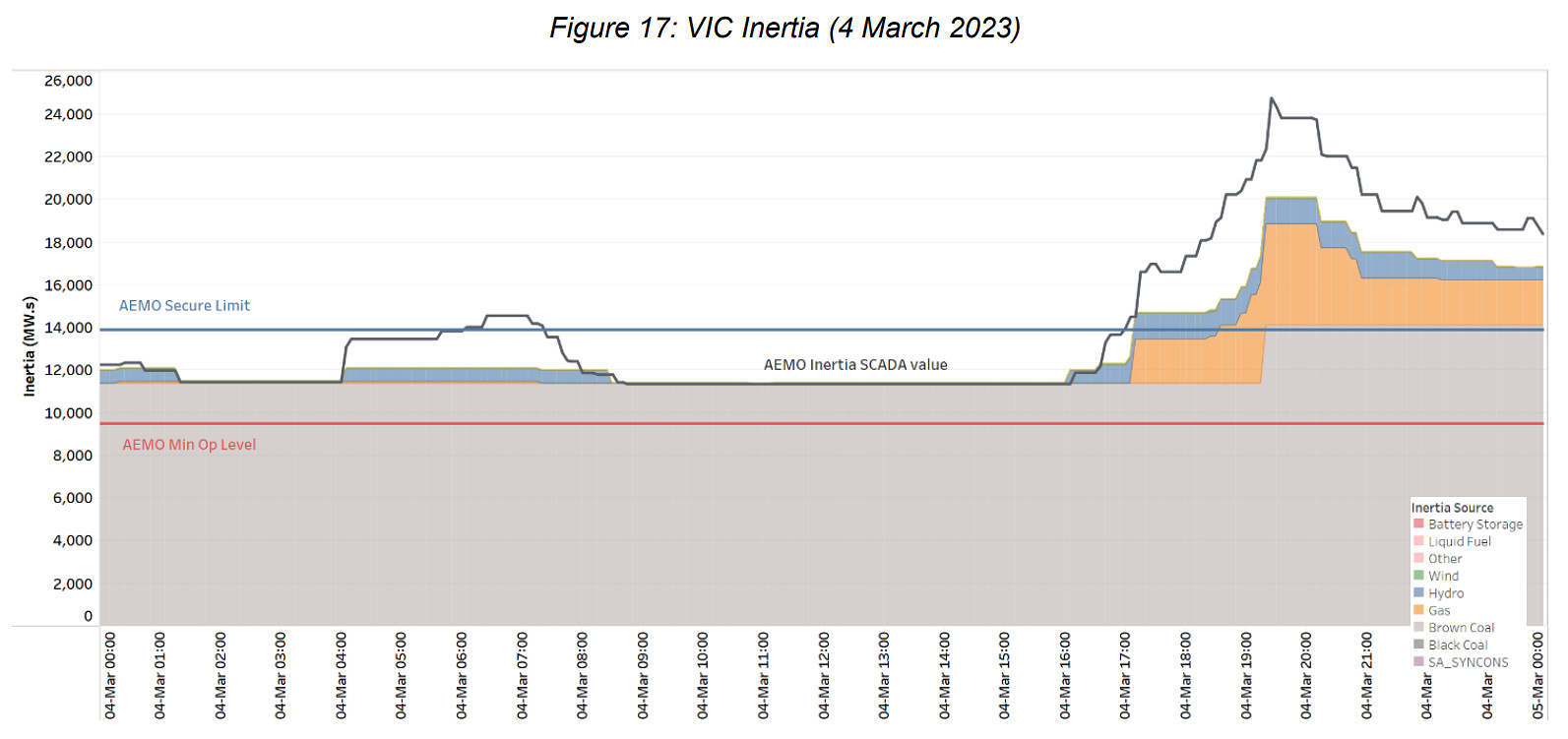 On this day, the two AC interconnectors between VIC-SA and Vic-NSW were online and available, albeit constrained, hence the RRP separation. 
The Figures show the decommitment of VIC and SA generation in the early morning due to low prices, mixed with other plant outages, resulting in VIC & SA inertia dropping below each of their individual regional Secure Limits in both AEMO's SCADA data and our methodology.  
A single trip of a Loy Yang A or B unit (which each contribute ~2300MWs of inertia to the system), would have taken both SA and VIC below their MinOp level.  Thankfully on this day, which did not occur and an LYA2 unit returned to service. 
——————— END OF EXTRACT ————————
What does all this mean?
The most important aspect is to understand that inertia is CONSTANTLY changing within the power system – it is a live and dynamic value that needs to be understood in dispatch and predispatch timeframes.  As can be seen in the VIC and SA only charts for 4 March, at the moment the unit is committed or decommitted, the inertia value steps up or down as inertia is a very binary value (on or off).  And while it is good that SA syncons do provide ~1000MW.s of inertia each due to the addition of flywheels on those devices (most syncons do not have flywheels!), the devices are not like-for-like replacements for dispatchable units … they do not provide active power and constantly consume power.
The next most important element is to understand how much of the NEM's power system inertia is coming from coal and gas fired units – well over 80% most of the time if not more – hence the stable system we have now is because of those units.  And while there are 2 or 3 BESS now providing grid forming capability and the addition of BESS will add fast-frequency response will continue to increase, the addition of BESS will need to occur simultaneously with the addition of wind and solar if they are to replace coal generation.  We have installed 17000MW of wind and solar and just 1000MW BESS in the past 10 years – these need to occur more simultaneously or in hybrid configurations going forward.
As we worked through these inertia estimates, it became clear that there are still many missing datasets in this space that need to be developed such as consistency on BESS H constants, syncon status of generation and network equipment (especially when it comes to hydro units) and that additional network equipment contributions require further effort.
We will continue to refine and update these calculations, especially as we update the data in preparation for the next update of the Quarterly Insight for Q2 2023.  If anyone is interested in further information, please reach out.
P.S. Inertia in the ABC
As this article was being finalised, we noticed Daniel Mercer had written 'Australia's energy transition is sparking a search for the new 'glue' to hold the system together', in ABC news, linking many of the topics from above into the article.