Our Generator Report Card was released on 31st May 2019 as noted here on the day:
This is how to Access your Copy
… for those who have already ordered
This is how to Place your Order
… if you have not yet done so
Clients should have their access to the electronic copy Generator Report Card here:

Generator Report Card
Download PDF

You'll need to set up your own unique log-in, using your organisational email address in order to access:

it's a 76Mb PDF so keep this in mind if on a low-speed link
this process works in Chrome, Edge and Safari (but not currently in Internet Explorer).

One bound hard-copy is also being supplied as well (if we have your best postal address).

Given the report grew to be 530 pages long, we realised that a physical copy would also be very useful on occasions.
Additional hard-copies could be supplied, for a small additional fee (basically cost recovery).

It's a simple matter of completing the Order Form and sending back to us:

the Order Form
for the Generator Report Card

… and send back to us.  We'd then:
(1)  Set you up with electronic access at the site above (hence be sure to specify your corporate email address); and
(2)  Deliver your bound-hard copy; and
(3)  Process your payment and provide a tax invoice.
———-
The content below (and linked on this page) is being updated to reflect the final version of the Generator Report Card.  
———-
(A)  Why did we* develop the Generator Report Card?
Particularly through 2017 and 2018, we have observed (and sometimes been involved in) numerous discussions that, whilst independent, all drew on aspects of Power Station Performance.
A common thread through these discussions was a level of confusion, or misunderstanding (and sometimes even perhaps misrepresentation) about Power Station Performance, which were both:
1)  Not seeming to improve over time (and indeed in some ways to get worse); but still
2)  Forming narratives that have been feeding into decisions made about the energy transition that is underway.
Given that 31st December 2018 represented just over 20 years of the operation of the NEM, over which time there have been many changes in the NEM (though some things changing much less than many people might think), we* resolved to compile an extensive review that would cover all power stations across the NEM, no matter what their fuel type or technology.  We* sought to:
1)  reflect, objectively, on real performance data across the prior 20 years of operation of the NEM;
2)  in order to provide an informed view of how the next 20 years might unfold, and the risks that become apparent in the management of this accelerating energy transition.
*   The "we" in terms of preparation of the Report Card were the two primary Authors for the Report – the team at Greenview Strategic Consulting, and also the team here at Global-Roam Pty Ltd (producers of this WattClarity insight service).  
We are very grateful for the additional assistance provided by a broader group of individuals and organisations, including those described on this page.  
The Generator Report Card was released on 31st May 2019 to publish the results of this intensive analytical process.
(B)  What is the Generator Report Card?
When we commenced this process (around September 2018) we grappled with what the resulting report might be called.  We decided to call it a "Generator Report Card", to signify its status as a milestone for the NEM, now being 20 years old.
It would be difficult for any single product name to fully convey the breadth and depth of the analysis that's been contained therein – amounting to 530 pages across 5 discrete parts.
Because of its size, clients who purchase the Report Card receive:
1)  Access to a searchable electronic (PDF) file – for use across your whole organisation; plus
2)  One hard copy is also supplied for your use.  At 530 pages, the hard-copy is over 3cm thick (double-sided):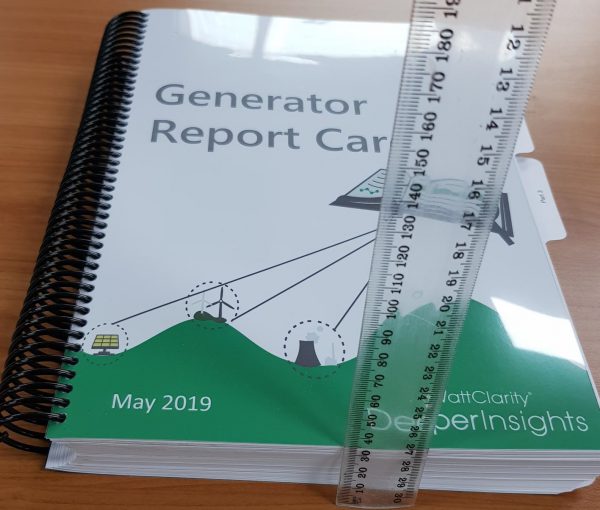 Across the 5 parts the report essentially comprises two principal components of value:
~170 pages of Detailed

Analysis

328 pages in a unit-level
"Generator

Statistical Digest

"
Using the extensive 20-year history of NEM generation we have assembled in a transformation of the AEMO's MMS database (plus some additional data from the Clean Energy Regulator and the Bureau of Meteorology) we have performed numerous discrete pieces of analysis – many of which could warrant a separate report in their own right.

Rather than split these pieces of analysis separately, we deliberately chose to include them all in this Generator Report Card to reflect the holistic nature of the challenges inherent in this transition.

We chose to split this analysis between:

Part 2 (14 x Key Themes ~60 pages); and
Part 4 (Aggregations ~100 pages)
…for easier readability.

Included as Part 3, we have compiled a rich statistical page for every DUID (i.e. unit) in the NEM for which there was operational data within the 10 year period to 31st December 2018.

This covers both:
1)  Generators visible to AEMO; and
2)  Scheduled Loads (i.e. charging of batteries, and pumping for pumped storage hydro).

The structure, and content, of each of these pages in the Statistical Digest are explained here .
We've found from experience that the best way to understand all that the Generator Report Card entails would be to organise some time to meet with one of us and flip through a copy with us one-on-one.  To do this, please:
1)  Provide us your details on this form; or
2)  Just give us a call on +61 7 3368 4064. 
(C)  Who's already using the Generator Report Card?
Since the release of the Generator Report Card (and even prior to release, as the pre-orders streamed in) we've particularly noted the diversity of the organisations  who were seeing value in the Report Card and seeking to access themselves.
That's a useful confirmation of our initial sense that what we were compiling would be of high value to a wide range of stakeholders in the NEM, and the NEM transition:
Government Departments
and Market Bodies
Direct NEM Participants
Indirect NEM Stakeholders
All the NEM-focused departments of Energy have purchased their own access to the Generator Report Card (across Canberra, Adelaide, Hobart, Melbourne, Sydney and Brisbane).

Most of the Market Bodies also have access to the Generator Report Card.

A growing number wholesale market participants have purchased access to the Generator Report Card – be they registered as:
1)  Generators;
2)  Retailers; or
3)  Large Energy Users.Some of these market participants are newer entrants to the NEM (in which case the insights we share about the Semi-Scheduled category, and battery storage, will be particularly relevant).Others are older hands in the market (each of whom will gain differing value depending on their own particular operations in the NEM).
Beyond these direct wholesale market participant, a broad (and still growing) number of other stakeholders are enjoying access to the Report Card.

These include:
1)  Network companies;
2)  Investors, and investment banks;
3)  Fuel suppliers;
4)  Consultants and other services organisations;
5)  Equipment suppliers to the NEM;
6)  Industry organisations;
7)  Educational institutions;
and so on…

If you work in one of the organisations above and were unaware that you already have access, simply download your copy of the Report Card here – remembering to register an account using your work email address.
The Report Card was released on Friday 31st May 2019, with hard copies delivered (and electronic access provided) to the dozens of organisations who had taken a leap of faith in us, by pre-ordering their copies even prior to the completion of the project.
Early on the following week (Monday 3rd June) we'd already received significant feedback from these clients, to the point where we could post some of their early feedback together in this article.
The number (and diversity!) of clients using the Generator Report Card has continued to rise since that time…
(D)  How we developed the Generator Report Card
With an 8+ month genesis, from initial concepts in September 2018 through until release on 31st May 2019, there was a massive amount of development (perhaps 10,000 hours collectively) in pulling the Generator Report Card together.
You can find more information about the timing, and evolution, of the Generator Report Card here.
In the process of compiling the Generator Report Card, we analysed many dozens of discrete Metrics that pertain to various aspects of the commercial and technical performance of generator performance.
This page has been prepared to give some understanding of the scope of the project, by linking to discrete articles providing preliminary findings of some of the metrics.
(E)  How to purchase your copy of the Generator Report Card
If you're ready to receive your own benefits from having access to the Generator Report Card across your organisation, then send us back the order form linked here straight away:
(F)  Your feedback
We would welcome your feedback about the Generator Report Card here, remembering to provide us a phone number we can reach you on if we have questions about your feedback/suggestions.
Or just call us direct on +61 7 3368 4064.