I've appreciated the opportunity to attend the Energy Networks 2018 conference in Sydney over the past two days:
Coincident with this, I tweeted  earlier about the LOR2 notice issued by AEMO for the NSW region, and notification of intention to trigger the RERT.  That's food for another post, at some other time….
Today it was a comment made by one of the speakers from TransGrid (I am not sure as there were several speakers) that had me power up NEMreview v7 this evening to have a quick look at some numbers on an annual average basis for demand in each region.  The comment made was that demand in NSW has been increasing the past four years, and yet the AEMO's forecasts are that the demand will continue to decline – hence there is a mismatch between expectation and reality.
PS – Worth highlighting some feedback provided to me elsewhere that the AEMO forecasts for annual energy (i.e. the equivalent of average demand) show increases in NSW. I have not had time to check, but presume this means the TransGrid comment must have been with respect to peak demand perhaps?
Given that I'd felt like one of the earlier ones to start noting that demand was declining in the NEM (which we saw in 2011 was occurring for reasons such as these), I felt it important that I update my perspective – and share this here on WattClarity – lest we continue (again) with out-dated thinking.  See here for the gory details of the different measures of demand shown, and about how it is even measured.
I've other things to do this evening, so just have time to throw the following charts together, starting with NSW:
These trends highlight what the speaker from TransGrid had noted – that there has been an increase the past couple years, albeit not at the same rate as the decline over the preceding period (or the incline of a decade ago).
Moving north to Queensland, I was much more aware of how demand has grown in recent years, mainly on the back of up-stream compression of CSG for the LNG export trains: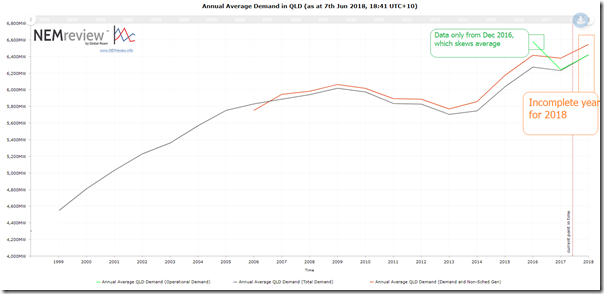 Further south, we note that Victorian demand appears to still be declining (unlike growth in NSW and QLD):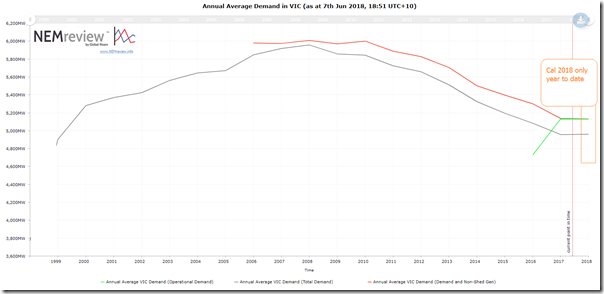 This also appears to be the case in South Australia (noting also a bigger relative difference between the different measures of demand):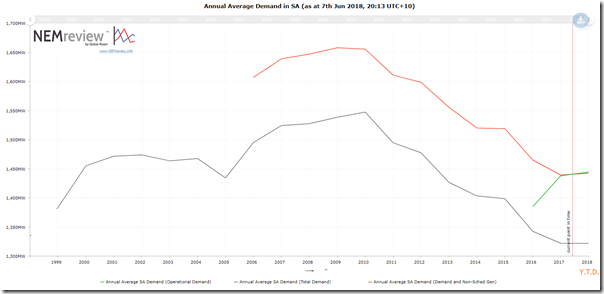 Down in Tasmania, there seems to be a more variable pattern (even taking into account the depressed demand experienced due to the prolonged Bassslink outage through 2016 and hence unwanted demand response):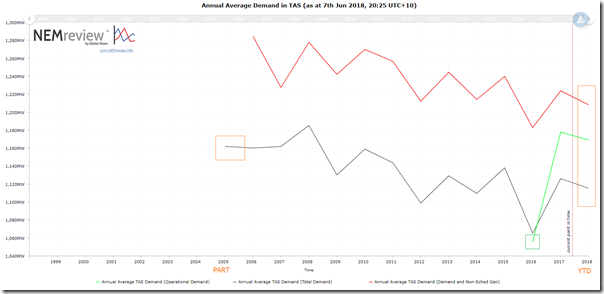 Summing it all together, we see a picture that (NEM-wide, on an annual average basis) electricity demand stopped declining after calendar 2014, even taking into account the continuing rise of rooftop solar PV production which acts to reduce these measures of demand: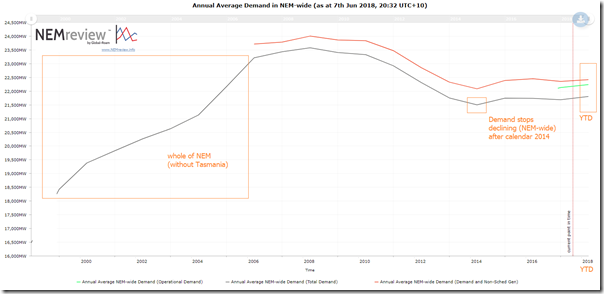 Worth noting!