Last article this evening (I hope) with a snapshot from NEMwatch at 19:20 dispatch interval (NEM time) to highlight three main things: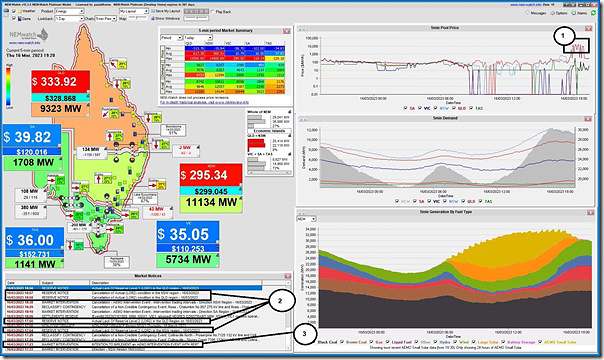 With respect to the numbered annotations:
1)  There was a string of highly volatile prices in QLD and NSW, sometimes as high as the $15,500/MWh Market Price Cap, from 17:45 to 18:50 … and we can see in the above that they've not totally subsided even now.
2)  Both the NSW and QLD regions experienced periods of 'Actual LOR2-level' Low Reserve Conditions:
(a)  The NSW region from 17:50 to 18:55;
(b)  The QLD region from 17:30 to 18:55.
3)  Despite the fact that the 'AEMO has entered into a reserve contract' as announced at 17:23 in Market Notice 106713 (noted here on WattClarity earlier) it looks like the AEMO determined that they did not actually need to trigger the Reserve Trader.
… albeit that there's probably cost been incurred (*) just for contracting the Reserve.
———————-
*  Update 17th March 2023
The good people at AEMO have clarified that no availability payment was required to be made as a result of the process on 16th March 2023 of going to short-listed candidates for supply of Short Notice RERT.  Payments would only have been required if the RERT had been needed to be dispatched.
The RERT page of the AEMO website contains more information … particularly 'SO_OP_3717:  Procedure for the exercise of the RERT', which provides useful context.
———————-
All of this and it's only 34 days from the scheduled closure of Liddell unit 4 on Wednesday 19th April 2023 (with unit 2 and then unit 1 to follow in rapid succession).  I expect there will be a number of direct conversations happening about all of this in the coming days within Market Participants, Energy User Representatives, Government Departments and so on…