On Sunday we'd published this article about how 'AEMO forecasts LOR2 Lack of Reserve level for QLD on Tuesday 8th March 2022'.
Forewarned about the likely high level of demand in the QLD region, and possibility of tight supply/demand balance (and hence price volatility) and with the power back on in several locations now I have been keeping an eye on what's been unfolding.
(A)  Current status (as at 17:00)
As at 17:00 NEM time, the Market Demand for the QLD region had climbed to the level of 10,000MW as shown here in this snapshot from NEMwatch at this dispatch interval: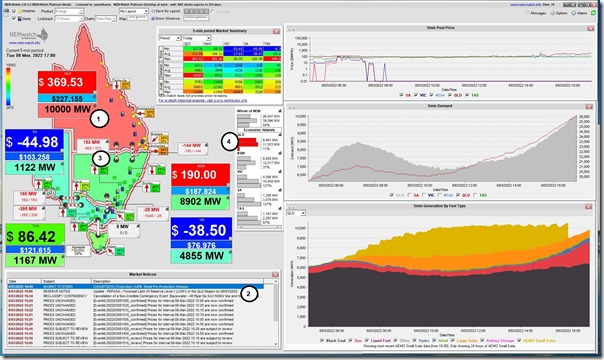 With respect to the numbered annotations, note the following quick points:
1)  The Market Demand (at 10,000MW) is clearly up in the red zone … not too far (i.e. only 52MW) below the all-time maximum demand level:
(a)  This all time maximum level for Market Demand (at 10,052MW) was set back on 13th February 2019 … although it was nearly eclipsed in the heatwave conditions of 1st and 2nd February 2022.
(b)  Will come back and put the actual peak in later!
2)  As this point, the most recent Market Notice issued by AEMO was for a forecast LOR1 Low Reserve Condition (but not the LOR2 condition forecast on Sunday):
——————————————————————-
MARKET NOTICE
——————————————————————-
From :              AEMO
To   :              NEMITWEB1
Creation Date :     08/03/2022     16:06:44
——————————————————————-
Notice ID               :         95161
Notice Type ID          :         RESERVE NOTICE
Notice Type Description :         LRC/LOR1/LOR2/LOR3
Issue Date              :         08/03/2022
External Reference      :         Update – PDPASA – Forecast Lack Of Reserve Level 1 (LOR1) in the QLD Region on 08/03/2022
——————————————————————-
Reason :
AEMO ELECTRICITY MARKET NOTICE
AEMO declares a Forecast LOR1 condition under clause 4.8.4(b) of the National Electricity Rules for the QLD region for the following period:
[1.] From 1800 hrs 08/03/2022 to 1900 hrs 08/03/2022.
The forecast capacity reserve requirement is 868 MW.
The minimum capacity reserve available is 708 MW.
Manager NEM Real Time Operations
——————————————————————-
END OF REPORT
——————————————————————-
3)  We see the QNI interconnector constrained on imports from NSW
4)  The Instantaneous Reserve Plant Margin (IRPM) at this time is showing the QLD only 'Economic Island' has slipped below 11% (i.e. 10.6% rounded up to 11%), as high demand and constrained imports combine with various supply-side factors (I have not investigated at this point) to deliver a tight supply-demand balance.
(B)  Actual Levels running well ahead of forecast
A quick snapshot from ez2view Forecast Convergence widget shows actual levels of Market Demand are running well above what AEMO had forecast in the prior P30 predispatch forecasts: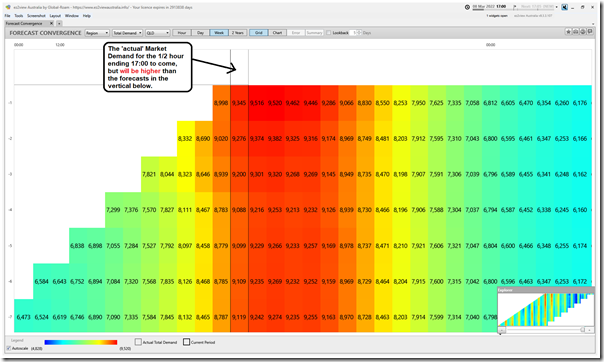 Looking down the vertical highlighted, we see that prior P30 forecasts have been significantly lower than what the demand has turned out to be for 17:00.
We may well hit a new record this evening as solar declines and if the temperature remains high.