Today we observed the removal of the constraint set invoked to cover an outage on the 220kV lines between Palmerston and Liapootah.
The outage arose from the operating incident that occurred on 14 October 2022 in Tasmania, where trips on both Liapootah – Waddamana – Palmerston 220 kV lines were later established to have been caused by a landslide impacting the footings of a strain tower on the double circuit transmission line between Palmerston and Waddamana.
The removal of the constraint set indicates TasNetworks' successful completion of works to repair and reconnect the damaged transmission lines and towers.
Explosive repairs
This video, courtesy TasNetworks, captures the demolition of the damaged tower.
The transmission lines
The constraint set invoked between the 19th October and the 2nd December was T-X_LIPM, with Description "Out = Both Palmerston to Waddamana (tee) to Liapootah 220kV lines. Both lines must be open at least at Palmerston." While I haven't looked to see whether Liapootah to Waddamana lines were also out, we do know the outage primarily concerns the Waddamana to Palmerston lines as this is the section where the transmission towers were impacted by the landslide.
The map below shows the location of the Palmerston to Waddamana 220 kV line, highlighted in red.  From the location, it's clear to see how critical these lines are in linking the networks of southern and northern Tasmania together.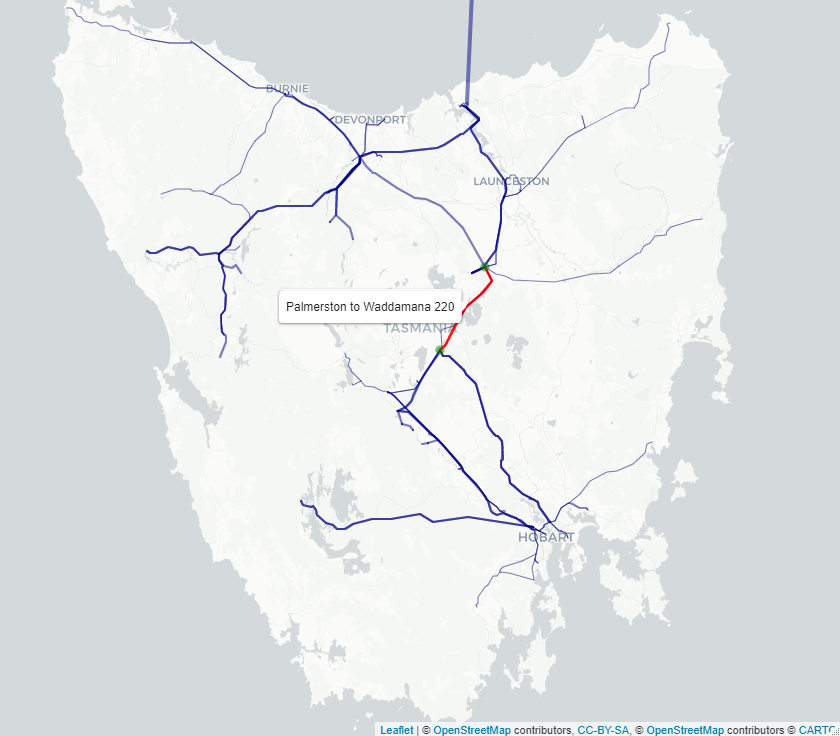 Background
For reference and further insight, our coverage to-date of the incident and related market activity has included:
Further articles related to the incident and market conditions in the days and weeks following are collated at WattClarity here.