Also worth noting today (Thursday 18th August) is that the AEMO has published its 52-page report on the Market Suspension from 15th to 24th June 2022 (and preceding conditions) here: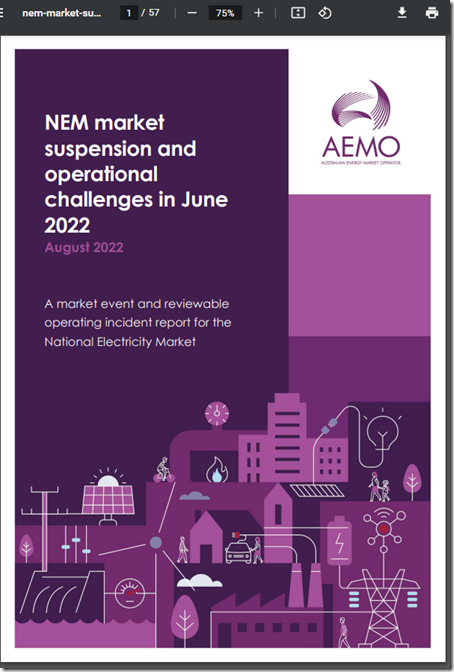 The first two paragraphs are worth repeating here:
'This report relates to the series of events associated with low reserve conditions in the National Electricity Market (NEM) between 10 June 2022 and 24 June 2022, including operation of the Queensland – New South Wales Interconnector (QNI) in excess of secure limits on 13 June 2022, spot market suspension from 15 June 2022 to 24 June 2022, and multiple directions for reliability.
Event overview
In June 2022, a confluence of high commodity prices, domestic market price caps, planned and unplanned outages of scheduled generating plant, low output from semi-scheduled generation, and high winter demand conditions led to unprecedented challenges operating the NEM
…'
The second paragraph is another reminder, for those who might be pre-disposed to cherry pick a limited number of contributing factors to justify their own preconceived notions that there were many different factors that combined to produce the result.
1)  A couple weeks ago when the AEMO released its QED for Q2 2022 I stopped counting at 8 different factors
2)  Even the last sentence quoted above flags 6 factors:
Factor 1 = high commodity prices
Factor 2 = domestic price caps
Factor 3 = planned outages of scheduled generating plant
Factor 4 = forced outages of scheduled generating plant
Factor 5 = low output from semi-scheduled generation
Factor 6 = high winter demand conditions.
I noted here but it is worth repeating that we wrote in our own Executive Summary within GenInsights21 that…
'As we worked through these questions via GenInsights21, several key data points led to the identification of three key challenges at hand:
1)  Variability and Uncertainty are Increasing
2)  Risks are Increasing
3)  Complexity is Increasing'
… so we will read with keen interest this AEMO report into how these four factors (and three challenges) were very much on display through June 2022.