Someone made the comment this morning about mainland hydro units running heavily in recent weeks (i.e. because of volatility), so I thought I would have a quick look.
Here's a view of the 'Bids & Offers' widget in ez2view looking back the past 730 days (i.e. 2 years) to highlight a number of things: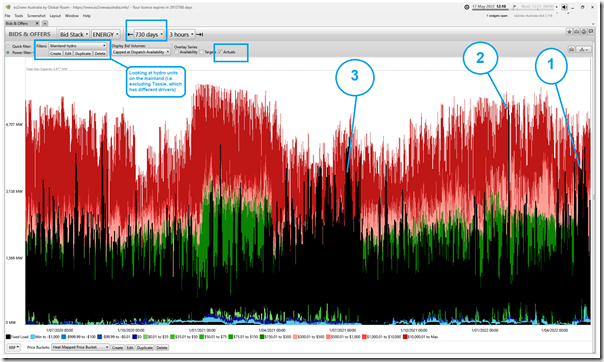 With respect to the numbering on the image, please note the following:
0)  Not numbered on the image, but highlighted, note that:
(a)  I've chosen to exclude Tassie hydro in this case, as it operates with different drivers given the nature of the TAS region … hence this trend is just 'mainland hydro'
(b)  I've also selected to show every 5-minute 'Actual' output as the black line … which gets a bit busy over such a longer time range, but can help illustrate operational patterns
1)  We can see the recent growth in output patterns, particularly in May 2022.
2)  I've highlighted the short-lived spike in output on Monday evening 31st January 2022 … a day Allan analysed soon afterwards here.
3)  Apart from that short-lived spike, we see that the current 'block of black' for May 2022 is easily the heaviest utilisation of hydro on the mainland since July 2021.  Keen-eyed readers will see that hydro generation in May 2022 appears to be running somewhat more heavily than in May 2021.
Nothing further, at this point.