It was difficult to concentrate on anything else today, when (following yesterday's prelude) we saw NEM-wide demand continue to climb higher – on the back of some hot weather across much of NSW.
A new peak demand (on a dispatch target basis) was set at 16:05 NEM time – with the new level of 14,649MW being more than 200MW higher than the previous peak mark.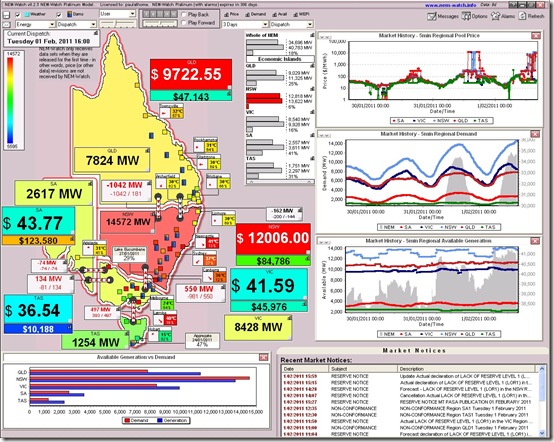 The snapshot above (taken at 16:00, five minutes prior) shows the high prices in QLD and NSW, and also the extremely low reserve plant margin in the NSW region – AEMO had issued several LOR1 Market Notices during the day to draw attention to this fact.
In the Demand chart in the snapshot, we can see the NEM-wide demand curtailed somewhat as the VIC demand backs off following a cool  change passing through Melbourne.  Peak for the day was 34,870MW at 13:30 – though we see the decline (due to VIC) offset somewhat afterwards by the relentless growth of demand in NSW.