As would be expected with the vagaries of the forecast afternoon/evening weather changing quite quickly, and as a result of the forecast extreme pricing delivering added incentive for participants to try to reshuffle their asset allocations for this afternoon/evening's times of extreme demand.
1)  I already noted in my third article yesterday how MN94316 notified at 19:59:59 of a maximum 39MW of expected load shedding in the QLD region on Tuesday evening.
2)  In MN94322 published at 21:30:11 yesterday, this warning was cancelled
3)  However this morning at 00:54 the LOR3 Low Reserve Condition warning was reinstated, and warned of a maximum amount curtailed of (only) 3MW at 18:30 today.
4)  Currently, Market Notice 94334 published at 03:00:04 is the latest update, and shows a maximum amount curtailed of 52MW at 18:00 today.  Here's the full text of this one:
——————————————————————-
MARKET NOTICE
——————————————————————-
From :              AEMO
To   :              NEMITWEB1
Creation Date :     01/02/2022     03:00:04
——————————————————————-
Notice ID               :         94334
Notice Type ID          :         RESERVE NOTICE
Notice Type Description :         LRC/LOR1/LOR2/LOR3
Issue Date              :         01/02/2022
External Reference      :         PDPASA – Update of the Forecast Lack Of Reserve Level 3 (LOR3) in the QLD Region on 01/02/2022
——————————————————————-
Reason :
AEMO ELECTRICITY MARKET NOTICE
The Forecast LOR3 condition in the QLD region advised in AEMO Electricity Market Notice No. 94329 has been updated at 0245 hrs to the following:
[1.] From 1800 hrs 01/02/2022 to 1900 hrs 01/02/2022.
The maximum load (other than interruptible loads) forecast to be interrupted is 52 MW at 1800 hrs.
AEMO is seeking a market response.
AEMO estimates the latest time it would need to intervene through an AEMO intervention event is 1400 hrs on 01/02/2022
Manager NEM Real Time Operations
——————————————————————-
END OF REPORT
——————————————————————-
Here's a snapshot from NEMwatch at 07:35 this morning including the look-forward function into AEMO's current P30 predispatch forecasts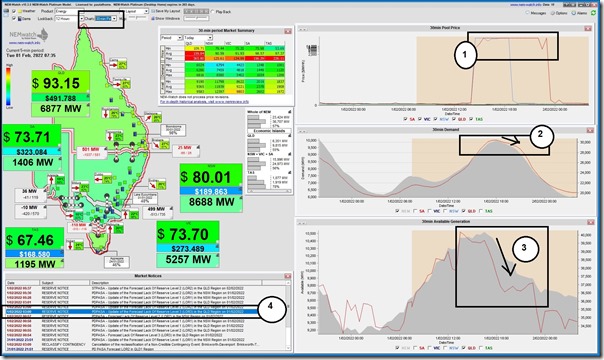 A few quick notes about this morning's image:
(1)  Extreme prices forecast to last all afternoon/evening in QLD
The image above shows that the current expectations are that the QLD price will spike sky-high from 14:30 this afternoon and last that way all the way through until 00:00 heading into Wednesday morning 2nd February.
1)   If this does ensue, it would be a 10 hour-long run of extreme prices that would blow the Cumulative Price Threshold out of the water
i.e. notwithstanding Tripwire #1 and Tripwire #2 that now exist post 5MS, but a run this long would add something like $1,800,000 to the Cumulative Price, so well past the $1,359,100 Cumulative Price Threshold!
2)  As shown in the NEMwatch snapshot below, we're already at $491,821 this morning and so not that much further to reach the Cumulative Price Threshold and trigger prices to be capped at (only) $300/MWh
3)  Whilst there are logical reasons to have this rule (to protect wholesale participants from cash flow risks, etc) I do recall observing some perverse outcomes … like spot-exposed energy users switching back ON right at the time supply/demand balance is significantly stretched (I think this was in 2009).
Also worth noting is that the forecast has NSW prices also sky high from 14:30 to 18:30 (NEM Time).
(2)  Forecast QLD demand to exceed 10,000MW
Given the current forecast run, the forecast peak of 10,023MW for 'Market Demand' would be just below the the all-time maximum set at 10,052MW in the 16:55 dispatch interval on Wednesday 13th February 2019.
Here's a snapshot taken from ez2view 'Forecast Convergence' widget at the 08:40 dispatch interval this morning utilising the 'Grid' view and zooming in to focus on the 5-minute periods ending 17:30 and 18:00 (remembering how Tripwire #1 and Tripwire #2 affect the P30 forecasts now we are in 5MS):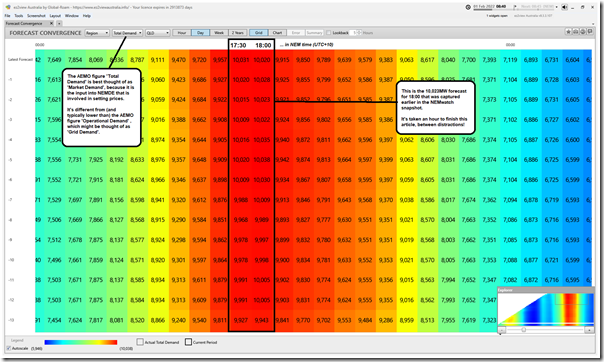 The bottom row shown in the grid (i.e. the -13 forecast) was produced for 02:30 this morning.  Looking up this column we see that successive forecasts for this evening's peak in demand have been bouncing around a little, but with the overall trend upwards.
Is it any wonder, with the 'Weather in Brisbane' query now reporting an expected peak in temperature of 35°C with 60% humidity: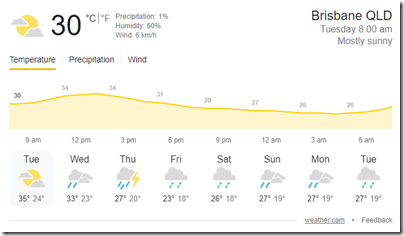 On the upside, the forecast for tomorrow (Wednesday 2nd February) is not as severe as it was late last week.
(3)  Forecast decline in Available Generation leading up to 18:00
Would begin to decline from as early as 13:30 (from 10,493MW) to be down 563MW to 9,930MW by 18:00 (i.e. the time of the forecast maximum requirement to load shed).
Here's two copies of the ez2view 'Forecast Convergence' widget focused on 'Available Generation' in the QLD region, highlighting some changes: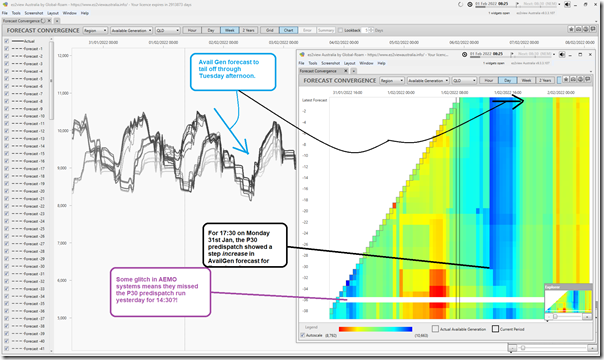 (4)  Forecast LOR3 (Load-Shedding)
So it is no wonder that the AEMO is iterating through specifics of how much (if any) load shedding will be required this evening.
Hang onto your hats!