A short article to follow yesterday's note about spot price volatility in the QLD region on Monday 20th December, this time dropping in this snapshot from the ez2view dashboard time-travelled slightly back to the 18:50 dispatch interval to show 'end of interval' values for metered generation output.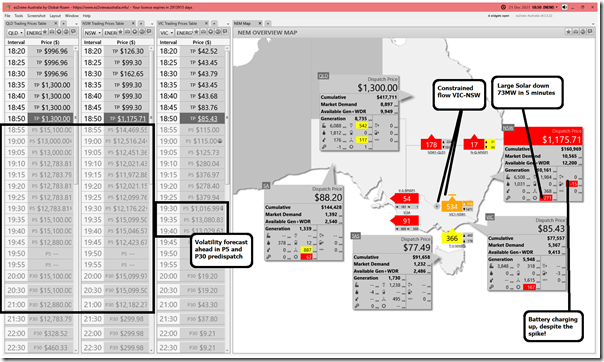 Here we can see the price has jumped in NSW coincident with constrained imports from VIC (hence the price separation) and a big drop in solar harvest over 5-minute period.  Whilst the drop in solar production is expected, the increase in battery charging is a bit counterintuitive.
See the prices forecast to be high this evening in QLD and NSW … and even VIC and SA as well (notwithstanding Tripwire #1 and Tripwire #2).