I'm focused on other things at present, but thought it worth this short note with a snapshot from NEMwatch v10 showing the 17:25 dispatch interval on Monday 20th December 2021 with 'Market Demand' up in the orange zone* as a result of the hot and humid conditions (see #1), and spot price elevated to $1,300/MWh (see #2) as a result: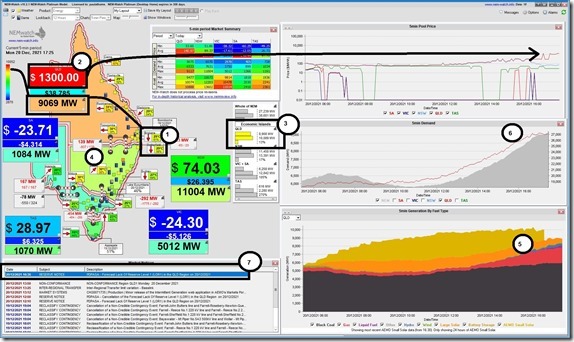 The Instantaneous Reserve Plant Margin in the QLD 'Economic Island' has alerted to yellow level (see #3):
(a)  meaning below the 15% sensitivity level,
(b)  with a little over 1,000MW of spare capacity unused at any price.
(c)  this is because of the constrained imports from NSW (see #4).
We see solar harvest declining through the afternoon with still an hour or so of sunshine to go (see #5) – so the net result in terms of tightness of supply/demand balance will be 'a race' between whether solar declines faster than Underlying Consumption (as a result of which Market Demand will stay higher for longer – see #6), or the other way around this evening.
AEMO has shot a pre-emptive warning across the bows with the Low Reserve Condition forecast for later this evening (see #7), albeit only at LOR1 at this point:
——————————————————————-
MARKET NOTICE
——————————————————————-
From :              AEMO
To   :              NEMITWEB1
Creation Date :     20/12/2021     16:36:57
——————————————————————-
Notice ID               :         93314
Notice Type ID          :         RESERVE NOTICE
Notice Type Description :         LRC/LOR1/LOR2/LOR3
Issue Date              :         20/12/2021
External Reference      :         PDPASA – Forecast Lack Of Reserve Level 1 (LOR1) in the QLD Region on 20/12/2021
——————————————————————-
Reason :
AEMO ELECTRICITY MARKET NOTICE
AEMO declares a Forecast LOR1 condition under clause 4.8.4(b) of the National Electricity Rules for the QLD region for the following period:
[1.] From 1830 hrs 20/12/2021 to 1900 hrs 20/12/2021.
The forecast capacity reserve requirement is 1131 MW.
The minimum capacity reserve available is 1066 MW.
Manager NEM Real Time Operations
——————————————————————-
END OF REPORT
——————————————————————-
This evening's example is just one more case of the types of new market dynamics we're already increasingly seeing, as which were discussed in 'Deep Dive' Appendices 15 & 16 in the GenInsights21 release we made under a week ago.  You can submit your orders today, in time for Christmas reading!
Price for 17:40 now up to $10,127.54/MWh and IRPM down to 12% in the QLD 'Economic Island' … we might come back to this later.