As I have noted before, the ERM-sponsored rule change making unit level availability projections visible in MT PASA was an excellent boost to market transparency (though, as also noted before, I remain a bit baffled as to why the AEMC saw fit to let Villain #8 continue to exist with respect to the growing volume of Semi-Scheduled plant operational in the NEM!).
We've used the 'MT PASA DUID Availability' widget in ez2view in a number of recent articles here to look at what's been happening following the Callide C4 Catastrophe and the Yallourn flooding events of Q2 2021.
Yesterday afternoon when I posted this note about another delay in Callide C3 return to service I considered taking a longer term lens using the widget to look at planned retirement dates for assets coming up.  But yesterday's volatility and other things delayed me doing that then.
(A)  Another day slippage to Callide C3 return to service
In yesterday's article, the expectation was that Callide C3 would be back in service sometime on Thursday 15th July (next week).   It turns out that this has already slipped another day, in the 09:00 updated from this morning, as we see here:
[Josh, perhaps I will beat Angela to the announcement this time?!]
(B)  Bye-bye to Torrens A1, A3 and B1
Also today I saw that Nick Toscano had written 'AGL to shut down gas-fired power unit as renewable energy soars' in the SMH: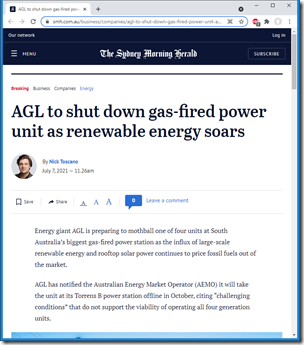 … which reminded me of what I was thinking yesterday.
So here's another view of the same 'MT PASA DUID Availability' widget filtered specifically for AGL's two 'soon to close' plant – Torrens and Liddell: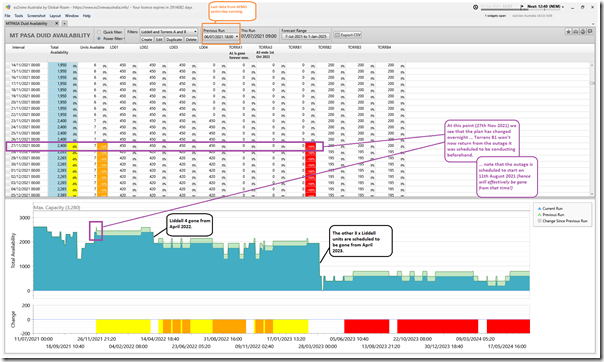 With respect to the Torrens site:
1)  We see Torrens A1, whilst still registered, is never coming back
2)  Torrens A3 also exits soon … at 1st October 2021.
3)  Finally, I've noted two things about Torrens B1:
(a)  The change noted in the widget above is that the unit won't return in November 2021 from the (long) outage scheduled beforehand;
(b)  With the outage starting on 12th August 2021, this effectively means that the unit only has 5 weeks left to run.
(c)  For completeness, I've linked here to AGL's media release today about 'AGL to mothball one unit at Torrens B in South Australia' …
Two quick questions for our readers:
Question 1)  I wonder whether there has been something discovered in operations of the unit recently that have helped AGL to make that decision?
Question 2) Keeping in mind that when the unit is de-registered might still be some way off into the future, I'm interested in people's thoughts about what this means in terms of the 3 (or was it 4?) year 'Notice of Closure' requirement that was proposed in the Finkel Review.
2a)  Mothballing means can still be recalled … though note the AGL release above talks about 6 months notice required to recall (so too long to even cover cases of High Impact Low Probability events like the Callide C4 Catastrophe).
2b)  Useful for people to keep in mind what 'notice of closure' actually means.
(C)  Liddell closures also shown
Also highlighted in the image above are the scheduled closures of the 4 x Liddell units:
1)  I'd noted on 4th May that 'Liddell unit 3 to close in 11 months time … on 1st April 2022?' but it appears today that the plan is now for that to be Liddell unit 4 (and for last day to be 1st April 2022).
Have not invested the time to see when that change in plans occurred
2)  Regardless of which unit is first, the other 3 units are all scheduled to go by April 2023.
(D)  Implications for the demerged 'Troubled Assets Co' to be spun out of AGL?
Does also make me reflect on what a challenging role the team will have when they are spun out of AGL into the 'Troubled Assets Co' (or what I termed as 'BadEnergy' earlier).
1)  I think I am correct in noting that Torrens and Liddell are planned to be part of that vehicle?
2)  Along with Bayswater and Loy Yang A as well?
3)  Not to forget the legacy wind farm off-takes that were the main contributor to the $2.6b impairment announced in February.
Quoting what might have been that old proverb, the team joining that new company (planned name Accel Energy Limited) will 'live in interesting times!'.