I'd missed the news update on the day that it was published (which appears to be sometime in mid-July) but worth noting here on WattClarity this update from CS Energy via LinkedIn, about the demolition and reconstruction of cooling tower for Callide C3 and C4 in central Queensland: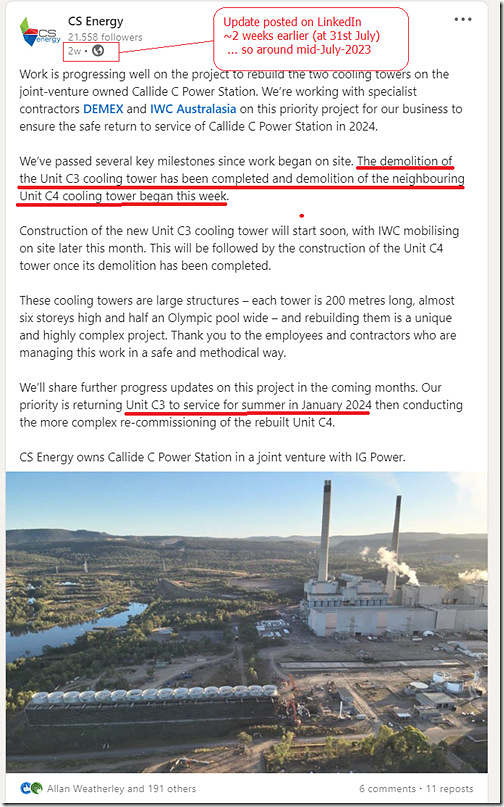 The key points (to me) are as follows:
'We've passed several key milestones since work began on site. The demolition of the Unit C3 cooling tower has been completed and demolition of the neighbouring Unit C4 cooling tower began this week.'
… and …
'Our priority is returning Unit C3 to service for summer in January 2024 then conducting the more complex re-commissioning of the rebuilt Unit C4.'
(A)  No change in return to service expectations
Belatedly seeing the update (above) today was a prompt to check on the MT PASA DUID Availability data (again with thanks to the ERM Rule Change) in the 'Forecast Convergence' widget in ez2view, filtered down to the availability data just for Callide C3 and C4: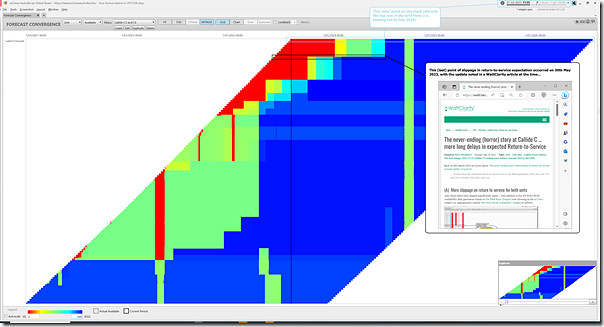 As noted on the image (click the image for a better view) there's no change in return-to-service expectation beyond that noted here on 30th May 2023.
(B)  No update on the Engineer's Report on the cause of the C4 failure
It's also worth noting that I've also not seen any news (here on the CS Energy website, or elsewhere) about Dr Sean Brady's report on the cause of the catastrophic failure of Callide C4 back on 25th May 2021.