A very short article this evening with a single snapshot from NEMwatch v10.2 taken at 19:00, but with the 18:00 dispatch interval the point of interest: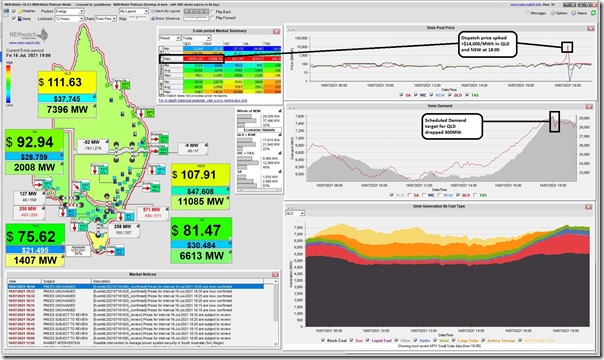 The dispatch price spiked above $14,000/MWh in both QLD and NSW for the 18:00 dispatch interval (i.e. the last dispatch interval in the 18:00 thirty minute trading period).  I'm inferring that the subsequent 300MW drop in dispatch target for Scheduled Demand in the QLD region was the result of ~300MW of (spot-exposed) Demand Response in the QLD region … the type which we've been serving for what's approaching 20 years.
We'll look forward to seeing how both factors evolve through October (whilst also staying clear of these three tripwires) with:
1)  Commencement of Five Minute Settlement on 1st October; and
2)  Commencement of the Wholesale Demand Response Mechanism on 24th October.
Nothing further to add at this point…