The following update on LinkedIn this afternoon from Josh Stabler at Energy Edge also caught my eye: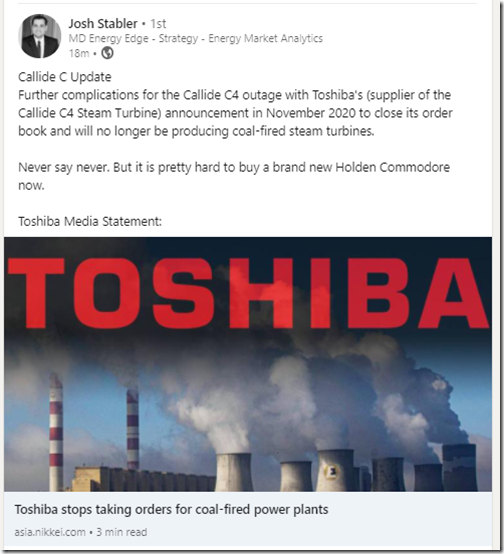 Josh has linked through to this article from 10th November 2020 that says 'Toshiba stops taking orders for coal-fired power plants'.
I'd already seen on Monday 1st July that Mark Ludlow had written that 'CS Energy commits to replacing damaged Callide power station' in the AFR … though I did also see that Ketan Joshi followed on from the AFR article to note on 2nd June in RenewEconomy that:
"Merely uttering the possibility of reduced coal output is, literally, a sackable offence in Queensland."
Others have also wondered at what point the decision making process might consider other replacement options:
1)  I did so on 27 May as Q7 (i.e. 'What might be done with C4?'), and
2)   Carl Daley also did on 31st May (then referenced in the AFR on 31st May)
… and there are bound to be others
As the JV owners work through the repair process* it seems inevitable that they will need to navigate through potential obstacles, like that noted with Toshiba above.
 * noting that we're weeks away from the Repair Process being  able to commence in earnest, whilst they are still focused on making the site safe and understanding root cause of failure (notwithstanding social media suggestions!).