The national electricity market transformation is dramatically shifting market dynamics and driving innovation in the energy sector.  As the energy market evolves to include more variable renewable generation, the system will require more storage and the contract market will need to innovate to encourage new products. ​
Hydro Tasmania is helping to lead the way, as part of the first-ever trade deal for stored energy brokered with Renewable Energy Hub.
The innovative new 'virtual storage' electricity swap contract is for the buying and selling of stored energy.
A storage owner's key revenue stream is price spread – the difference between the highest and lowest prices. This price spread is achieved by pumping energy at the lowest prices to fill storages and generating energy at the highest prices.
A fluctuating spot market makes it tricky to achieve a sustainable price spread. That's where the virtual storage product comes in. It allows a price spread to be locked in up-front, providing price and volume certainty.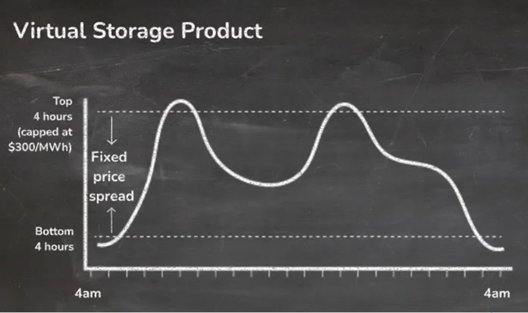 Hydro Tasmania's Executive General Manager, Commercial, Caroline Wykamp, said that innovative partnerships like this presented a great opportunity to support the national electricity market's transition.
"The benefits of deep storage, currently being progressed as part of the Battery of the Nation, are well understood in the context of providing firming capacity that will be needed as the energy market transitions and variable renewable energy becomes the dominant source of supply," Caroline said.
"This virtual storage product provides revenue certainty to storage owners and buyers over a long period of time – it provides another avenue to market, reduces the risk of exposure to fluctuating spot prices and unlocks more variable renewable energy."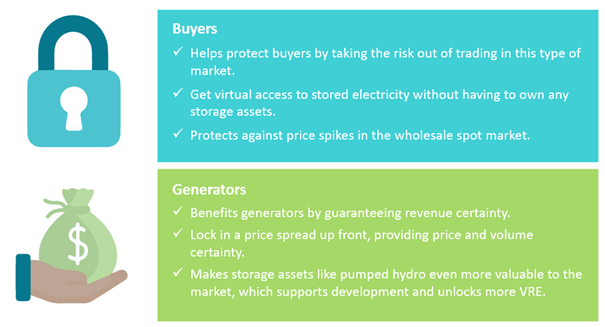 "The virtual storage hedge contract demonstrates the value of such trades to the financial market.
"It also shows that further liquidity in such trades can support investment needed to develop pumped hydro and other storage technologies that will ultimately support Australia's renewable energy future – it's a win win", Caroline added.
Virtual Storage is the most recent product developed by Renewable Energy Hub, as part of this Australian Renewable Energy Agency (ARENA) funded project to develop a suite of innovative, standardised hedge contracts to meet the needs of a transitioning energy market.
This video has been prepared to explain more:
————————————–
Technical Footnote
While this first deal was struck at the Victorian Regional Reference Node (RRN), Renewable Energy Hub (REH) could offer these contracts at any node. The initial arrangement was for the FY2022 period.
Standard size of the product is for 4MWh 'virtual arbitrage' per day (or a multiple thereof) and assumes, being virtual, 100% round trip efficiency. This first contract was struck for 20MW of 'virtual arbitrage' – meaning 80MWh per day. REH are also working on potential transactions for shorter duration (2hours) and potentially longer (up to 8 hours). These alternative duration products will be suited to different storage technologies and portfolio hedging strategies.
The settlement calculation is performed daily and as per the AEMO calendar. The calculation – Contract for Difference (CfD) between the strike price and the actual price differential between the highest 4 hours and lowest 4 hours of days spot prices, capped at $300/MWh.
————————————–
Other coverage
The first deal was described earlier this year in a number of media articles, including the following:
On 21st Jan 2021 Angela Macdonald-Smith wrote about 'Hydro, Macquarie, Shell in 'game-changer' storage deal' in AFR
On 21st Jan 2021 Sophie Vorath wrote about 'Game-changing "virtual storage" deal struck between Macquarie, Shell and Hydro Tas' in RenewEconomy.
On 21st Jan 2021 Blake Matich wrote about 'Green finance innovation caters for 'Virtual Storage' market' in PV Magazine
On 21st Jan 2021 Molly Lempriere wrote about 'First transactions made using Renewable Energy Hub's 'Virtual Storage' contract in Australia' in Energy Storage News.
On 22nd Jan 2021 Imogen Hartmann wrote about 'Renewable Energy Hub's first virtual storage deal complete' in Energy Magazine.
————————————–
About our Guest Author
Caroline has had over 20 years' experience in the Australian Energy market spanning across a number of functions. Caroline has had experience in wholesale markets and risk, start-up companies, renewable technology and product development.

In her role as Product Manager at Origin Energy she built the behind the meter solar PPA product for Commercial customers taking Origin to number 1 in Australia for sales of solar in the Commercial sector.

Caroline as Executive General Manager, Commercial at Hydro Tasmania has wholesale electricity and gas, C&I sales and Emerging Technologies in her portfolio.

You can find Caroline on LinkedIn here.