This article follows a virtual presentation on 'SA Water's Zero Cost Energy Future program' made by both Dr Robert May and Ashley Nicholls to the Electric Energy Society of Australia back on 30th September 2020. 
During the presentation, this slide was shown to illustrate the transition that SA Water has been progressing through over the past 7 years – from a (traditional) Large Retail Customer through stages to become a Self-Retailer.

Given the level of sophistication that SA Water has built into its operations, we invited Robert and Ashley to share some insights via WattClarity.
Our Zero Cost Energy Future program adopts a proactive approach to sustainable energy management, namely through the delivery of 150MW of solar PV and 17MW battery fleet behind the meter at around 35 of our sites across South Australia. We are making the most of the inherent flexibility in our operational systems to implement a demand response model.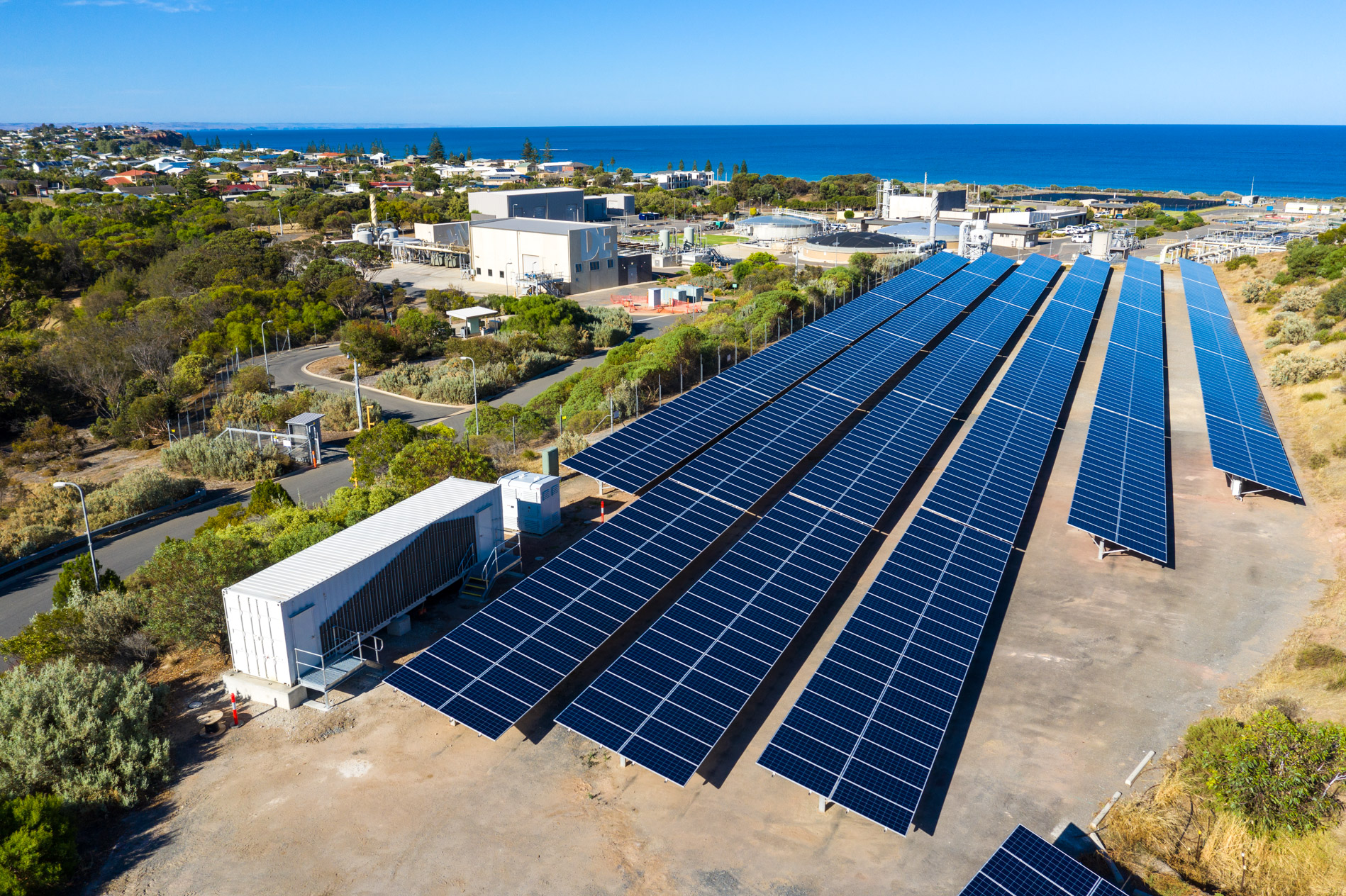 Photograph of 2000MWh solar array at Christies Beach Wastewater Treatment Plant
Maximising the benefit of this strategy requires real-time co-optimisation of both the operation of solar and battery storage, existing generation from biogas and diesel engines, and operation of the flexible load from water and wastewater treatment systems. Co-optimisation is an important consideration, as the energy consumed is directly linked to the operation of our water and wastewater infrastructure, which are subject to consumer demand and water security constraints.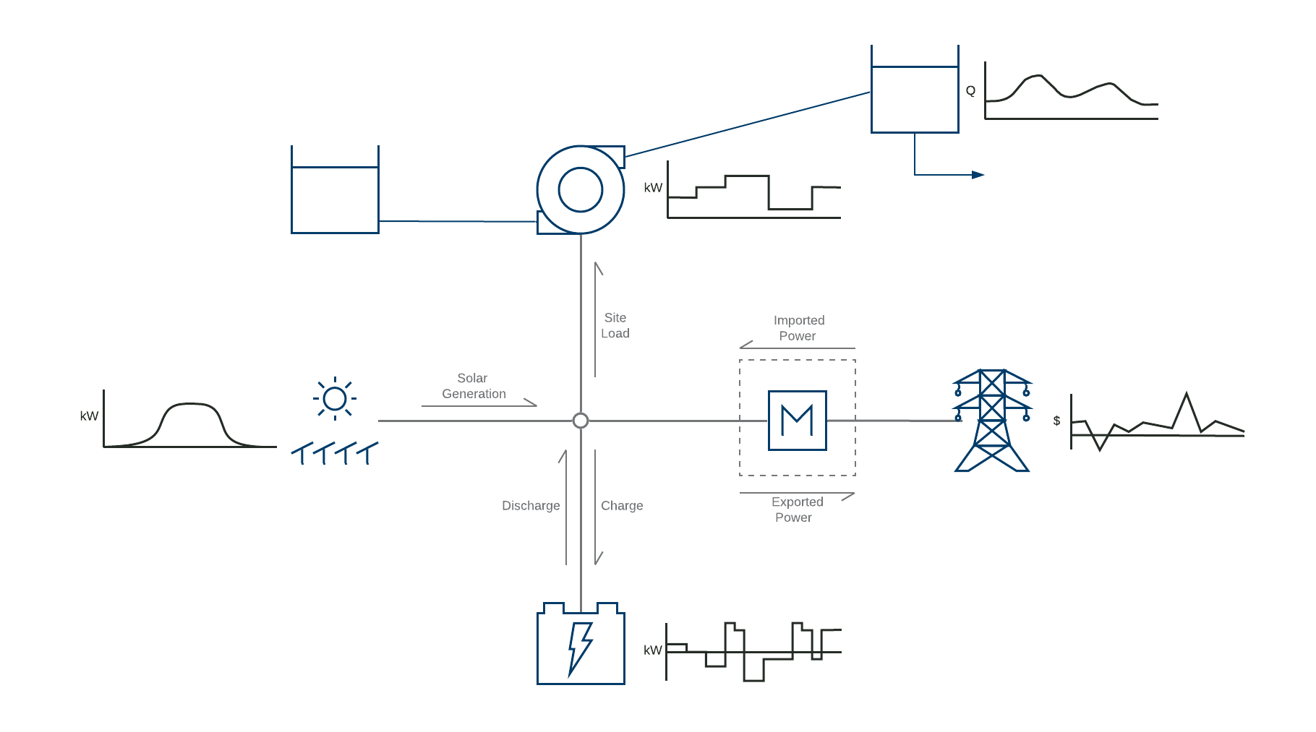 Building an operational capability to anticipate and respond swiftly to changing prices within a volatile energy market also forms a key part of this strategy. Demand response at such a scale, with the combined complexity of complex hydraulic systems, behind-the-meter renewables and market interfaces, all require the development of decision-support systems.

We are developing an energy management system (EMS), which can leverage data, artificial intelligence and optimisation tools to forecast energy market and operational conditions, as well as provide clear and timely recommendations on optimal operating actions to ensure service delivery and minimise electricity cost. The EMS is a set of complementary tools that provide our teams the capability to monitor and co-optimise operational performance.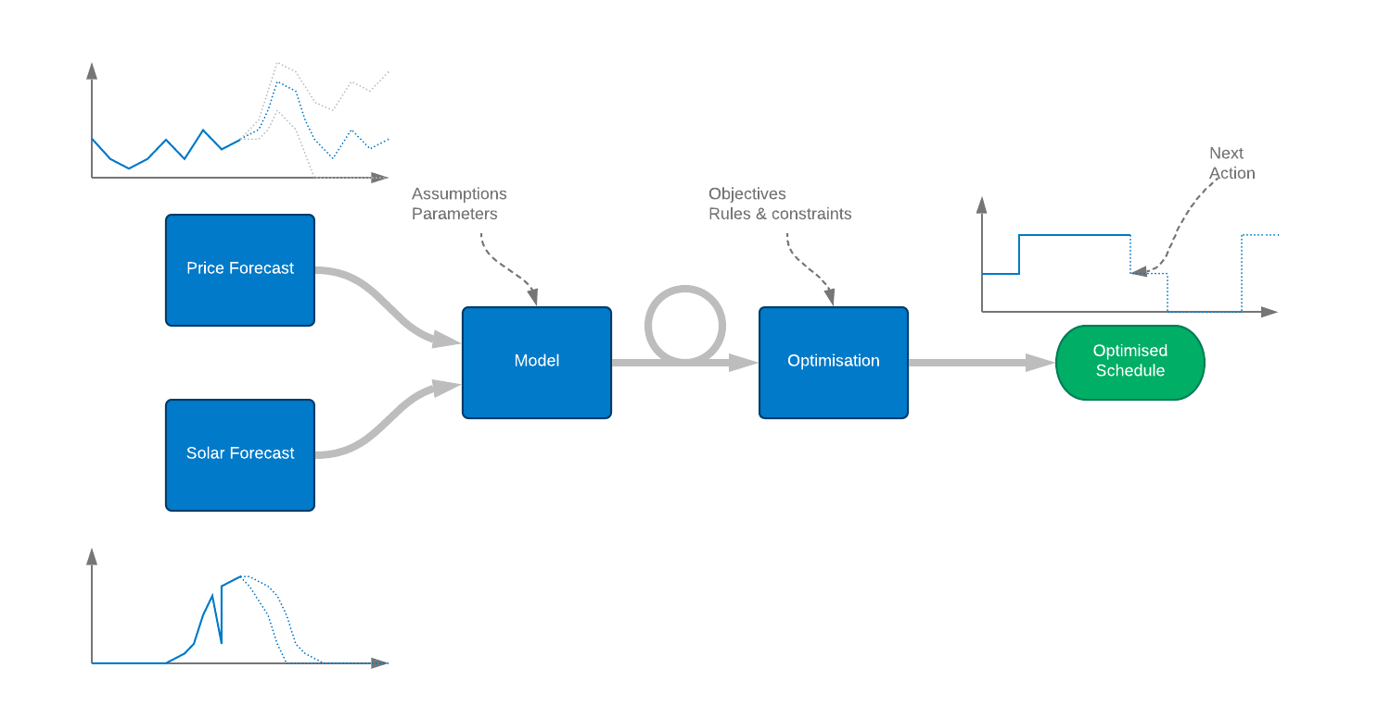 An energy dashboard has also been developed to provide our operators with historical, real-time and forecast data on energy price, generation and consumption. The dashboard currently covers more than 50 major operational sites in South Australia, with more sites soon to be added. The aim is to provide a complete intelligence platform for energy management across our entire portfolio of operational sites.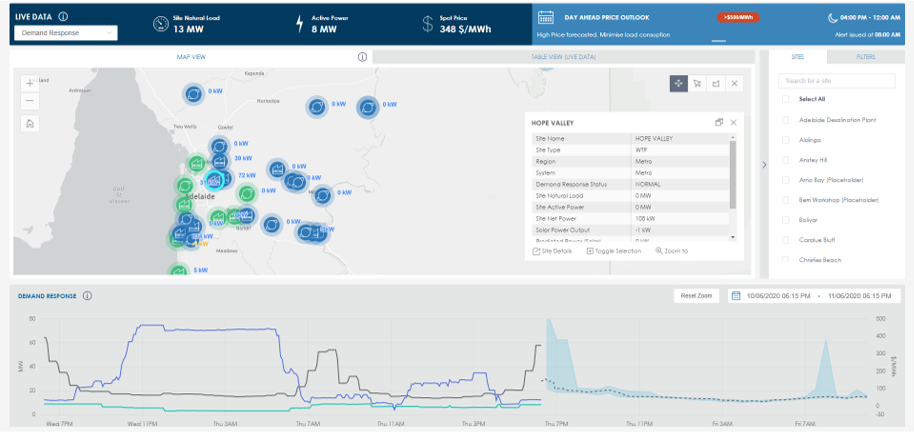 In the same way residential users can monitor their rooftop solar PV and demand-manage their appliances, our managers and operators will have the same information at their fingertips for operational facilities, including price alerts and advisory notices to keep them informed and ready to act.
Making the most of the investment in battery energy storage represents a unique challenge, given the added complexity of optimising the benefits of behind-the-meter load-shaving and load-shifting, as well as front-of-meter energy arbitrage and Frequency Control Ancillary Services (FCAS) revenues.
We are planning to use specialised software to optimise the use of storage within our battery fleet and automate the bidding of larger batteries which are registered for participation in the National Electricity Market (NEM). This automates and optimises the bidding of battery capacity across available energy and FCAS markets, using price forecasts, site energy consumption and solar PV generation.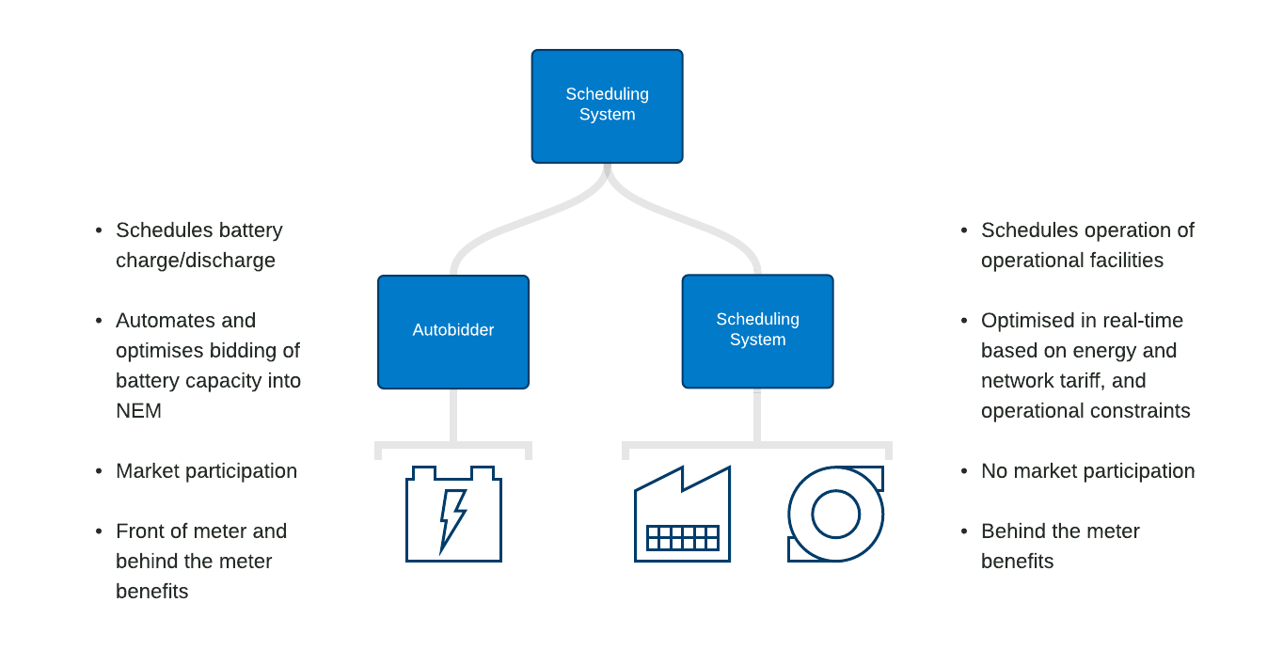 Optimising energy demand for a water utility requires the capability to model and co-optimise highly constrained hydraulic systems and operational processes, in a way that adequately accounts for physical system limitations, capacities of process equipment, customer demands, storage security levels and outages.
Specialised modelling software is being used to model and co-optimise our operation of energy and water/wastewater systems. The software will be used to support operational and asset management decision-making, to account for variable energy pricing and behind the meter renewables.
A real-time production scheduler decision-support tool will co-optimise the operation of pumping stations and treatment plants, subject to water demand/wastewater inflow and water security constraints. The scheduler will link real-time information and forecasts into the optimisation software for evaluation, and present outputs as actionable operational schedules. Supporting operational supervisory control and data acquisition systems will provide the necessary real-time information, and AI platforms will generate forecasts of solar PV energy generation and water demand/wastewater inflows.
---
About our Guest Authors
Dr Robert May is the Energy Optimisation Specialist at SA Water.

Robert is a chemical engineer with 16 years experience in the municipal water and wastewater sector throughout Australia, Asia, Europe and Latin America. He has worked in a broad range of technical engineering and management roles, covering treatment plant operation, network management, asset management, and research and development for water, wastewater and recycled water systems.
Ashley Nicholls is the Energy Portfolio Manager at SA Water.

He is a Mechanical Engineer and holds a Master of Business Administration and Graduate Diploma in Applied Finance. With over 30 years experience in the electricity industry Ashley has worked in electricity markets since 1998 and included roles at Flinders Power (Trading Operations Manager), Babcock and Brown (Trading Operations Manager) and Trustpower (Energy Trading Manager).