On the 28th of January 2020 we* released our Generator Statistical Digest 2019, a partial update and extension to the Generator Report Card 2018 which we published in the first half of 2019.
*  by 'we' I mean the team here at Global-Roam Pty Ltd in close collaboration with Jonathon Dyson and his team at Greenview Strategic Consulting.  We also appreciate the invaluable assistance provided by others in this collaborative development.
In building it, we incorporated many of the comments we received from the GRC2018 including choosing to publish additional metrics to the 10 year profiles of performance and financial data, and for each DUID we added an additional page that focused on output over the 2019 calendar year.
In the months since its release we have been very pleased by the number of compliments and overall positive feedback. Below we have highlighted some of the comments that have been made in the public domain, as well as feedback that has been sent our way directly from clients who purchased the GSD.
Comments in the general media
In late January, ABC journalist Stephen Letts wrote "Solar generation is being buffeted by financial headwinds that are killing investment" describing the threats to the profits of solar farms, and spoke highly of the GSD2019 writing that it "delves into the operations of all the NEM's generators in extraordinary detail — a forensic analysis of the various plants' contributions to the grid, their efficiency, reliability, costs and utility."
He went on to quote Allan O'Neil, one of the collaborators of the GSD, who extracted data to identify the headwinds facing solar generators in the NEM.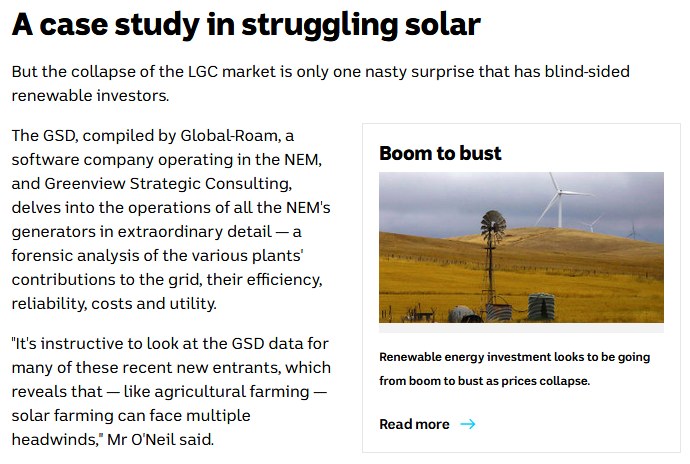 In a piece on RenewEconomy on the 29th of January, David Leitch wrote on how low demand was contributing to low wholesales prices and used the GSD to compare changes in revenue for the Pelican Point Power Station: "Those people with access to Global Roam's forthcoming Generator Statistical Digest which has a monthly summary of 2019 pool revenue for every generation unit will see that for instance Pelican Point made twice as much revenue in January 2019 as any other month of the year and even "baseload" stations like Eraring make 20-30% more revenue in January than the average month."
It was particularly encouraging to see the GSD used directly by David to reveal the revenue profile of this specific generator to explain the bigger picture – one of the core goals of this publication and for us a business.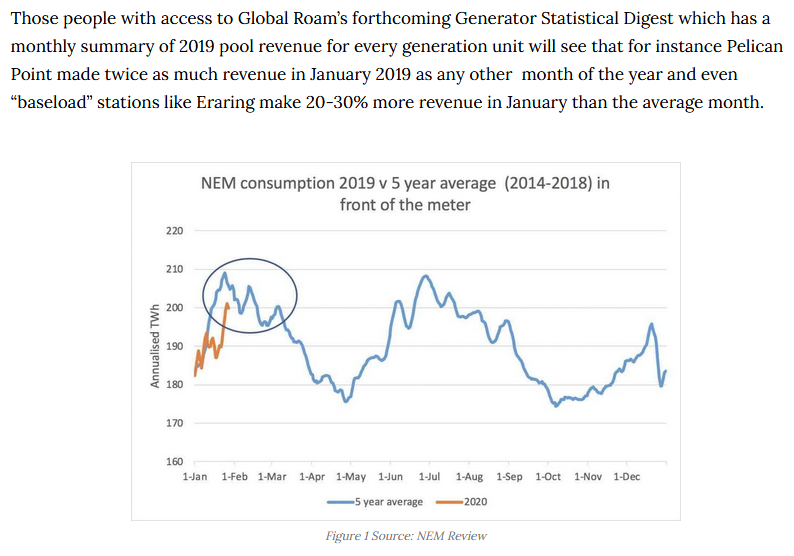 Comments on social media
In addition to his article mentioned above, Stephen Letts labelled the GSD a 'blockbuster' on twitter.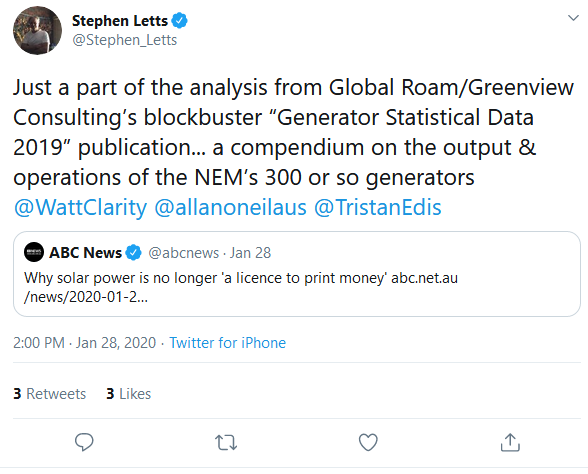 Meanwhile on LinkedIn, the Clean Energy Investor Group posted about the GSD, summarizing "Dense data and lots of insights on the clean energy transformation currently underway in the NEM"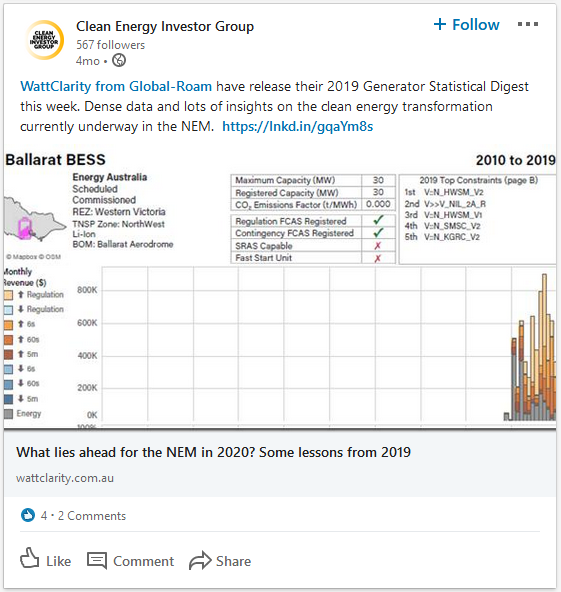 Comments directly from clients
Since its release at the end of January, we've been pleased by number and diverse range of clients who have ordered the GSD. Each of whom have been given access to a digital version of the publication, and sent a hard-copy by post.
We've received many compliments directly from clients, a select handful of which are shared below.
"We're loving the level of detail you have gone into"

– Toby Roberts, InterGen

27th February 2020
"This is a treasure trove of information – congratulations again to the team for making this kind of detail accessible and understandable"

– John Blik, Renaissance Energy

2nd March 2020
"A very comprehensive document!!"

– Matt Howell, Tomago Aluminium

9th March 2020
"We are extremely impressed with the document and have found it an invaluable source of information"

– Ross Anderson, Clutch Consulting

10th March 2020
"The bankers have found it invaluable"

– Investment Bank seeking to remain anonymous

9th April 2020
We would like to take this opportunity to thank everyone again who has purchased the GSD2019 so far, and thank those involved with this collaborative effort.   We still have a small number of hard-copies of the GSD2019 ready to deliver, and we intend to make the Generator Statistical Digest an evolving annual publication in the coming years.