Following some focused effort over the past couple of months from a combined team (across Greenview Strategic Consulting and also some of us here at Global-Roam) we're pleased to announce that we've released the Generator Statistical Digest 2019 (GSD2019) today.
(A)  What is the GSD2019?
The GSD2019 is an update to, and extension of, the statistical component that formed 'Part 3' of our very widely read Generator Report Card 2018 (GRC2018), which was released almost 8 months ago to the day.
Where the GRC2018 delivered value over two main components (180 pages of analysis and 330 pages of statistics), it required an all-consuming effort to put it together.  Hence we have decided that it would be better to split our future efforts in updating this between the two discrete components of value:
Component #1 = an annual publication we'll call the Generator Statistical Digest, published in January each year (beginning today) looking back the prior 10 years but with particular focus on the year just passed; and
Component #2 = a less frequently updated analytical component, which we will name at the appropriate time.
This is illustrated here: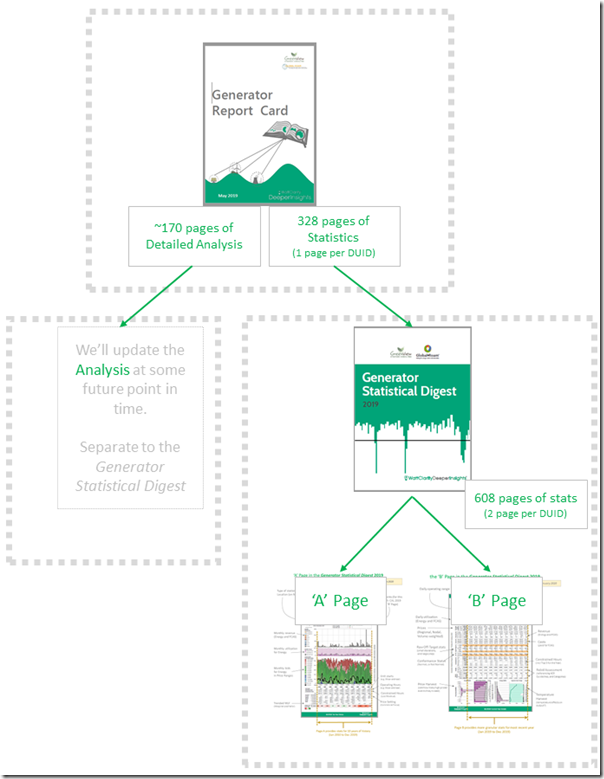 We've expanded the statistical focus from Part 3 of the GRC2018 to now provide two pages of stats for all 304 DUIDs that operated through some portion of CAL 2019:
'A' Page
… ten years 2010 to 2019
'B' Page
… additional details for calendar 2019
This page is heavily based on the 'page per DUID' supplied in Part 3 of the GRC2018 – but has been enhanced in a number of ways, based on feedback from clients:

Click here, or on the image, for more detail about the 'A' Page.

This page has been added, in order to extend some of the investigations included in the Analytical Component of the GRC2018:

Click here, or on the image, for more detail about the 'B' Page.
The advantage of this format is that it enables data to be reported, on the same basis, for all DUIDs!
(B)  How you can access the GSD2019?
Please choose which category your organisation falls into:
This is how to Download the GSD2019
… for those who have already ordered
This is how to Order the GSD2019
… if you have not yet done so
Clients should have their access to the electronic copy Generator Statistical Digest here:

You'll need to set up your own unique log-in, using your organisational email address in order to access:

it's a 42Mb PDF so keep this in mind if on a low-speed link
this process works in Chrome, Edge and Safari (but not currently in Internet Explorer).

One bound hard-copy is also being supplied as well, when the printing/binding process is complete

Hence make sure we have your best postal address!

Choose the right Order Form and sending back to us:

Order Form GSD2019
(only $750 exGST for 660 pages!)

Exclusive Order Form GSD2019
($500 exGST, if you have purchased GRC2018)

After we receive your order, we will:

(1)  Set you up with electronic access at the site above (hence be sure to specify your corporate email address); and
(2)  Deliver your bound-hard copy; and
(3)  Process your payment and provide a tax invoice.
We look forward to hearing back from you!
(C)  Five Analysts present some initial insights, from the GSD2019
Today we have been fortunate to be able to publish some selected insights from five analysts who've pulled together five articles independently, to help you understand some of what is available for you through the GSD2019:
Analyst
Brief description of what they covered
Allan O'Neil

For his article "How good is solar farming?", our frequent guest author Allan O'Neil takes the approach of looking at a single solar farm (Coleambally Solar Farm) to highlight, through the use of the GSD2019, the four headwinds facing new entrants to the solar space.  Allan makes the point that sums up the purpose of the GSD2019 – and, indeed, all of what we do:

that the NEM is a market where details matter.

Allan's article was also then copied over to RenewEconomy here, and referenced in Stephen Letts' article on ABC here.

Ben Willacy

In only his second article for WattClarity, Ben Willacy from ITK writes about "What lies ahead for the NEM in 2020? Some lessons from 2019″.

Ben chooses to focus his article on the technologies of battery storage, solar farms and wind farms (all covered in the GSD2019) and draws out some of the insights discernible from the statistics provided on bidding behaviour (and form), on revenue and price outcomes, and on operational patterns.

Ben writes:

There is a lot of data out there, not all of it easily accessible, so I considered it a late Christmas present when I unwrapped an advance copy of the Generator Statistical Digest 2019

Ben's article was copied over to RenewEconomy here.

David Leitch

In only his first article for WattClarity, David Leitch from ITK builds a broad ranging overview of some of the insights that jumped out at him from his first review in "Selected initial observations from the Generator Statistical Digest 2019".

David writes that:

The Generator Statistical Digest 2019 (GSD2019) is a comprehensive, beautifully designed resource

We'll look forward to learning what other insights David can glean out of the GSD2019 in the weeks and months ahead (perhaps over on RenewEconomy here, where he more traditionally contributes).

Jonathon Dyson

Jonathon Dyson (Principal Analyst at Greenview Strategic Consulting, and co-producer of this GSD2019) writes today about "Understanding the NEM through the lens of the GSD2019".

Focusing on the more traditional assets in the NEM (they are all included), Jonathon takes a look at coal-fired power (e.g. Loy Yang B) and gas-fired generation (e.g. Braemar A, Jeeralang and others).

Jon notes:

If you are an energy market or power system consultant, NEM observer or government adviser, you would be well informed to have this as your 'ready-reckoner'.

Paul McArdle

Chipping in an article myself, today I write about "Review of extremes in 'Raw Off Target' performance through 2019, with the Generator Statistical Digest 2019".

In this article I take a look at a single Metric (Raw Off-Target), and compare the performance across all of the Scheduled and Semi-Scheduled DUIDs represented in the GSD2019 through the 2019 calendar year.

Also worth noting is that my article this past Saturday about "Factors contributing to events in NSW on Thursday 23rd January 2020 – taking a closer look…" also utilised some of the analysis represented in the GSD2019.

In that article:
1)  Some 'Raw Off-Target' and derived 'Conformance Status' stats were included for BW04 (Bayswater unit 4); and
2)  Some operational stats were included for Mt Piper unit 1; and
3)  The temperature harvest chart was included for Silverton Wind Farm, illustrating the effect of high temperatures on limiting the output of one particular wind farm.
We look forward to hearing feedback from those who've already sent in their orders, and so can access the GSD2019 today!