It's October 2018 already, meaning 15 months have passed since I spoke at Clean Energy Summit 2017 and provided a forecast of sorts (for train wreck underway).  Since that time I have only been able to post more about 4 of the Villains that we see at work in helping our complex energy transition run off the rails:
This week I note that the AFR National Energy Summit is running in Sydney, which follows on  from All Energy last week in Melbourne – in what seems to be a conveyor belt of industry get-togethers.
I was at All Energy so can't make the AFR Summit, but I do wonder whether there is a realistic chance that the participants will avoid falling into the trap (which seems to be affecting us increasingly) of not focusing on the "real" problems: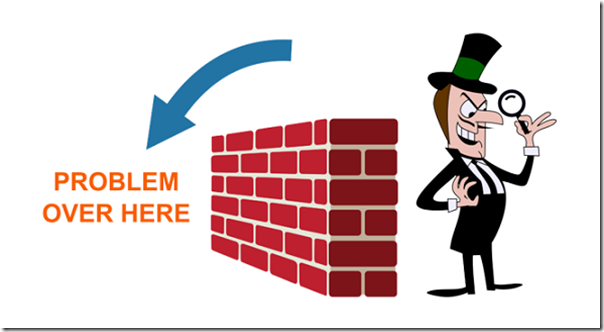 Too often, over recent years, I have been reminded of the "Streetlight Effect" when observing the muddle being made of various aspects of the energy transition process:
The "Streetlight Effect" is a parable about a person found searching under a streetlight for their car keys, when in reality they lost them somewhere else.  In some renditions, the person is drunk – hence the alternate title of "the drunkard's search".   For those who have not heard this before it's discussed here, here and here (and no doubt many other places).
I'll start this post off today by noting a couple examples of how we've been seen to exhibit this sort of behaviour with respect to the energy sector transition.  As time permits, I'll post separately about other examples, and link them into the table below…
Date added
Example of Villain #5
Brief discussion
Initial (Tue 9th Oct 2018)
Not accounting directly for a price on carbon
It's been noted many times by many different people, so not going to expand on this in this post – the most efficient/effective way to mitigate emissions would be to have a broad-based price on carbon emissions.

Unfortunately, as a result of prior Villains, we're left with sub-optimal policy outcome – of which the last one currently standing is the various forms of target on renewable energy penetration:
(a)  nationally through the MRET, and
(b)  through individual state-based schemes.

Though these programs do have other benefits (not the least of which, for our Villains no1, being that they are popular with fickle villains no2  – hence some would say pragmatic), we should not lose sight of the fact that they are likely to be delivering a more expensive outcome than might have otherwise been the case.

Let's call this instance Villain 5a.

Initial (Tue 9th Oct 2018)
Focus on changing rules, rather than addressing underlying structural issues
I'll flag this one today and hopefully find time to return later to expand on this one.

There are a number examples we have seen over a number of years whereby various parties have seemed to avoid "the elephant in the room" whilst seeking to change market rules (or mandate behaviour) to address natural outcomes of given structural configurations.  As an example of this, we have the QLD Government's "don't make too much money" direction to Stanwell Corporation back in June 2017 – when (as noted here a couple weeks later) it was the Government's 3-into-2 merger that created the pre-conditions that led to the escalation in volatility in the first place. 

Let's call this instance Villain 5b.

Added on 12th December
Increasingly there is too much focus on COST, whilst not enough focus on VALUE
Added this post here on Wednesday 12th December following the latest round of celebrations on social media about the ongoing decline in the cost of production from renewable (i.e. wind and solar PV) sources.

The obsessive focus on COST has reached (passed?) it's use-by date.  Our collective focus should have been shifted already to one of VALUE.

This one is Villain 5c.

Tue 5th March 2019
Obsessing about NegaWatts, and losing sight of Demand Response
Added this post here on Tuesday 5th March 2019 in conjunction with some more general thoughts here about the latest round of deliberations at the AEMC about ways to facilitate a more active and responsive demand side in the NEM.

It seems, to me, that some have lost sight of the real objective whilst focusing obsessively on NegaWatts in particular.

This one is Villain 5d.

Soon
Another example of not focusing on the real problem
The next post about Villain 5e is coming shortly (time permitting).

Later
More to come…
We'll add more examples later…
I'm sure that some of our readers will have encountered other examples of how Villain no5 has manifest itself in the energy sector through this transition process.  Feel free to add your examples as comments below, or provide us your feedback directly/confidentially –  or just give us a call!