This morning (Friday 31st May 2019) our Generator Report Card was finally released!
This was a collaborative effort between the team here at Global-Roam Pty Ltd and the team at Greenview Strategic Consulting.  The exercise certainly challenged both organisations (and we thank our broader client base for being so patient with us during the 7 months we devoted to the exercise).  We're very pleased to reach the finish line – and, in particular, with the breadth and depth of what we've been able to deliver.
(A)  Accessing your copy of the Generator Report Card
Which category do you fit in:
Which group are you in?
This is how you access your copy
Your organisation has already purchased access to the Report Card?
Clients who pre-ordered their copy in advance for your organisation's internal purposes (between 29th October 2018, when we commenced the process, and yesterday) should now have their access to the electronic copy Generator Report Card here:

if you have a licence…

Download the Generator Report Card PDF

If you have not already done so, you'll need to set up your own unique log-in, using your organisational email address in order to access:

if your organisation already has a licence you'll then download the electronic copy – it's a 76Mb PDF so keep this in mind if on a low-speed link
this process works in Chrome, Edge and Safari (but not currently in Internet Explorer).

One bound hard-copy is also being supplied to these clients as well.  Given the report grew to be 530 pages long, we realised that a physical copy would also be very useful on occasions.  Additional hard-copies could be supplied, for a small additional fee (basically cost recovery).

Payments will be processed shortly and Tax Invoices provided.

—-

We're very, very keen to hear your feedback about how the Generator Report Card helps you.

You've not already organised your copy?
Not to worry – it's a simple matter of completing the Order Form and sending back to us:

the Order Form for the Generator Report Card

… and send back to us.  We'd then:
(1)  Set you up with electronic access at the site above (hence be sure to specify your corporate email address); and
(2)  Deliver your bound-hard copy; and
(3)  Process your payment and provide a tax invoice.
No matter which category describes you, we look forward to hearing back from you.
(B)  What's in the Generator Report Card
Back in October 2018 when we set out on this process, we undertook to take a deeper dive into a number of curly questions that we were seeing repeating themselves in discussions about different aspects of generator performance, particularly in relation to this energy transition.
Over the months since commencement, as the we processed through the analytical process, it became clear that the report should be provided in 5 parts as follows: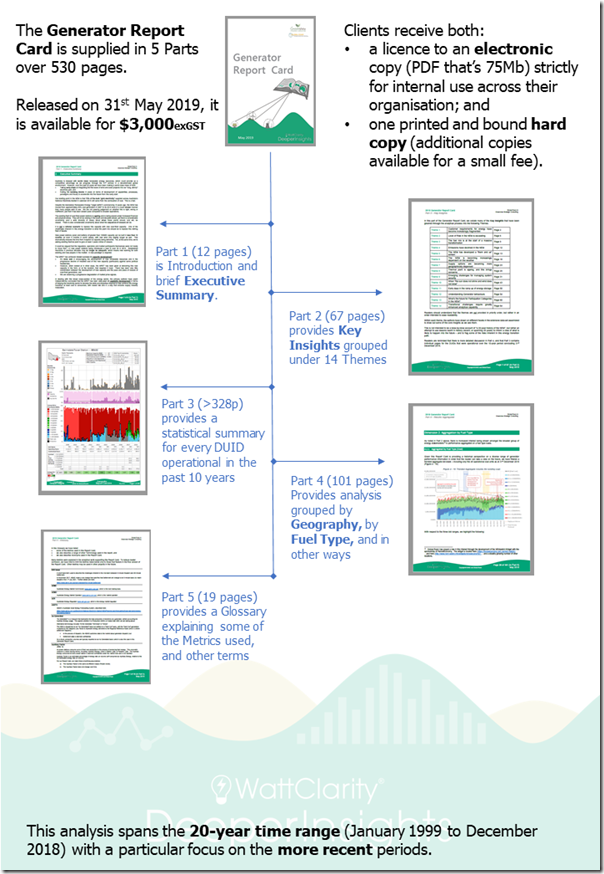 Obviously with something that's 530 pages long, it's difficult to sum it all up in a single graphic such as the above…
(C)  If I wanted more information about the Generator Report Card
If you want more information about the Generator Report Card, the information provided on pages starting here could be of some value.
Given broad interest in the Generator Report Card that we've already seen in the broad range of individuals and organisations who have pre-ordered their copies, we are organising informal Q&A sessions on the report card (at least in Melbourne, Brisbane and Sydney – and possibly other locations) through June and July.  When more details are known we will post another article on WattClarity here, so keep an eye out for it, if this is of interest.
Of course, you could also either:
1)  Give us a call on +61 7 3368 4064; or
2)  Use this Feedback Form to let us know how we can help.
——————————
PS – don't forget that the Order Form for your copy of the Generator Report Card is here.