As noted on social media (Twitter and LinkedIn) earlier, the Australia Institute helpfully coined the headline "can't stand the heat" when investigating performance degradation of fossil-fired thermal plants at high temperatures in recent years.
Given that we can expect to see more extremes of temperatures into the coming years (and decades) and that the plant mix is changing significantly, we're investing considerable time to explore a diverse range of aspects of high-temperature performance degradation for all operational DUIDs in the NEM, no matter the fuel type.
Here's one sample from the analysis this week for a "mystery DUID":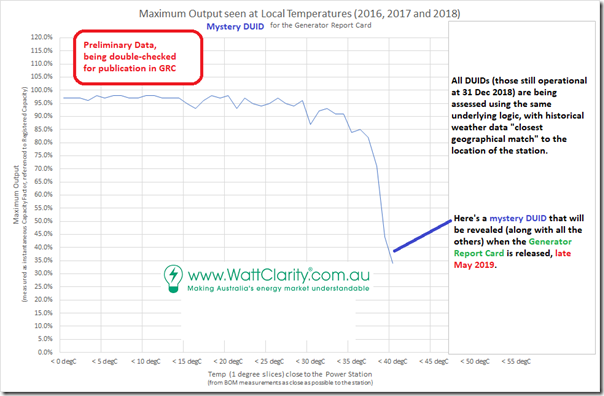 This analysis is being included with all the other analysis performed in our Generator Report Card – which will be released shortly after the federal election (to be held on Sat 18th May).
———————
Happy if you want to leave your guesses in comments below as to which DUID the above chart refers to.
Not that I have time to think it through at all currently, but given our prior history in running competitions, I'd like to think we can organize some form of prize later (after the report has been released and we have caught our breath) if anyone were to hit the nail on the head and guess this one correctly…