… and it has not been doing so since January 2021
One of the challenges with the influx of an increased number of stakeholders forming their own views and making their own statements on social media with respect to the energy transition overtaking Australia's National Electricity Market is that:
1)  The situation in the NEM continues to change;
2)  So that means that what might have been true in the past may no longer been true today.
Whilst working on aspects of the 2023 Q3 issue of the GenInsights Quarterly Updates this weekend, I noticed this note by James Carter on LinkedIn claiming that:
'Now, [South Australia], exporting >3x more electricity than it imports.'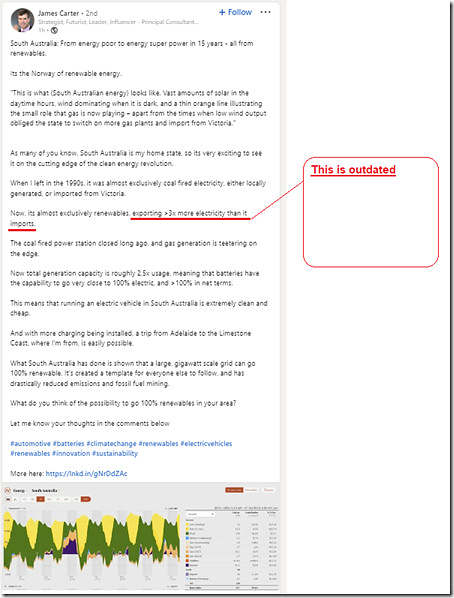 Whilst I've not specifically zeroed in on the numbers to work out what specific period South Australia might have been exporting three times what it imported (around 2019), it would seem to be a surprise to some people:
1)  that South Australia is not exporting more than it consumes at all any more (let alone 'three times'); and in fact
2)  for much of the past 3 years (since January 2021) its average monthly transfers have almost exclusively been from VIC into South Australia.
Here's a trend from NEMreview showing monthly average flows that should help people understand more clearly: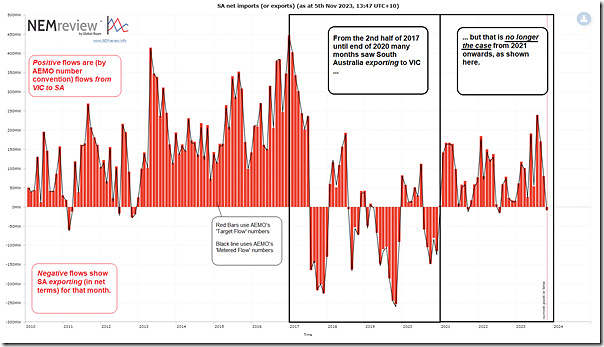 Those with their own licence to the software can open their own copy of the query here.
Project Energy Connect … connecting two regions both currently in deficit
Useful food for thought, with Project Energy Connect proceeding to completion, that it will connect the two regions (NSW and SA) that have each been net importers for quite some time (even before the slated closure of Eraring (perhaps as soon as in 2025?)).
Other data with respect to South Australia
With respect to the rest of what James has written, that's food for another article at another time …