It's Thursday 16th February 2023 and spot prices have escalated past $1,000/MWh in the 16:45 dispatch interval for both the VIC and SA regions, and above $10,000/MWh for 16:50.
Here's the immediately preceding dispatch interval (i.e. 16:40) snapshot from NEMwatch with a number of annotations: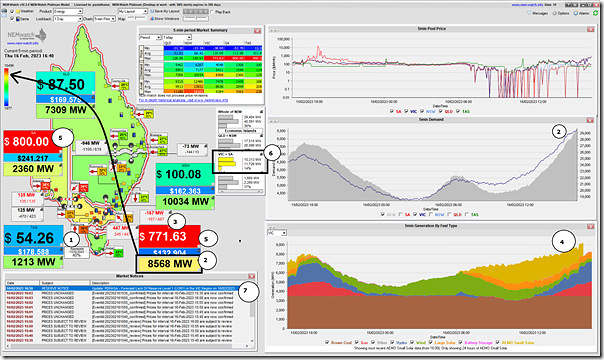 With respect to the numbering:
1)  NEMwatch shows elevated temperature across VIC and SA (and parts of NSW);
2)  This is driving Market Demand in VIC out of the 'green zone' on a sliding scale set by historical min and max range (SA demand not quite so high, in relative terms);
3)  Note that imports from NSW are constrained south at only 167MW … and also imports from TAS via Basslink as well.
… this leaves VIC+SA economically fending for themselves in an 'Economic Island'.
4)  It's late in the day, so summer solar is on the decline, and there's not much wind this evening in VIC as well, meaning gas and hydro are ramping up to meet the peak (energy supply from batteries is much smaller … barely visible in the pink).
5)  This has driven the VIC price to $771.63/MWh and SA to $800/MWh
6)  The IRPM of the 'SA+VIC' Economic Island is down at 14%
7)  AEMO has published progressive Market Notices about forecast LOR1 tight supply-demand for VIC and SA today.
Nothing further, at this point.
PS1 at 20:10 later that evening
Turns out that there's been a prolonged run of volatility this evening – in Victoria, but primarily in South Australia.  Here's a snapshot from NEMwatch at 20:10 highlighting some of the history: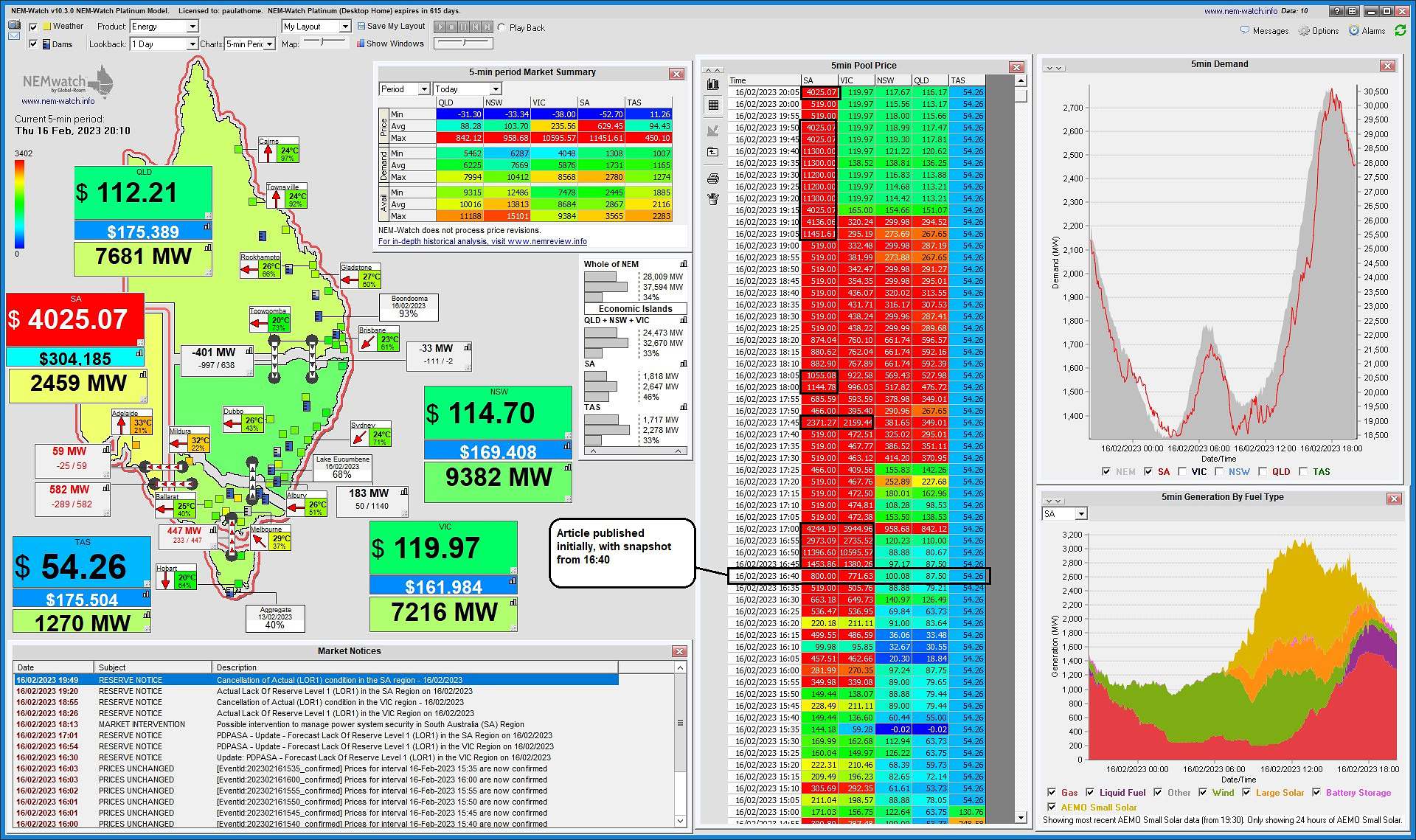 We can see:
1)   The Market Demand in SA climbed as high as 2,780MW (compared with the all-time maximum of 3,402MW) and has fallen away at the time of the snapshot.
2)  There was declaration of 'Actual LOR1′ for both VIC and SA at different times, but both have been cancelled at this point.
3)  The production from VRE in South Australia is minimal at this point in time.