A short 4th article today to record that the BOM has said that El Niño and a positive Indian Ocean Dipole (IOD) are underway – which I saw via this message here on Twitter: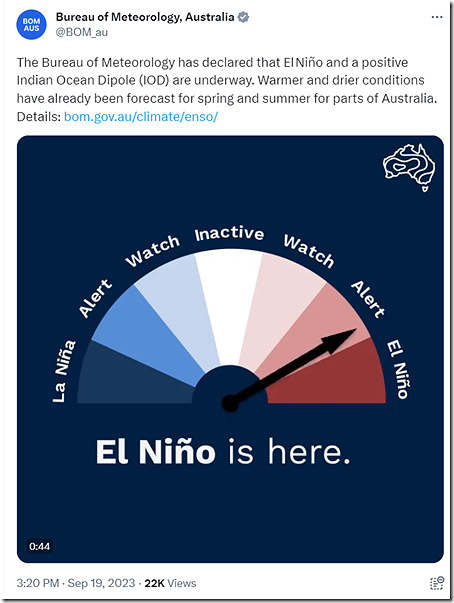 The BOM provides more information in this Climate Driver Update 'El Niño and positive Indian Ocean Dipole underway'. which says…
'The long-range forecast for Australia indicates warmer and drier than average conditions are likely across most of southern and eastern Australia from October to December. The Bureau's climate model takes into account all influences from the oceans and atmosphere when generating its long-range forecasts.'
Also worth noting that Ben Domensino from Weatherzone posted 'El Nino and positive IOD declared' to follow on.
'According to the Bureau's records, this is the first El Niño since 2015/16 and the third in the last 16 years. It is also the first positive IOD since 2019. The last time El Niño and a positive IOD coincided was in 2015.
Forecast models suggest El Niño will last until at least the end of the upcoming Australian summer, while the positive IOD is expected to last through spring and possibly into early summer.'
Summer 2023-24 in the NEM
… the firming forecasts for a hotter and drier summer 2023-24 provides further food for thought about the tight supply-demand balance recently forecast (including possible shortfalls) by AEMO for this same summer in the 2023 ESOO.