With the 'Notifications' widget inside of our ez2view software I've set an alert looking at large changes in aggregate generation in any given region from one dispatch interval to the next.  This alert has been triggering increasingly frequently with respect to the VIC1-NSW1 interconnector, such as it did early this evening on Sunday 18th June 2023.
This article is a quick review of what happened today in the 17:05 and 17:10 dispatch interval – setting the scene to be able to dive in further later at some time.
Here's a snapshot of two copies of the 'NEM Map' widget – on the left Time-Travelled to 17:05 this evening and on the right to 17:05: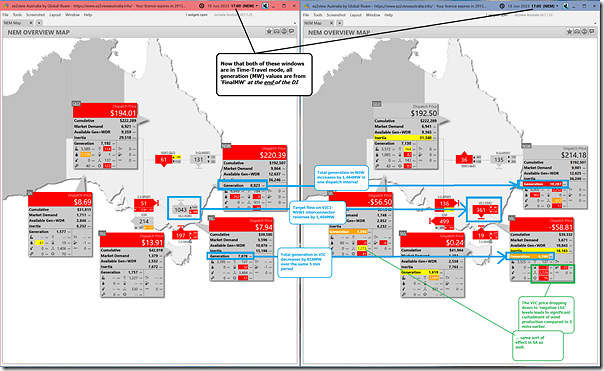 In annotations on the image I have highlighted a couple things:
1)  The VIC1-NSW1 interconnector shows a reversal of 1,404MW in Target Flow over a 5-minute period:
(a)  At 17:00 it's exporting 1,043MW from VIC into NSW
… at this time constrained by the Export Limit
(b)  At 17:05 it's importing 361MW from NSW into VIC
… at this time constrained by the Export Limit also … even though it is importing.
2)  The NSW generation has ramped up by 1,464MW
3)  The VIC generation (measured by aggregate FinalMW in time-travel) has ramped down by 818MW
… remembering that Market Demand is ramping up at this time of evening.
Here's the 'Interconnector Details' widget at 17:05 showing the significant reversal of flow: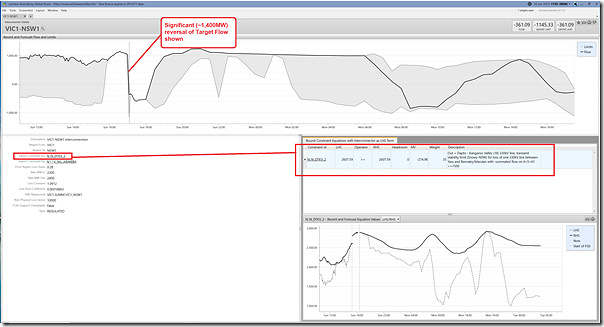 Also highlighted is the 'N::N_DTKV_2' constraint equation … which is part of the Outage on the Dapto to Kangaroo Valley 330kV line (i.e. line 18her) discussed here last week, and currently underway (currently invoked in the 'N-DTKV_18_WG_CLOSE' constraint set).
More later, as time permits…