Friday evening flipping between a couple different codes of football and the article 'Callide C co-owner Genuity** goes into voluntary administration' by Mark Ludlow popped up in my feed: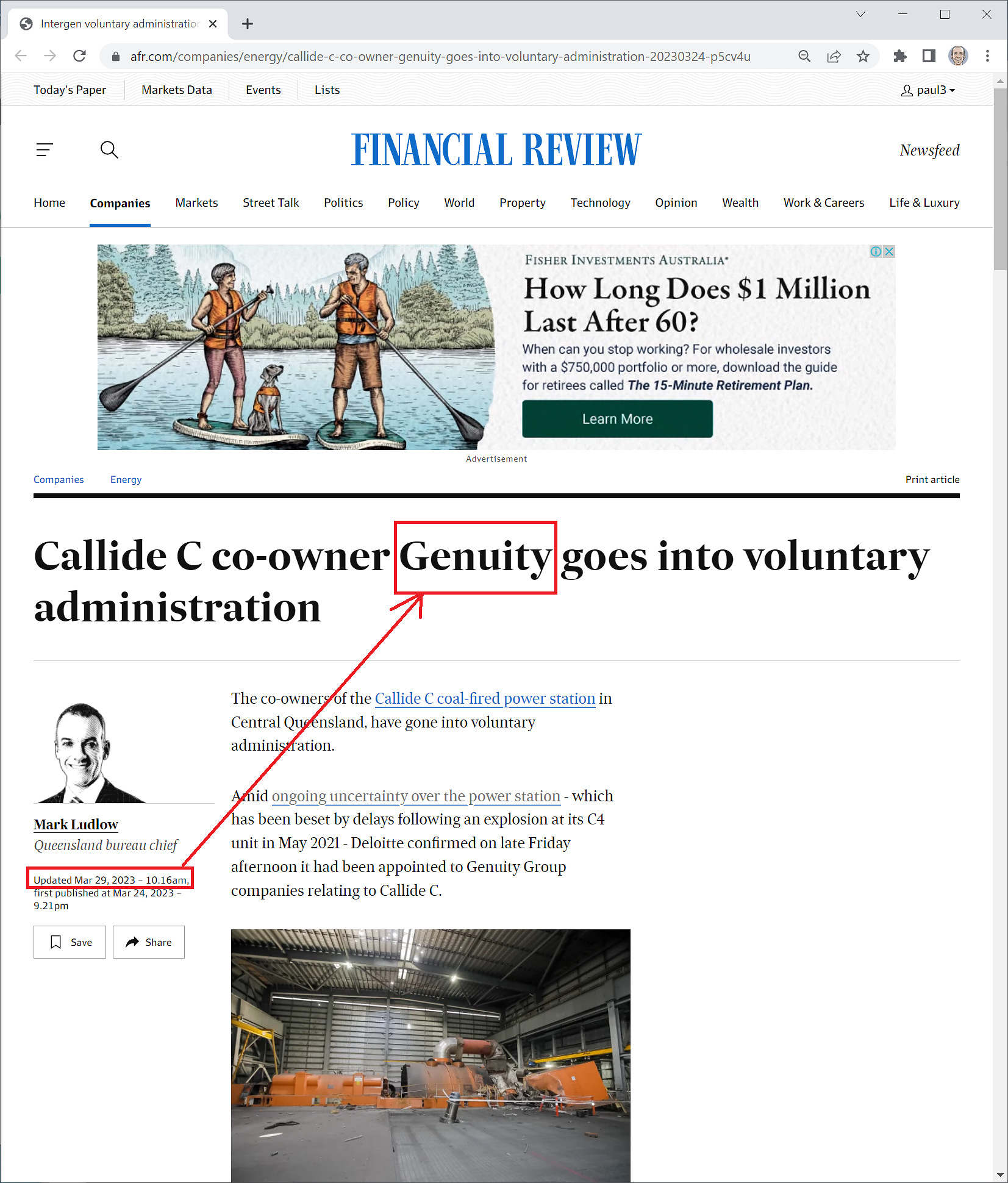 Well worth a read.
** Editor's Note ** : We originally published this article on 24th March 2023 and, at that time, we included an image (above) of how the AFR article appeared at that time.
Since our publication of this article, the AFR article was corrected with respect to the Callide C station co-owner (which had changed to be Genuity by the time of this article).
Following the AFR's update, we were contacted by a reader and asked to also update our article, which we have done now – including in one of the comments left by a reader below. We hope this helps to reduce any potential confusion.
Not really a surprise, given developments over the past two years:
1)  Callide C4 has been offline for fast-approaching 2 years (since the explosion on 25th May 2021 ) and with return to service date pushed back to 31st October 2023.
2)  Callide C3 has been offline since 31st October 2022 (due to cooling tower failure) and with return to service date pushed back to 30th September 2023.
3)  As noted here on 8th March 2023, there appears to have been a structural separation underway  with respect to the part-ownership of two assets (Callide C and Millmerran) such that:
(a)  Entities associated with Czech company, Sev.en  would continue owning 50% of Callide C
… it would seem its this ownership now placed in voluntary administration, based on AFR reports.
(b)  A demerged Genuity (i.e. without the Sev.en shareholding) would remain the owner of Millmerran.
… but I am uncertain of the extent to which this has come to fruition?  The AFR article touches on this.
(A)  CS Energy 'Statement Regarding Genuity'
Earlier today CS Energy has already published this 'Statement regarding Genuity':
'CS Energy has today been advised that Voluntary Administrators have been appointed to a number of Genuity Group entities (formerly known as InterGen Australia), our 50/50 Joint Venture Partner for the Callide C Power Station.
We remain committed to the safe and timely reinstatement of the Callide C Power Station units 3 and 4, and are working through our options to achieve this.
CS Energy operates Callide C Power Station on behalf of the Joint Venture. For our people at Callide C it remains business as usual.
BACKGROUND
Callide Power Station is comprised of two power plants, Callide B and C, each with two generating units (B1 and B2, C3 and C4).
CS Energy owns 100 per cent of Callide B. Both of Callide B's generating units (B1 and B2) are currently online and generating electricity.
CS Energy owns Callide C in a 50/50 joint venture (JV) with Genuity.
Callide C3 is offline following an incident at its cooling tower in October 2022 and C4 is offline following an incident in May 2021. Both C3 and C4 are forecast to make a staged return to service later this year.'
… it's late Friday night and I've mostly switched off so am not 100% clear what this means for the Millmerran asset.  Surely that asset would have been held separately?
(B)  Other coverage
In a quick scan of some of the other media sites, I've seen:
1)  Glen Norris writes 'JV partner in troubled Callide power station collapses' in the Australian;
2)  It appears there was also something in Courier Mail, but I don't subscribe.
3)  Could not spot anything else in a quick scan.
(C)  Challenging times
Challenging times at the Callide C site … including with co-owner CS Energy searching for a new CEO following he recent resignation of CEO Andrew Bills.
PS1 on Sunday 26th March 2023
A quick note to highlight that Mark Ludlow has followed up this afternoon with the article 'CS Energy looks to buy remaining stake in Callide C' , to which I'd add:
1)   Not really a surprise, as might be able to get the asset at a marked-down price; and that
2)  It's not immediately obvious who else might take the 50% share.