With all 4 units at the Callide site out of action following yesterday's events (coupled with some other coal units still being on planned outages, and Kogan Creek continuing to limp along with a tube leak) we see forecast for elevated prices this evening as well in QLD.
Here's a snapshot of the 15:40 dispatch interval in ez2view that shows a predispatch forecast for extreme prices for a 2.5 hour period this evening: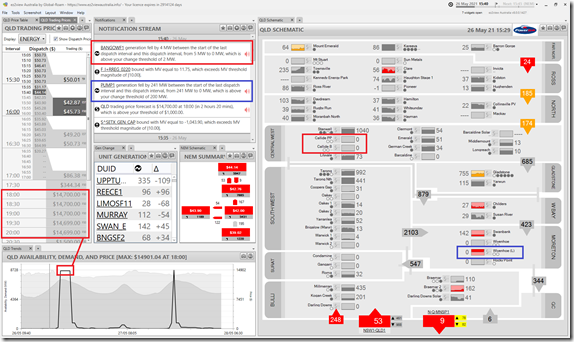 Also highlighted in the image are:
1)  The Callide units offline, as we know
2)  Wivenhoe pumping stopped for the day (recharging the upper pond following heavy usage yesterday)
3)  Not in QLD, but nice to see the Bango 1 Wind Farm starting up!  Here's the unit in Asset Catalog (a service still under development).
Here's the Forecast Convergence widget in ez2view for 16:05 showing that the forecasts for extreme price spikes this evening have been consistent through the afternoon … perhaps not quite as severe as an hour ago.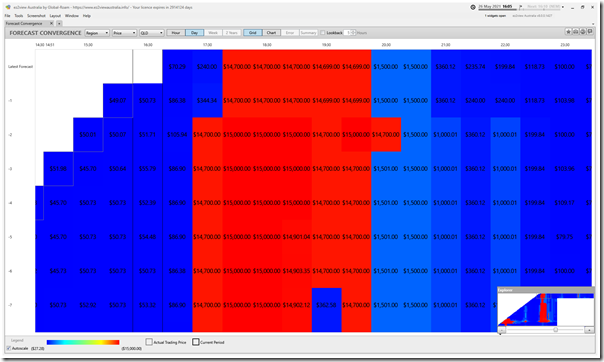 As we could understand from what's happened, at 07:42 the AEMO published Market Notice 86068 warning of a forecast LOR1 Low Reserve Condition for QLD this evening (17:00 to 21:30):
__________________________________________________
Notice ID : 86068
Notice Type ID : LRC/LOR1/LOR2/LOR3
Notice Type Description : MARKET
Issue Date : Wednesday, 26 May 2021
External Reference : Update – PDPASA – Forecast Lack Of Reserve Level 1 (LOR1) in the Qld Region on 26/05/2021
__________________________________________________
AEMO ELECTRICITY MARKET NOTICE
The Forecast LOR1 condition in the Qld region advised in AEMO Electricity Market Notice No. 86060 has been updated at 0730 hrs  26/05/2021 to the following:
From 1700 hrs to 2130 hrs 26/05/2021.
The forecast capacity reserve requirement is 878 MW.
The minimum capacity reserve available is 462 MW.
Manager NEM Real Time Operations
Will see what happens in the hours ahead…