We've recently written a number of articles about what happened in QLD on Friday 3rd February 2023, where Market Demand reached 9,806MW at 16:55 … but how this was almost 1,000MW below what prior expectations had been,:
1)  A sizeable 'miss'
2)  With a cool weather change 'to blame' for forecasts not matching reality.
As Linton noted on Friday, there's a significant cost that energy users will pay for the RERT contracted and triggered on that afternoon – and some might look at the distance from forecast as indication of some 'error' on the part of forecasters at the weather providers and/or the AEMO.
So it's worth noting that 9 days later (on Sunday 12th February 2023) we saw Market Demand reach 9,512MW at the 17:35 dispatch interval – as captured in this NEMwatch snapshot at the time: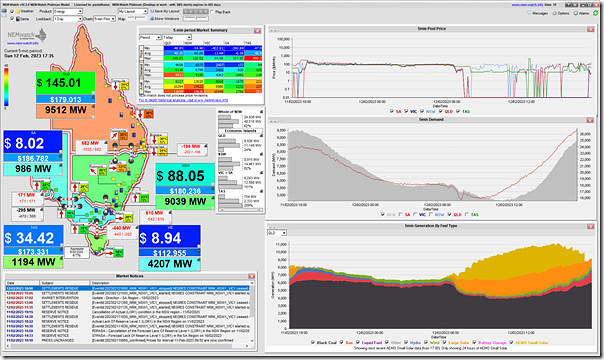 This level:
1)  was only 294MW below the point seen on Friday 3rd February 2023 … and
2)  was 609MW below the all-time maximum (up at 10,119MW back on 8th March 2022).
At 18:44 (~70 minutes later) the AEMO, via MN105809, flagged an Actual LOR1 condition as follows:
——————————————————————-
MARKET NOTICE
——————————————————————-
From : AEMO
To : NEMITWEB1
Creation Date : 12/02/2023 18:44:59
——————————————————————-
Notice ID : 105809
Notice Type ID : RESERVE NOTICE
Notice Type Description : LRC/LOR1/LOR2/LOR3
Issue Date : 12/02/2023
External Reference : Actual Lack Of Reserve Level 1 (LOR1) in the QLD Region on 12/02/2023
——————————————————————-
Reason :
AEMO ELECTRICITY MARKET NOTICE
Actual Lack Of Reserve Level 1 (LOR1) in the QLD region – 12/02/2023
An Actual LOR1 condition has been declared under clause 4.8.4(b) of the National Electricity Rules for the QLD region from 1830 hrs.
The Actual LOR1 condition is forecast to exist until 1900 hrs.
The forecast capacity reserve requirement is 1187 MW.
The minimum capacity reserve available is 1163 MW.
Manager NEM Real Time Operations
——————————————————————-
END OF REPORT
——————————————————————-
No further comment, at this point.