Worth a quick post, whilst it is happening, to note that both Queensland and South Australia have been islanded from (what remains of) the NEM for reasons unknown at this point in time.  Here's four images from NEMwatch v10 today:
First, we have a Market Notice issued at 13:46 to note that the coincident separation events occurred at 13:12 today (i.e. 34 minutes before the notice was issued):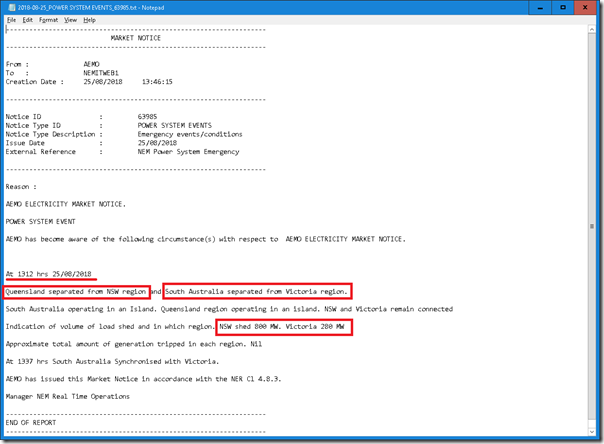 Note the 1,080 MW total loss of load (presumably via automated under-frequency load shedding) – being 800MW in NSW and 280MW in Victoria.  This will have happened because both QLD and SA were exporting into NSW+VIC at the time of the links tripping, as a result of which:
1)  Frequency drops in VIC+NSW
2)  Frequency rises in QLD
3)  Frequency rises in SA, probably by more than in QLD because of smaller-sized region.
(remember this explainer here on WattClarity about how frequency changes with changes in the balance between supply and demand, and remember this happens very quickly – well within the 5-minute dispatch intervals).
Second image is a trend of the target flow over the larger (Heywood) AC interconnector from Victoria to South Australia.  As flagged on the image, Heywood had been flowing east over the day prior (because of high wind) but had been trailing down quite quickly as the wind faded.  This meant lower drop in supply into Victoria (hence lower loss of load in VIC, though this is coincidence).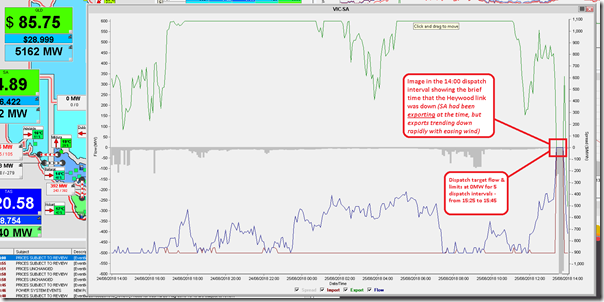 Third image is a zoomed-in view of flow on the QNI interconnector, showing that the target flow and limits dropped to 0MW in the 13:25 dispatch interval (which was the same as for Heywood above):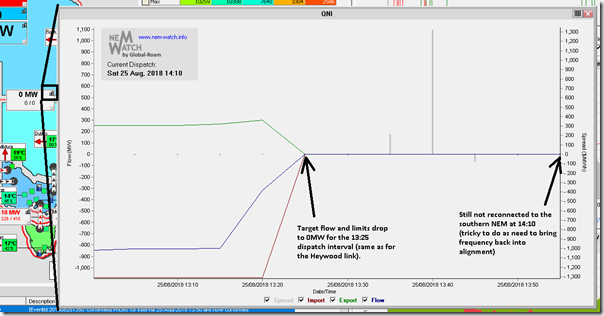 We note that Queensland had been exporting roughly 800MW at 13:15, which is the size of the load shed in NSW.  We also note that, at the time the image was taken (14:10 dispatch interval) the interconnection had still not been restored.  As noted in the image, this is not a simple thing to do, as it requires AEMO to align the frequencies in the two "islands" before reconnecting.
Final image is a snapshot from NEMwatch taken for the 13:40 dispatch interval (i.e. before the Market Notice above issued) showing some price gyrations resulting in both QLD and SA – and also the loss of load in VIC+NSW: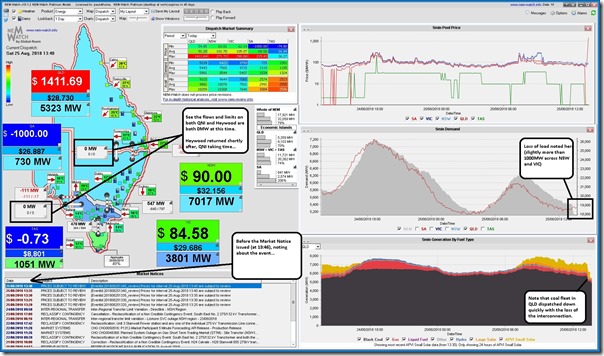 No time for more…
What will be particularly of interest is why the two interconnectors tripped at the same time.
---
---
---
---
4th PS will link in the draft of the AEMO report, when it is available.