Some of our automated alerting has triggered this afternoon (Tuesday 15th November) to let us know that the NEMDE dispatch process at the AEMO is struggling a bit to deal with the increased complexity of the dispatch process with:
1)  South Australia on its own island from Saturday 12th November 2022; and also
2)  The Tasmanian network still more complicated by what happened on 14th October and is still being repaired.
Here's a quick snapshot of one of our monitors showing file creation latency for 'DISPATCHIS*' and 'P5MIN*' files has been escalating since the islanding – and particularly today (in part because Intervention's happening, perhaps?):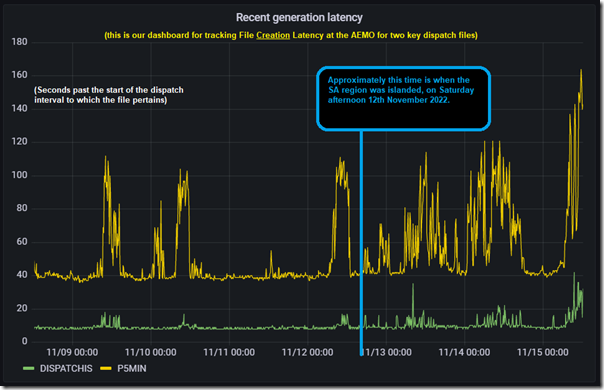 Just to give you some sense of the added complexity, here's two (constraint-focused) widgets from our ez2view software at the 12:30 (NEM time) dispatch interval.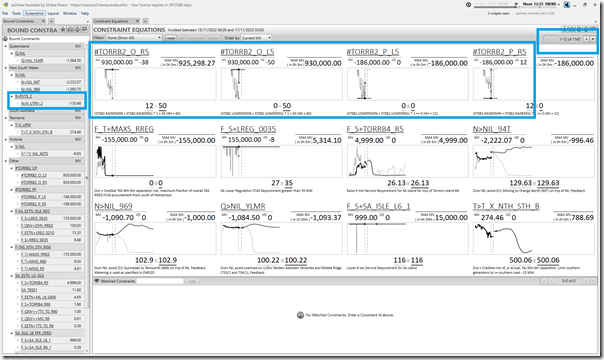 Quick notes with respect to the bits highlighted:
1)  At this point in time there are close to 1,200 constraint equations invoked, or forecast to be invoked in predispatch…
… compare this to more 'boring' times in the NEM with a more integrated network and no outages and you might see between 600 and 800 constraint equations listed in the 'Constraint Equations' widget on the right of the display;
2)  In terms of bound constraints, which are at the top of both widgets, we see:
(a)  A number of constraints pertaining to Torrens Island … which would presumably be the result of directions to keep the SA grid stable; and
(b)  Off topic, but will be of particular interest to some readers – note that the 'N::N_UTRV_2' constraint equation is currently bound (i.e. the one discussed in some detail in this Case Study here).
Challenging times!