To follow Part 1, Part 2 and Part 3 about the System Event on Tasmania on Friday 14th October 2022 we've been tinkering away in the background with some additional data about the event – both from the AEMO and from others.
Because this is being done in 'spare' time, it might be any articles to follow-on might be brief, such as with this zoomed in view of the 4 x system frequency traces over a 7 minute period focused on the initial period of the event: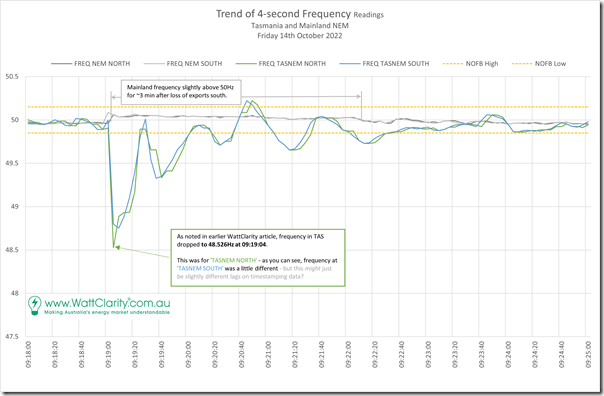 With respect to the above:
1)  Clearly the TAS frequency separates from the mainland
2)  But TAS NORTH and TAS SOUTH are also slightly different (one lags the other – due to timing of SCADA snaps?)
3)  And the mainland frequency lifted a little after TAS separated, losing the ~400MW or so of exports being sent that way and buoying the frequency in the mainland.
Will look forward to reading the upcoming AEMO interim report on the event.