Here's a snapshot from NEMwatch at 18:05 highlighting the NEM-wide IRPM is down to 8.49% (rounded down to 8%):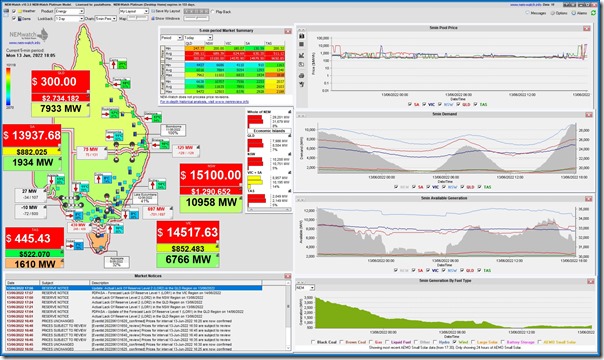 Notes:
1)  This shows total Available Generation of 31,679MW ready to supply aggregate 'Market Demand' of  of 29,201MW at this point … so a surplus of only 2,478MW NEM-wide.:
(a)  Reserve in QLD is wafer thin
(b)  Reserve in NSW is wafer thin
2)  Remember that it was only on 7th June when the NEM saw aggregate 'Market Demand' rise above 32,000MW briefly (i.e. higher than the total amount of capacity we have available across the whole of the market) … how high is it going to climb over the next hour or two?
3)  Wind still trending down around 800MW only.
… note that at 18:15 the IRPM is 8.02%