We've transitioned into Q2 2022 and there's plenty of commentary on social media about increases in 'baseload' futures* contract prices for VIC, NSW and QLD regions … but particularly the QLD region.
 * More on that topic another time.
Depending on your perspective, the futures market leads (or lags) what's happening in wholesale spot.  This evening, just wanted to include this snapshot from NEMwatch at 17:25 highlighting the QLD dispatch price up at $9,500/MWh as the second excursion up around $10,000/MWh this afternoon (there was an earlier spike to $13,200/MWh at 16:45):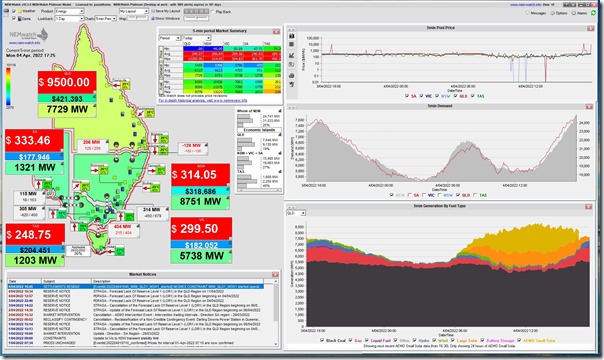 Note that spot prices are elevated this evening everywhere, though not to the same extent.
(A)  Generator outages in QLD
Here's that 'Generator Outage' widget from the upcoming ez2view v9.4 release that is great at highlighting the units which are offline at present, and when they are expected back.  I've filtered it just to show QLD Thermal units: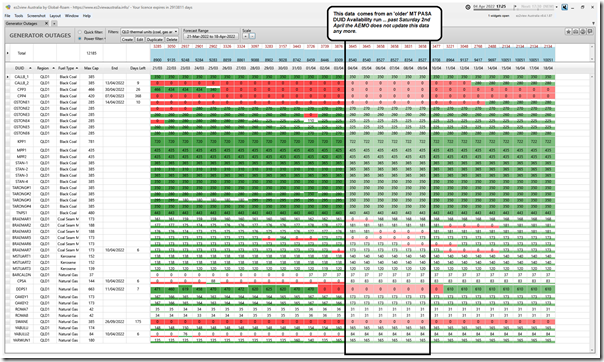 Of these units, note that:
(A1)  Coal unit outages
Of the 22 coal units still operational in the QLD region, there are 4 units offline at present:
(A1a)  Callide site only providing one unit
As we know, following the Callide C4 catastrophe, that unit's not expected back for a massive 368 days from now.
However we also see that Callide C3 and B2 are also offline at present.
(A2b)  Gladstone has 1 unit offline of 6
Gladstone unit 1 is offline as well
… for those tuning in to tomorrow's webinar, if there is time at the end (there are other things we want to cover first for the audience) we can cover some of what we've explored in GenInsights21 about coal unit unavailability (it's free to attend, you just need to register).
(A2)  Gas unit outages
With respect to the gas units, there's two big ones …
(A2a)  Swanbank E offline, extended outage
As reported on 26th March, Swanbank E is out for a number more months with a damaged AVR.
(A2b)  Short outage at Darling Downs CCGT
The size of the capacity unavailable at Darling Downs CCGT is apparent in the size of the row above.  This is just a short outage, planned at least a week ago.
(A2c)  Six units of Braemar actually online
There are 6 units across the 2 x Braemar stations, and all 6 of them are currently online this evening with the price volatility.  The 'Generator Outages' widget shows that the owner/operators had been planning to take outages on some of the units.
(B)  Lack of Reserve in QLD
At 12:57 this afternoon, AEMO had published Market Notice 95706 speaking about a forecast LOR1 (Lack of Reserve) condition for QLD this afternoon, and tomorrow afternoon:
——————————————————————-
MARKET NOTICE
——————————————————————-
From : AEMO
To : NEMITWEB1
Creation Date : 04/04/2022 12:57:33
——————————————————————-
Notice ID : 95706
Notice Type ID : RESERVE NOTICE
Notice Type Description : LRC/LOR1/LOR2/LOR3
Issue Date : 04/04/2022
External Reference : PDPASA – Forecast Lack Of Reserve Level 1 (LOR1) in the QLD Region beginning on 04/04/2022
——————————————————————-
Reason :
AEMO ELECTRICITY MARKET NOTICE
The Forecast LOR1 condition in the QLD region advised in AEMO Electricity Market Notice No. 95705 has been updated at 1230 hrs 04/04/2022 to the following:
AEMO declares a Forecast LOR1 condition under clause 4.8.4(b) of the National Electricity Rules for the QLD region for the following periods:
[1.] From 1730 hrs 04/04/2022 to 1800 hrs 04/04/2022.
The forecast capacity reserve requirement is 972 MW.
The minimum capacity reserve available is 915 MW.
[2.] From 1730 hrs 05/04/2022 to 1900 hrs 05/04/2022.
The forecast capacity reserve requirement is 972 MW.
The minimum capacity reserve available is 711 MW.
Manager NEM Real Time Operations
——————————————————————-
END OF REPORT
——————————————————————-
(C)  Contagion further south
To finish off, here's a snapshot of the 17:45 dispatch interval, showing all five regions elevated (with mainland up around $1,000/MWh):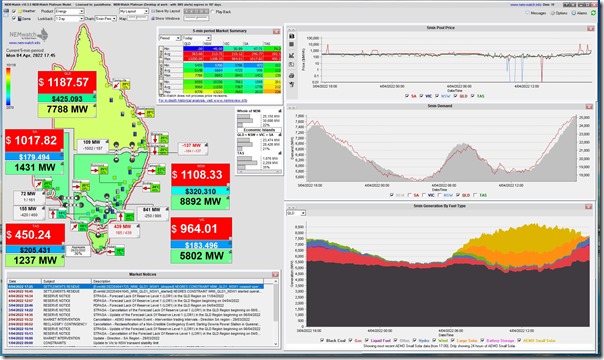 'Fun' times ahead….