UPDATE … this article pertains to early morning volatility in South Australia (not the spikes at 06:40 and 06:50)
—
My phone was busy overnight, receiving a string of text messages triggered by SMS Alerts configured to let me know when any region exceeds a spot price of $1,000/MWh … in this case it was South Australia: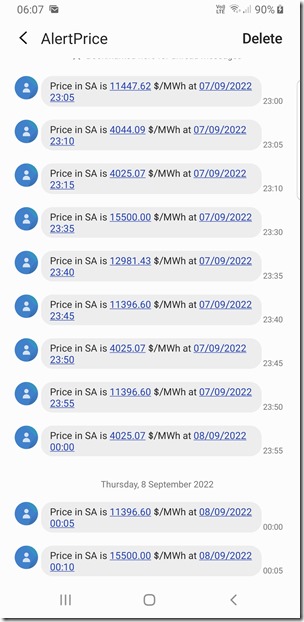 The run of volatility began at 23:05 with a price at $11,447.62/MWh and continued through until 00:25 (last alert – incompletely shown above) … but to some extent this was just a continuation of the alerts
Here's a snapshot of  ez2view, focused on the SA region and Time-Travelled back to the 23:05 dispatch interval: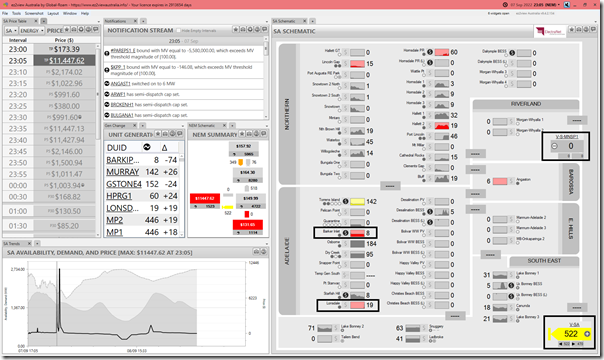 In this snapshot I have highlighted:
1)  The Barkers Inlet station:
(a) we note it has just ramped down to 8MW (FinalMW for the 23:05 dispatch interval) from 82MW at the start;
(b) the 'change in bid' indicator is also lit up for this unit
(c)  … mousing over reveals (not shown in the image) 175MW shifted up to the $15,500/MWh bid price band at the RRN.
2)  The Lonsdale station:
(a)  Which has ramped up to 19MW in response
3)  The Heywood interconnector:
(a)  Which is importing 522MW from VIC;
(b)  With that level being the maximum amount that could flow west at this dispatch interval;
4)  Murraylink is constrained off.
5)  Also worth noting that most of the wind farms across SA have trended down over the previous hour
This run of volatility preceded the 00:47 publication of Market Notice 101553 warning of Actual LOR1 low reserve condition in the SA region:
——————————————————————-
MARKET NOTICE
——————————————————————-
From : AEMO
To : NEMITWEB1
Creation Date : 08/09/2022 00:47:29
——————————————————————-
Notice ID : 101553
Notice Type ID : RESERVE NOTICE
Notice Type Description : LRC/LOR1/LOR2/LOR3
Issue Date : 08/09/2022
External Reference : Actual Lack Of Reserve Level 1 (LOR1) in the SA Region on 08/09/2022
——————————————————————-
Reason :
AEMO ELECTRICITY MARKET NOTICE
Actual Lack Of Reserve Level 1 (LOR1) in the SA region – 08/09/2022
An Actual LOR1 condition has been declared under clause 4.8.4(b) of the National Electricity Rules for the SA region from 0030 hrs.
The Actual LOR1 condition is forecast to exist until 0130 hrs.
The forecast capacity reserve requirement is 471 MW.
The minimum capacity reserve available is 248 MW.
Manager NEM Real Time Operations
——————————————————————-
END OF REPORT
——————————————————————-
There's a number of other things that I'd like to explore – but will have to do this later…