As noted earlier will be a close one (in terms of whether a new record for peak demand will be set) – the climb in demand potentially being offset by afternoon storms passing through various parts of south-east Queensland.
Here's NEMwatch at 14:50, with a couple pointers added below: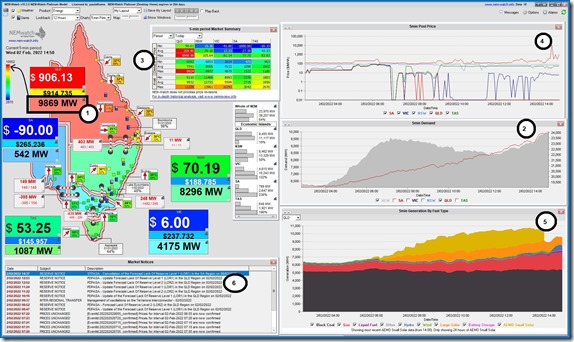 1)  Firstly, we've highlighted the 'Market Demand' cooking up in 'red alert' territory … at 9,869MW only 183MW below the all-time maximum (measured on the same basis)
2)  It's clearly been trending upwards through the day, with a few bumps here and there.
3)  The highest point today has been at 9,924MW (in the 14:45 dispatch interval – just 128MW below the the all-time maximum set at 10,052MW in the 16:55 dispatch interval on Wednesday 13th February 2019), thus far.
4)  The first major price spike (to $9898.98/MWh at 14:30) is seen on the chart.
5)  The current fuel mix is trended, with no major disruptions yet shown due to the storm (albeit that the AEMO estimates for Small Solar are a little delayed in their production).
6)  The most recent Market Notice 94439 has LOR2 Low Reserve Condition noted for 16:00 to 19:L00 this evening:
——————————————————————-
MARKET NOTICE
——————————————————————-
From :              AEMO
To   :              NEMITWEB1
Creation Date :     02/02/2022     12:52:10
——————————————————————-
Notice ID               :         94439
Notice Type ID          :         RESERVE NOTICE
Notice Type Description :         LRC/LOR1/LOR2/LOR3
Issue Date              :         02/02/2022
External Reference      :         PDPASA – Update Forecast Lack Of Reserve Level 2 (LOR2) in the QLD Region on 02/02/2022
——————————————————————-
Reason :
AEMO ELECTRICITY MARKET NOTICE
The Forecast LOR2 condition in the QLD region advised in AEMO Electricity Market Notice No. 94437 has been updated at 1245 hrs to the following:
AEMO declares a Forecast LOR2 condition under clause 4.8.4(b) of the National Electricity Rules for the QLD region for the following period:
[1.] From 1600 hrs 02/02/2022 to 1900 hrs 02/02/2022.
The forecast capacity reserve requirement is 443 MW.
The minimum capacity reserve available is 252 MW.
AEMO is seeking a market response.
AEMO has not yet estimated the latest time it would need to intervene through an AEMO intervention event.
Manager NEM Real Time Operations
——————————————————————-
END OF REPORT
——————————————————————-
The other factor is the storms rolling through different parts of south-east QLD now, as seen in this snapshot of the 128 km Brisbane (Mt Stapylton) Radar Loop from the BOM: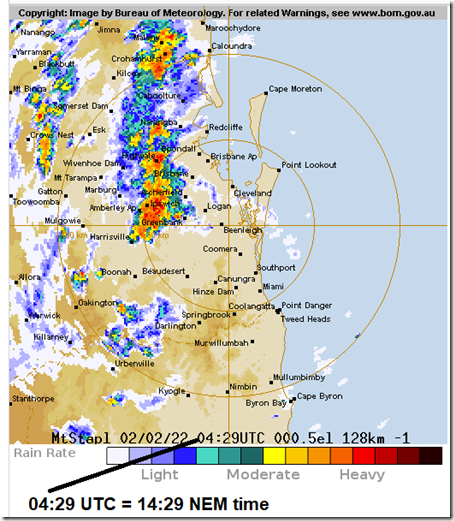 The storm is likely to have two conflicting effects:
1)  Suppressing 'Market Demand' by cooling the environment and hence reducing electricity demand for air-conditioning … if it does cool things down; but also
2)  Increasing 'Market Demand' by squashing injections from rooftop PV across the south-east … if that is what happens.
Which will win?
A second, separate question is – how long will the storm last, and will demand ratchet back up quickly afterwards (if it stays cloudy, but hot and humid)?