It's not even an hour since (at 21:42) the AEMO cancelled the 2nd-time-around warning
At 22:18 we see this 3rd instance of an 'Actual LOR2' warning for the QLD region:
——————————————————————-
MARKET NOTICE
——————————————————————-
From :              AEMO
To   :              NEMITWEB1
Creation Date :     12/06/2022     22:18:48
——————————————————————-
Notice ID               :         96998
Notice Type ID          :         RESERVE NOTICE
Notice Type Description :         LRC/LOR1/LOR2/LOR3
Issue Date              :         12/06/2022
External Reference      :         Actual Lack Of Reserve Level 2 (LOR2) in the QLD Region on 12/06/2022
——————————————————————-
Reason :
AEMO ELECTRICITY MARKET NOTICE
Actual Lack Of Reserve Level 2 (LOR2) in the QLD region – 12/06/2022
An Actual LOR2 condition has been declared under clause 4.8.4(b) of the National Electricity Rules for the QLD region from 2200 hrs.
The Actual LOR2 condition is forecast to exist until 2230 hrs.
The forecast capacity reserve requirement is 487 MW.
The minimum capacity reserve available is 356 MW.
AEMO is seeking an immediate market response.
An insufficient market response may require AEMO to implement an AEMO intervention event.
Manager NEM Real Time Operations
——————————————————————-
END OF REPORT
——————————————————————-
Here's the 22:30 snapshot in NEMwatch that shows the see-saw pattern of Available Generation that illustrates why the chop-and-change on behalf of the AEMO: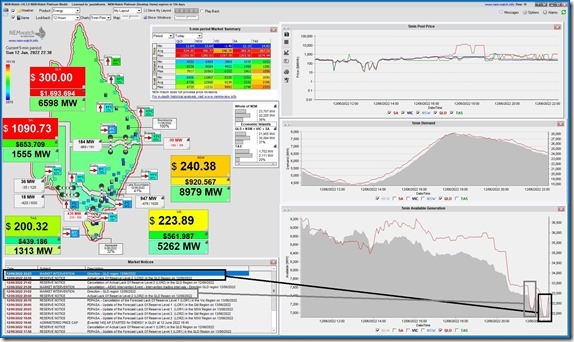 Note also the Direction issued, documented in Market Notice 97000 at 22:23.
—
It does make one wonder if the reason why capacity is withdrawn … resulting in Available Generation dropping, an Actual LOR2 being warned and Directions being issued (and capacity restored) … is because (perhaps!) the compensation arrangements under Directions are easier (and/or more favourable) under that arrangement than they would be clawing them back under Administered Pricing.
1)  Note that I don't know whether this is true, or not, but I am certainly wondering!
2)  Perhaps one of our more knowledgeable readers can help?
—
More 'fun' times ahead!