Yesterday evening, the AEMO announced its intention to commence Reserve Trader negotiations in the QLD region, which was no surprise given what was forecast then (and still is forecast now for this afternoon).
At 11:32:36 today the AEMO published Market Notice 94347 announcing a similar process for the NSW region, which is also forecast to be very tight this afternoon/evening – from 16:30 to 19:00 (NEM time).  Here's the text of the notice:
——————————————————————-
MARKET NOTICE
——————————————————————-
From :              AEMO
To   :              NEMITWEB1
Creation Date :     01/02/2022     11:32:36
——————————————————————-
Notice ID               :         94347
Notice Type ID          :         MARKET INTERVENTION
Notice Type Description :         Reserve Contract / Direction / Instruction
Issue Date              :         01/02/2022
External Reference      :         INTENTION TO COMMENCE RERT CONTRACT NEGOTIATIONS
——————————————————————-
Reason :
AEMO ELECTRICITY MARKET NOTICE.
Reliability and Emergency Reserve Trader (RERT) Intention to negotiate for additional reserve – NSW1 Region- 01/02/2022
Refer to AEMO Electricity Market Notice no. 94338.
AEMO intends to commence negotiations with RERT Panel members for the provision of additional reserve by issuing requests for tender for the following period of time;
16:30 to 19:00 hrs 01/02/2022
If reserve is required, the period of activation or dispatch will be within this period but may not be for the entire period.
AEMO will issue a further advice if reserve is contracted.
Manager NEM Real Time Operations
——————————————————————-
END OF REPORT
——————————————————————-

In the ever-expanding WattClarity Glossary we'll eventually put some information about Reserve Trader (also called RERT) … but for now this tweet from AEMO today at 12:29 links to useful information: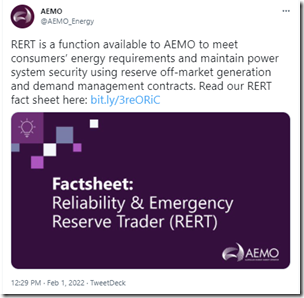 Here's the AEMO Fact Sheet directly: