Yesterday (Thursday 19th August) the AEMO published their weekly newsletter: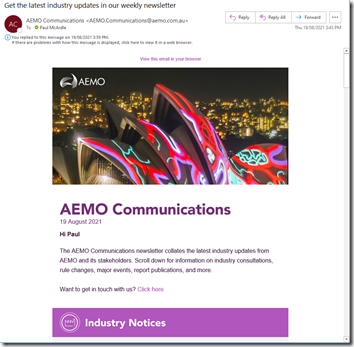 For those not aware of this resource, it can be quite useful – and you can subscribe to it on the AEMO website here.
Given that I've seen various comments on social media from people who were not aware of this update, I thought it would be useful to highlight this brief item from the newsletter:
Power System Oscillations in West Murray Region (VIC/NSW)

AEMO has observed some intermittent power system oscillations in the West Murray area (VIC/NSW) in system normal conditions. The intermittent oscillations are generally low magnitude and not sustained. While there is no immediate cause for concern regarding power system security or performance impacts, these oscillations require further investigation.
We will be hosting a briefing session for generators and developers in the West Murray area and other interested parties on Wednesday 25 August 2021 at 3:30pm (AEST).

If you would like to attend, please reply to stakeholderrelations@aemo.com.au .
Given our interest in understanding the emerging challenges in the evolving energy sector we've registered, and will look forward to learning more about what they have uncovered…
Prior discussion about West Murray, and the 'Polygon of Pain'
A quick scan of prior articles on WattClarity relating to West Murray, and the 'Polygon of Pain' (i.e. a renamed 'Rhombus of Regret') include the following:
1)  On 19th November 2020 we noted that there might be 'More pain ahead for non-synchronous units … a bigger 'rhombus of regret' in western NSW & VIC' following a note about the 'X5 Constraint'.
2)  On 23rd November 2020 guest author Allan O'Neil provided this 'Case Study – How to interpret a new NEM constraint and guess what it might do'; and
3)  Following publication of the GSD2020, we compiled this statistical review of 'Which units were most impacted by constraints in 2020?' – looking at constraints in West Murray along with all other connection points in the NEM.