With respect to yesterday's 'Notification of Potential Gas Supply Shortfall Event' and this evening's tight supply-demand balance in the NEM, worth noting this AEMO tweet at 17:50 this evening: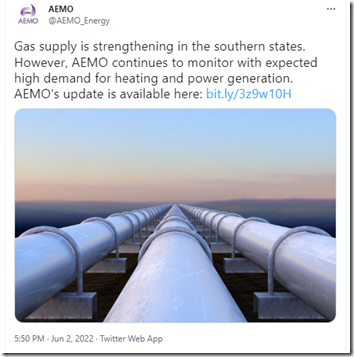 … which links to this short update on the AEMO website, which says:
'AEMO update on tight gas supplies in southern states
02/06/2022
1 min
Gas producers in Queensland have responded to shortfalls in the southern states, following AEMO's activation of the Gas Supply Guarantee mechanism yesterday.

We're seeing gas flow at near capacity (98% or 397 terajoules) through the South West Queensland Pipeline, which connects into NSW, VIC and SA.

Supplies remain tight, with high gas demand driven by heating needs with colder weather and for power generation.

Administered price caps ($40 gigajoule) will remain in the Sydney and Brisbane short term trading markets until 7 June 2022 at this stage. (Required under the National Gas Rules following the gas retailer of last resort (RoLR) event involving Weston Energy on 24 May 2022).

Victoria's gas market (Victorian declared wholesale gas market) also remains capped at $40/GJ after reaching a cumulative high price threshold on 30 May. This will remain capped until the cumulative price falls and remains below the threshold for a day.

On current availability forecasts, there is sufficient electricity supply to meet forecast demand in the National Electricity Market.

AEMO continuously updates NEM forecasts as conditions change.

We continue to work closely with market participants, industry and governments to manage the situation.
ENDS
For more information: AEMO Media I M 0409 382 121 I E media@aemo.com.au'
A stressful time in the AEMO control rooms!