One of the readers of Monday's earlier update on the Victoria Big Battery (~16:15)  has directed me to this later update (19:21) from Victorian Energy Minister, Lily D'Ambrosio: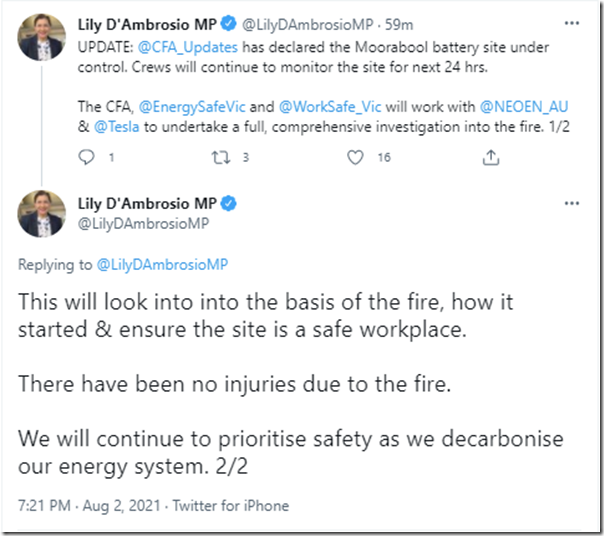 As noted here:
1)  The fire is now declared under control; and
2)  A 'full, comprehensive investigation will be conducted into basis of the fire, how it started & ensure the site is a safe workplace'.
Will wait to hear more…
—-
Also, one of our readers has noted that (at 19:07) the Guardian wrote 'Tesla big battery fire in Victoria under control after burning more than three days'.  In the article is is noted:
'The fire burned throughout the weekend and into a fourth day, before it was declared under control just after 3pm on Monday.
Fire crews will remain at the site for the next 24 hours "as a precaution in case of reignition" and will take temperature readings every two hours, the Country Fire Authority said.'
… and also:
'CFA incident controller Ian Beswicke said the fire had been particularly challenging due to the complex nature of the battery site.'