A short article (it is a Sunday!) to note that yesterday (Saturday 5th June 2021) the Cumulative Price Threshold was reached in the QLD region for Raise 6 second FCAS (one of the Contingency services – remember this explanation?).  The AEMO noted this at 17:25 in Market Notice 86683:
__________________________________________________
Notice ID : 86683
Notice Type ID : Administered price periods declared.
Notice Type Description : MARKET
Issue Date : Saturday, 5 June 2021
External Reference : [EventId:139] AP STARTED for market ancillary services in QLD at 05 June 2021 17:30
__________________________________________________
AEMO ELECTRICITY MARKET NOTICE
Issued by Australian Energy Market Operator Ltd at 1725 hrs on 5 June 2021
ADMINISTERED PRICE PERIOD DECLARED in QLD region.
AEMO has determined that the rolling sum of the uncapped market ancillary Raise 6 Sec services(s) prices for the QLD region over the previous 2016 dispatch intervals has exceeded 6 times the cumulative price threshold (CPT) of $224,600.00.
In accordance with Clause 3.14 of the National Electricity Rules, AEMO has determined that an administered price period will commence at the dispatch interval starting 1730 hrs on 5 Jun 2021 and will continue through to the end of that trading day.
An administered price cap (APC) of 300 $/MWh will apply to all dispatch intervals during this administered price period. This APC will apply to all market ancillary service prices in the QLD region.
An administered floor price (AFP) of 0 $/MWh AFP will apply to all market ancillary service prices.
AEMO will continue to monitor the rolling sum of the uncapped market ancillary service prices and issue further market notices as required.
This is an AEMO autogenerated Market Notice.
Here's a snapshot of how that commodity looked across the NEM in the 'Raise 6 second FCAS Layer' within NEMwatch v10  a little later last night: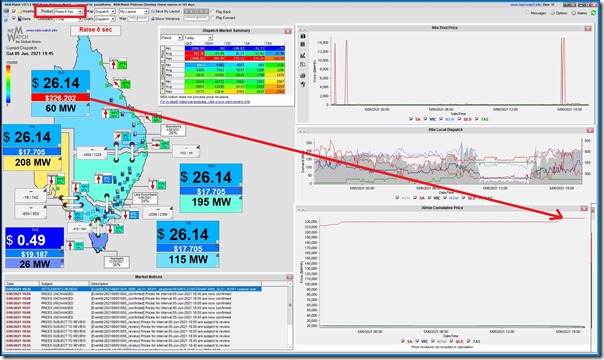 This was followed with Market Notices 86699 (at 03:55) and 86700 (at 03:56) this morning to continue for another day.
High FCAS prices are one more side-effect of the Callide C4 Catastrophe.
Nothing further to add, at this point…