Normally this would be part of a much more complete article adding to WattClarity's growing coverage of the major power system events in Queensland following the incident at Callide C Power Station.
However I for one find it easier to start understanding events like this with at least a rough idea of "what happened where?", so with the help of a Powerlink network diagram, I've sketched out the location and sequence of the major events leading to the load-shedding on that afternoon: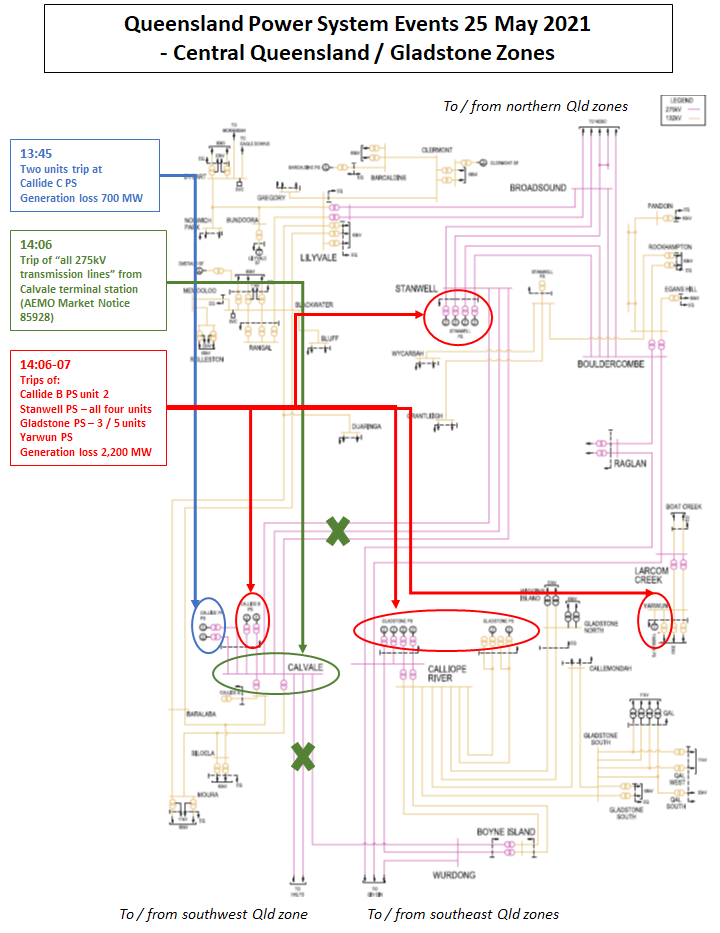 This is a schematic diagram so doesn't represent the geography in any realistic way, but it does show electrically how the different pieces of the puzzle are related.
In summary, the sequence of key events seems to have been:
13:45: fire in Callide C Power Station turbine hall leading to trip of both units (C3 and C4) and evacuation of the station
14:06: trips of all 275kV lines in and out of the nearby Calvale terminal station, reported by AEMO
14:06-07: trips of units at Callide B, Stanwell, Gladstone and Yarwun Power Stations – not clear whether any of these preceded the 275kV line trips
The latter loss of generation was three times as large as the initial loss of generation from Callide C, and the event that precipitated the widespread under-frequency load shedding in Queensland and NSW.
The causes of all these events as well as their exact sequencing remains unclear.
More to follow on other aspects of the event, including how the rest of the market reacted, but that's all for this update.
About our Guest Author
Allan O'Neil has worked in Australia's wholesale energy markets since their creation in the mid-1990's, in trading, risk management, forecasting and analytical roles with major NEM electricity and gas retail and generation companies.

He is now an independent energy markets consultant, working with clients on projects across a spectrum of wholesale, retail, electricity and gas issues.

You can view Allan's LinkedIn profile here.

Allan will be sporadically reviewing market events here on WattClarity

Allan has also begun providing an on-site educational service covering how spot prices are set in the NEM, and other important aspects of the physical electricity market – further details here.