It seems I was mistaken … in that, after mentioning 'no great insights today' about 2 hours ago, there are two things to note:
(A)  With respect to my 'Question 2' …
With respect to those 7 Headline Questions, I see that Allan's subsequently provided this useful illustration of the general sequence of events (for those who can read single line diagrams at least).
(A)  With respect to my 'Question 1' and 'Question 7' …
Again with respect to those 7 Headline Questions, I later found this article on the ABC news site (specifically the update from 14:13 NEM time today):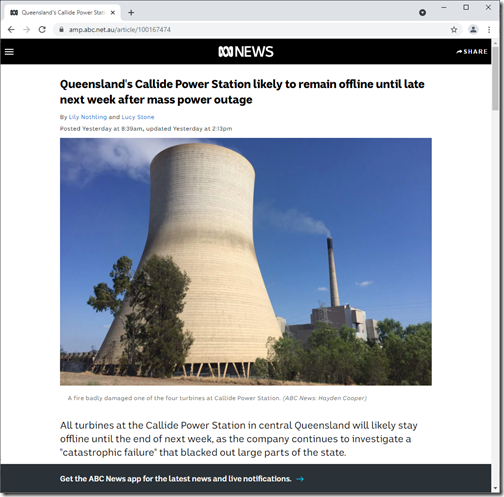 I've lifted out the key quotes from CS Energy, Andrew Bills (and highlighted what I think is telling):
"The casing itself was ruptured and you could see bits of the shaft — which is what spins the turbine and the generator — so you could see that damage had occurred to the actual turbine.

"We don't know where the fire was, we don't know what the source of the fire was, we don't what impact the fire had."

However, he denied reports there had been a "widespread fire" at the station.

"I just want to correct that. There was a fire on Callide C4 turbine. That has led to a catastrophic failure of the turbine which has then led to the other units tripping and the issues … that then rippled through the network."
Whilst what's quoted there does not really help me answer Question 1 (i.e. what happened to Callide C4) it does shed some light on potential calculations for Question 7 (i.e. what might be done, looking forwards).  Key takeaways:
1)  The unit's going to be off for a long, long time (with the turbine visible, there's obviously damage to the casing and highly likely also damage to the blades and/or bearings).
In my Part 4 article on Wednesday morning, I had used the MT PASA DUID Availability widget to provide an image of change in Availability profile for the units.  I had mainly been interested in seeing the (shorter term) RTS expectation for Callide B1, B2 and C3 (i.e. the others) and so had set the look-forward to only a year.
Taking another look now, including to see whether it had changed since the prognosis today, I have extended the look-ahead out till 1st January 2023 and see that:
(a)  There was no change in the update AEMO published for 15:00 today … though maybe there will be in a subsequent one?
(b)  Hence the current expectation is (still) for a RTS for Callide C4 at 1st June 2022:
Here's an updated view of the 'MT PASA DUID Availability' widget in ez2view version 8, comparing the current run (15:00 today) with the one used in my Part 4 article (i.e. 09:00 on Wed 26th May):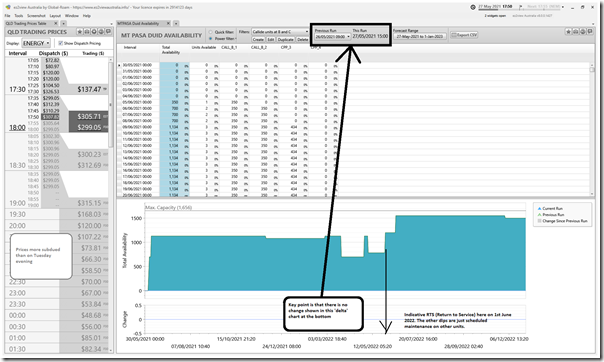 Key point is – no change in expected duration or return to service (RTS)  … at this point, perhaps (if it changed, I would expect it to be longer, not shorter)!
Also note (with the other widget shown) that prices have settled down this evening.
2)  It's going to be very expensive to fix ($100M's) and insurance will almost certainly be involved.