On Wednesday 24th June the AER published this 'Issues Paper: Semi scheduled generator rule change(s)' to commence some consideration of potential changes relating to the way in which Semi-Scheduled generators participate in the dispatch process (e.g. bid, and follow dispatch targets):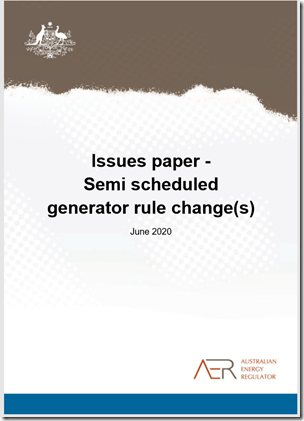 For our future reference, this 'Initiation' page on the AER website provides a summary.
It's seemed to me for some time that the way the process currently works for semi-scheduled generators is neither scalable, nor sustainable over time – hence had been expecting some moves to be made to evolve the arrangements into something more sustainable and scalable.
At this time:
1)  That I have not had a chance, yet, to review what the AER has compiled; but
2)  Understand that some of the concerns raised by the AER relate to behaviour such as that explored here at Lake Bonney 2 Wind Farm back on 24th July 2018 (article posted 21 months ago now) and explored statistically in more detail as part of a broader application of the 'Raw off-Target' metric in the Generator Statistical Digest 2019; and
3)  Note that there is a forum via WebEx being organised for this Thursday 2nd July which promises to be quite interesting.
4)  Furthermore, submissions due by COB on Wednesday 22nd July.
5)  Which I presume will lead into some rule change considerations at the AEMC.
… hence I anticipate we'll be sharing more thoughts in the coming weeks via WattClarity.