I've had a number of conversations with different people over the past couple weeks about the foibles of wind forecasts – all premised on the reality that, as installed capacity of wind farms continues to grow with the RET-induced boom in development currently underway, it's going to be critically important to improve forecasts of their output over the coming 12 months.
Entirely by coincidence, I was watching some major gyrations in aggregate output across all wind farms in South Australia today and thought it worth sharing the following snapshots from the "Forecast Convergence" widget within ez2view to illustrate: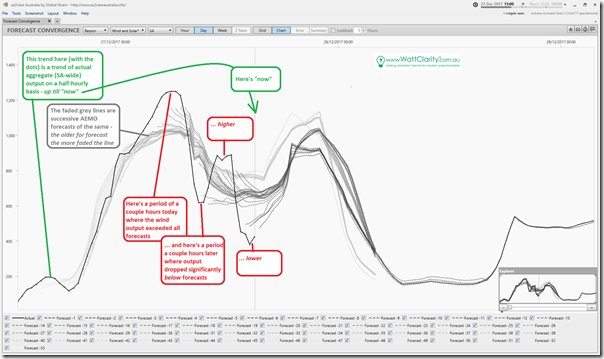 As noted on the chart, this widget enables the user to see how AEMO's successive forecasts have converged on actual outcomes – or, in the case of many half-hours today in the snapshot above, have significantly not converged on actual outcomes (which have proved much more volatile than the forecasts).
Frequent readers of WattClarity will remember that I have previously noted how forecasting is a mug's game.   This certainly applies to forecasts of market prices – but increasingly it also applies to forecasts of the lead-in variables that are becoming increasingly difficult to forecast in the increasingly complex NEM – variables such as:
1)  Aggregate wind output, like above;
2)  Aggregate solar output; and, partly as a result of these two
3)  Region level "Scheduled Demand" forecasts.
Readers should be under no illusion that the AEMO's task is easy in this respect – in fact, it seems to me that the AEMO's task is simultaneously becoming even more difficult in future, AND more critical to the "keeping the lights on" mandate, at reasonable cost.
One of the more obvious reasons that prices in SA (and VIC) are high at present is because wind output is relatively low.
However what might be less obvious to many (hence has been noted on the second snapshot below) is that one of the factors driving higher prices is the poor level of predictability of output from the wind farms – because there is less certainty of what the wind will deliver, more (other) capability needs to be provided to deal with short-notice swings.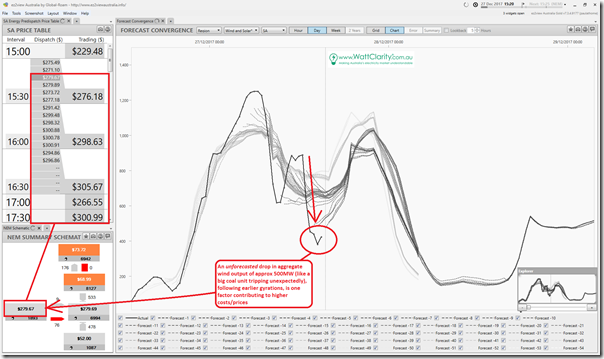 It's already costing real money to energy users that forecasts are not as good as they need to be now – and these costs are sure to escalate in future as the installed capacity of intermittent plant grows.
We all should have a keen interest in seeing forecasts like these improve in future – and no-one should be under any simplistic illusion that "the problem is solved".